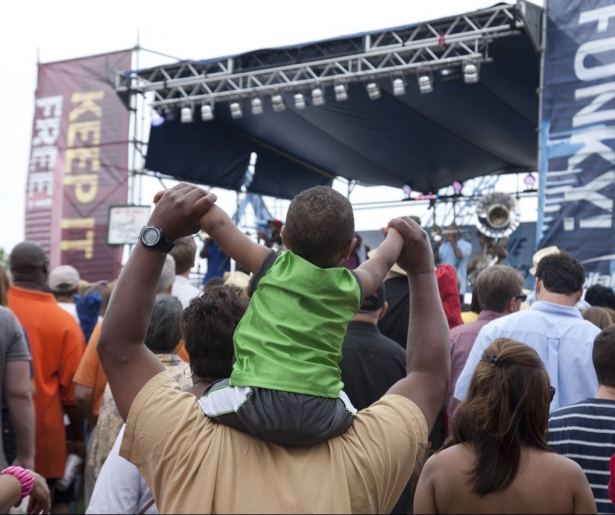 SHARE
There was a lot of amazing in New Orleans during Superbowl week, which of course fell on the week before Mardi Gras, which made the entire Crescent City kind of feel like this for a week.
Or should I say more like the above, because the lead-up to Mardi Gras is a three-week affair, so basically the NFL added a shot of pro-athletic 4-Loco to the already simmering crazy that is Nola during Carnival Time.
There was a lot to love this week, and one was the grand convergence of three great cities: San Francisco, Baltimore, and of course, New Orleans. 49ers, Ravens and Saints fans (lots of Saints fans. Bless the Who Dat nation; even if their team doesn't make it to the show, they represent anyways. Because that's how we do, world) jammed the French Quarter during Superbowl week, but they also shared the area, and did so with good grace and lots of fun (and it is hard to maintain good grace after that third Hurricane, believe).
I haven't heard any official count, but everyone's off the cuff observation, including my own, is the purple army of the Ravens Nation outnumbered the Gold Rush but a big margin (if you watched the game and wondered why everyone yelled 'O' while Alicia Keys sang the Star Spangled Banner – that's a Baltimore thing, in honor of baseball's 'O'rioles. It's at 1:47 in the video, and if you're from Maryland, you might cry with nostalgia when you hear it). Anyways, the entire scene was pretty amicable. Fans of opposing teams gave each other lots of good-natured shit; occasionally the booze turned a tease into what could have been an insult, but then again, that same alcohol sometimes mutated trash-talking into jokes and embraces.
(And of course you can drink in the street here and everything was walkable from the French Quarter and the weather was great. Yes, the Superbowl should always be in New Orleans. I know, I know, the Mardi Gras interruption does kind of suck, and there's the blackout too – more on that here – but whatever. Clearly, the Superbowl belongs here. It's the biggest event in American sports. We are the best hosts in America. It just makes sense).
So: if you asked me what my five favorite cities in the country were, New Orleans, San Francisco and Baltimore would all be on the list (along with New York and Washington DC. I want to put Chicago on because everything I hear makes it sound amazing, I've just never actually been, a situation I intend to remedy someday). So it was fantastic to have three of my cities converge into one for Superbowl week. And it put me in mind of some similarities they all share.
Water I can't think of three cities more defined by their respective bodies of water. New Orleans, of course would not be New Orleans without the Mississippi, which carves, floods and is the economic engine of the Crescent City – a nickname that references the shape formed by the river, of course. Baltimore is utterly tied to the Chesapeake Bay, such that the city's identifying spice is named Old Bay, which started a Baylieve campaign for the Ravens (by the way, Old Bay and New Orleans' own Zatarain's are both amazing on any and all seafood, and are both apparently owned by the same company). And San Francisco is of course the City by the Bay.
Ports Not just water, but harbors link these towns. They all have a degree of the rough-edged sensibility, yet international cosmopolitanism, that comes of being a city made for receiving and distributing goods from around the world. They are cities where sailors jumped ship, where smugglers and prostitutes waited in the foggy shadows. Where immigrants left a trail from their homeland to a new land and blended and bred new cultures in the shadow of great, ocean going vessels. These aren't suburban sprawl car towns like Phoenix or Jacksonville. They are real cities made with real purpose, the original purpose of any great metropolis: as a harbor.
Weirdness Get people coming somewhere from around the world and that place tends to be known as a haven. A refuge. And Baltimore, San Fran and Nola are all outposts for the weird and wonderful. If you have a past, they don't ask about it, or maybe they do and just celebrate said past with a fresh round of drinks. In any case, all of my favorite cities give a warm home to freaks and geeks, and maybe its that hospitality and embrace of strangers and strangeness that I'm really in love with.
Still, maybe it's fitting the Ravens won, because I'm going to say Baltimore is closer to New Orleans than San Francisco. Both cities have a long history of Catholicism (especially among their African American populations), both cities are geographically flat compared to hilly San Fran, and perhaps most importantly, both towns are for underdogs. There's a scrappy chip on the shoulder Baltimore and New Orleans share, and it runs deep. I've walked through the Tenderloin at night and I've read plenty of Beat poetry; I know San Francisco has a great tradition of down-and-out-ed-ness. But when it costs $1500 to rent a closet in the city and everything has that California sense of optimism and you lack the crime – San Fran is for winners these days (well, except for the Superbowl – sorry).
Then again, there is a burgeoning new tech and start-up culture in New Orleans, so maybe I shouldn't be too quick to call it. New Orleans and San Francisco have lots of common ground. At the end of the day, all three cities are some of the best in the world.