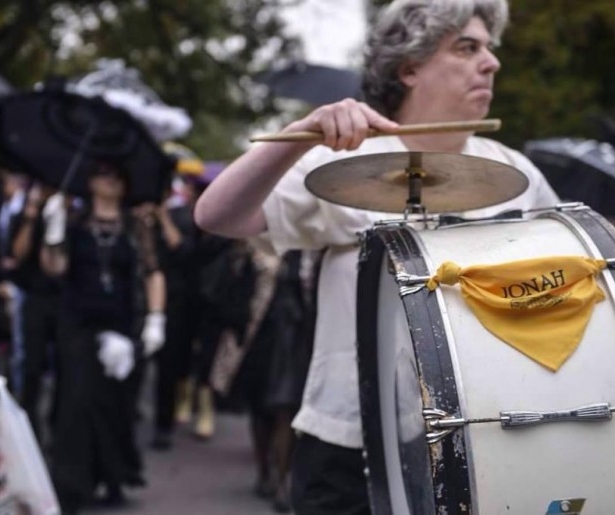 Local rock n' brass ensemble, Egg Yolk Jubilee, are one New Orleans group that locals have a better chance of seeing while they are on tour —specifically, the Greater New Orleans Neighborhood Bar Tour.
The localized tour — which takes the 19-year-old band to the exotic Banks Street Bar this August the 15th — celebrates the release of Egg Yolk's new collaborative movie project, A Night at Amethyst's.
"We got the idea of making more music for film when we got paid by HBO for our contribution to Treme," chuckles Paul Grass, who plays guitar and saxophone in Egg Yolk. He also led the movie project, and wrote its script. "We wanted to do more film and TV work after Treme, as a band. It has been slow going, so we decided we needed something to get motivated. I had this script and the story had a beginning, middle and end, so we just did it."
Without giving too much away, the movie's plot is, in a word, gross. In several words, it's a parody of Emeril Lagasse's local culinary empire.
"We tried to make it more of a music experience than a cinematic experience," explains Grass. "The musical score sounds like Egg Yolk, but we were trying to expand on our sound for cinematic purposes. We pulled out piccolo, flute, hammer dulcimer, Travis Blotsky on baritone sax, Jen Swinley did the opera stuff. The soundtrack to this movie is more orchestral, with lots of guest vocalists too."
The star chef Amethyst is the center of the story, played with creepy aplomb by Uptown notary, Paul Bello. Music scene veterans Lou Thevenot and Mary Tuminaro guest star along with other notable locals. "The guy who plays the waiter, Scotland Green, is a successful comic now in New York," Grass says.
But behind the scenes, the band itself did most of the heavy lifting: Eric Balletto wrote and arranged the movie's score, which begins with the sound we're used to from Egg Yolk: rippin guitar licks and meaty, perfectly arranged horns. Egg Yolk's bassist Mike Hogan recorded and mixed all of the movie's sound, and at Grass' instruction, removed the actors 'voices, and overdubbed in dialog by new actors and the band members themselves, giving the movie a woozy, off-kilter feel that foreshadows its eventual devolution into a hilarious, psychedelic nightmare.
Guitarist Geoff Douville shot the movie in HD, though the final product is distinctly 70s influenced. "We de-saturated the heck out of it," explains Grass, "so that when it gets to the psychedelic part it just explodes with color like the Wizard of Oz."
Though Grass says, "It's not really a film-fest kind of movie. It's more like a horror film," A Night At Amethyst's premiered last April at the Timecode NOLA Film Fest, where it won Best Short Film. Egg Yolk Jubilee's Greater New Orleans Neighborhood Bar Tour — where the movie will be shown during the band's set breaks — has hit the Lost Love Lounge (owned in part by Douville) and d.b.a on Frenchmen.
After the Banks Street Bar show the tour hits Pat's Pub (Aug 28), d.b.a once again (Sept. 3), Carrollton Station (Sept. 5th), and Government Street Grocery (Sept 12th; Ocean Springs, MS) before ending in Bywater at Bud Rip's on September 19th, though Grass says he's willing to add more dates between then and now.
Despite the seemingly crass nature of the movie, its score and the technical craftsmanship put into the film elevates it above just a dumb joke. A Night At Amethyst's shows that Egg Yolk Jubilee could indeed become a force in the local film industry. "If anyone wants to get us cheap while we're just starting out…" Grass laughs. "But if we can't score other people's movies, we will just continue making our own."
Image courtesy of Egg Yolk Jubilee.