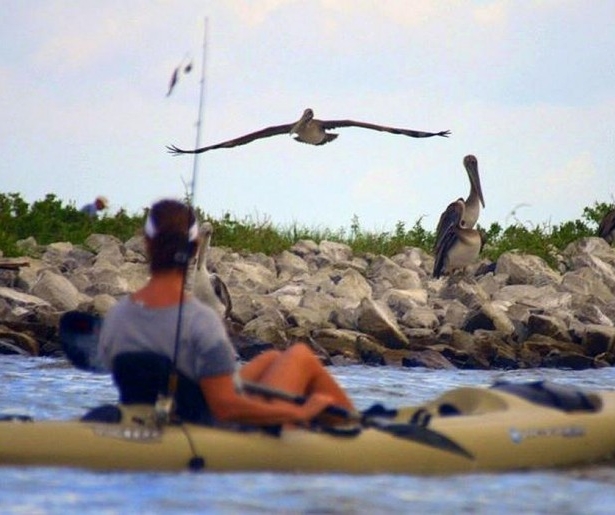 Need to escape the city this weekend? Consider a weekend fishing off Grand Isle in the state known as the Sportsman's Paradise.
The wind has blown from the west for most of the summer. Danny Ray of Calmwater Charters in Grand Isle says the west wind has dampened fishing, muddying the waters.
"But west wind also keeps the water temperature down which is good in terms of hurricanes," says Ray, who is known to look on the bright side, and so believes his Ride the Bull bull redfish tournament at Grand Isle should pack as much action as always.
Ride the Bull only skipped one year out of the last seven, because of the BP spill. Ray says the spill has negatively effected Louisiana fishing, but that two extra-cold back-to-back winters haven't helped. In the last few weeks, Grand Isle's temporarily chocolaty waters have been packed more with blacktip sharks than redfish.
Still, Ray says that last winter's milder cold has him very enthusiastic about Ride the Bull. "We had a normal winter pattern, so this summer has been much better for fishing. We've seen a lot more speckled trout. The redfish population is flourishing as well. The fish will have be spawning on time, so they'll be here for the tournament and they'll be mature. We're gonna catch more fish."
Which means that the expected 700-plus participants signed up for the tourney will also release more fish, in this rare catch-and-release tournament. "If you look at the demographics of kayaking…we strike one for conservation. One of our main sponsors is CCA and Wilderness Systems. Besides," Ray adds, "a 25 pound big old bloody redfish isn't that good to eat anyway. I'd much rather eat a 13-inch trout."
Contestants will travel into Grand Isle on Friday, August 14, for Ride the Bull's popular Go Pro Film Festival, where fishermen submit amazing kayak fishing videos to be projected and judged on the big screen. The winners take home money and high end kayaks.
On Saturday, August 15, after a group safety-debriefing, contestants launch at 7am. During Ride the Bull, contestants fish in a limited geographic area near Grand Isle's Bridge Side Marina, off the tip of Ellmers Island in Caminada Pass.
"It's kind of like fishing in a stadium with 700 people," Ray chuckles. "You kinda notice who's catching fish. There are some experts out there too who see the fish coming in their schools, and you'll notice everyone strategically repositioning themselves." When anyone lands a red, Ray sends the support boat out to weigh, measure and finally set free the fish. The contest's status is updated live on Facebook.
But Ray assures, "It's not very technical, so the amateur has as much chance of winning as the guy with experience. It's also like a tailgate on the water. It's got a little Woodstock in it too—which is why we got Dash Rip Rock to celebrate the tournament's end on Saturday night."
This is Ride the Bull's first year featuring live music. Ray met Dash Rip Rock frontman Bill Davis when the guitarist wrote an article about the uniqueness of Calmwater Charters for Marsh and Bayou magazine. "Usually Louisiana guides are really aggressive and competitive, but he's really mellow," says Davis. "It's a whole different feeling of fishing with a guide. He's a zen kayak guy."
Davis' 30-year-old New Orleans band followed their recent Louisiana Music Hall of Fame induction with two years off of touring America to record its new rock record, "Wrongheaded." Because the west wind has made summer fishing so bad, Davis has had time to simultaneously write and record the first EP with his new quiet indy folk band, The Convergers. Both albums come out this September, just as the fishing should pick up.
But Davis is more than optimistic about Ride the Bull, and about Ray's movement in general: "Kayak fishing as a whole is a lot quieter and more eco-friendly sport," Davis attests. "It's also more exciting because you're down there in this tiny boat, face to face with the fish. To me it's the future of fishing in LA."
For info about Ride the Bull entry, prizes and more, visit Calmwaters Charters.
Watch some GoPro footage from Ride the Bull here.
Image courtesy of Calmwaters Charters.