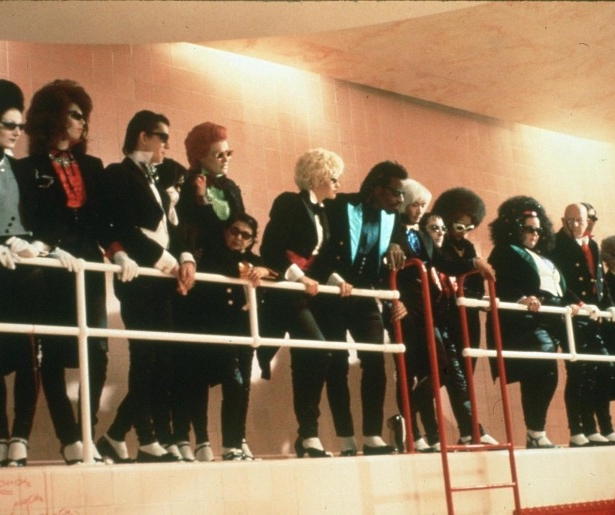 SHARE
It's been 40 years since a bedraggled Brad and Janet stumbled in from the rain and landed in the clutches of Dr. Frank-N-Furter, a "Sweet Transvestite" from Transsexual, Transylvania. Thus began a four-decade run of midnight screenings of The Rocky Horror Picture Show that completely dissolved the fourth wall as the audience jumped right into "The Time Warp" with Magenta, Riff Raff and the gang.
To celebrate this milestone, the Prytania Theatre is hosting 10pm and midnight screenings on the actual date of the original release – tonight, August 15, 1975. The Well-Hung Speakers, the Prytania's in-house Rocky Horror troupe (the name derives directly from the movie), will whip the crowd into a garter-belted frenzy of audience participation.
"We're expecting a big crowd, so I'm sure we'll have plenty of virgins," says WHS director Sophie Symonds, who's rubbing her hands in glee at the thought of deflowering innocents who, like Brad and Janet, have no idea what to expect.
Symonds won't spoil the fun by revealing exactly what the troupe has planned for the big anniversary bash. But birthday cakes, costume contests, and dance parties are all in the mix for the special screenings, which celebrate the birth of a film released long before any members of the Well-Hung Speakers were born.
"Tulane students started the group, which grew into Loyola and UNO and eventually the entire city," says Symonds, who first joined the troupe as a cast member two and a half years ago. "We have a revolving door of actors, because doing Rocky Horror is on a lot of people's bucket lists."
Seasoned Rocky Horror fans should come dressed to kill as their favorite characters. As a fan of the spectral Riff Raff, Symonds favors a death-warmed-over undertaker look.
Would-be Magentas should bust out their sexiest French maid attire, while those who aspire to tap dance with Columbia need to spring for a gold top hat. And since this is New Orleans, expect to see a lot of Tim Curry wannabes strutting their stuff in Frank's fishnets, garter belt and black bustier.
While Rocky Horror troupes in other cities will also be paying homage to the 40th anniversary, there is no nationally coordinated cross-country celebration. "Casts tend to be the brainchild of groups of friends," says Symonds, "so we're not really in contact with one another. It's all very grassroots."
With its flamboyant costumes, outlandish characters and Carnival-style satire, Rocky Horror is a perfect match for New Orleans, which gets a fond shoutout from the troupe during the ritual known as the "Rocky Horror roll call."
"It's right after "Touch Me," when we say the names of all the characters," says Symonds. "After we go through the whole list, we all go back to the lobby door and run through the theater shouting 'Stella!!!'"
Eat your heart out, Marlon Brando.
Rocky Horror Picture Show screens at 10pm and midnight, Saturday, August 15 at the Prytania Theatre, 5339 Prytania St._
Image courtesy of the Well Hung Speakers.