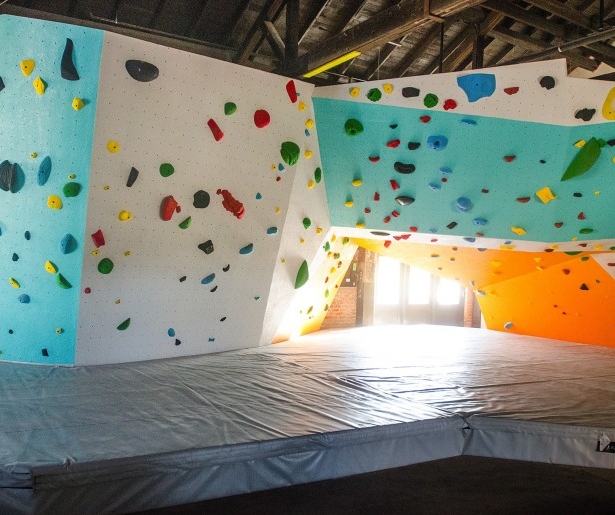 Imagine a logic puzzle where a set of conditions is given in order to find the solution. Now project that same concept on the slope of a wall or rock formation. The problem: the path taken to traverse the varying slope and angle of the wall and its grooves. The solution: reaching the top (completing the climb). The specifics of how to get to the top may be various, but the end result is the same. Are you interested?
Even if you are not familiar with the term bouldering, at some point or other you've likely come across a breathtaking image of a sculpted human form, void of ropes and other sport equipment, perched on the side of a majestic rock structure. That person is probably bouldering.
Bouldering occupies the space where math and logic meet physical prowess, patience and determination. The technical sport is defined as free climbing – without ropes or harnesses – at elevations at or below 20 feet.
New Orleans is a late arrival to the activity, but inhabitants and visitors to the Crescent City are now invited to join the party of climbing aficionados convening at bouldering gyms worldwide with the creation of the New Orleans Boulder Lounge (NOBL), now open on Tchoupitoulas Street.
NOBL is more than just a climbing gym; it is a community space. "Amazingly, New Orleans is the last major city in the country without a dedicated climbing facility," says Founder & Director of Operations, Eli Klarman. "We think it will be a hit because there are a lot of active people, but no active social scenes. There are plenty of places to go eat, drink and see music, but when you want to go do something active and more health oriented the options just haven't been there."
Enter NOBL, a 2500 sq. foot community space with an indoor bouldering gym featuring a padded foam floor and walls ranging from 12-14 feet, yoga studio, fitness center with a cafe and performance stage. This is a space where new and experienced climbers can come together to tackle the physical and mental challenges akin to bouldering.
"Most people think that climbing is all about upper body strength but that couldn't be more untrue," explains Klarman. "Climbers use their hands to hang on to the holds…but the real power comes from your legs and core muscles. Developing hand strength and proper footwork and technique is the biggest thing for improving in this sport."
Classes, like yoga, are included at no extra charge with a membership or the purchase of a Day Pass. This offering will hopefully encourage cross-discipline training. Both yoga and bouldering require attention to breath and body control, making them a natural pair. Also, the practice of yoga helps climbers to achieve strength and flexibility.
"Climbers sometimes have a tendency to muscle their way through a climb and being able to open the chest, shoulder and hips is very important for building proper movement," explains Klarman.
The sport involves a lot of self-discipline, but the congenial vibe at a climbing gym facilitates a social scene around the mats where climbers discuss problems and work together to figure out solutions. Improvement in skill is indicated by efficiency of movement, with no energy wasted.
As physical skill improves, so does the mind in its ability to visualize new paths along the surface. The idea is to attack the problem, making the specific moves and holds like a seamless choreographed dance with the wall.
Sitting at an average elevation of two feet below sea level, New Orleans is not exactly ripe with outdoor bouldering opportunity. The nearest outdoor climbing is around 6.5 hours away at Sand Rock in Alabama. Other destinations in the south include areas in Alabama, Tennessee, Arkansas and Texas ranging between 7-10 hours away.
"Right now we're focused on building our climbing community here at the gym," says Klarman, "But we'd love to take our members on some trips in the region or out west in the future."
Pro Tips:
1. Sign the waiver before you arrive, it will be a lot easier to get started if you complete this one simple task beforehand, and it is easily accessible on their website.
2. Bring climbing shoes if you have them (they're available to rent at the facility as well).
3. Wear clothing that allows for full range of motion.
4. Bring a water bottle – they have free, filtered water on-site.
5. Sign up for their newsletter. NOBL is pumping out exciting things in the coming months and the best way to stay on top of upcoming events, seminars and promotions is through their online communication.
6. All ages are welcome. Youth ages 15 and under must be supervised by an adult.
If you are ready to unleash your inner Spiderman and pining to meet some new friends or just kick it (climb it?) with your regular crew, sign a waiver and come out to NOBL on August 30 for their official Grand Opening party.
The doors open at 2 PM and climbing is free (day passes and shoe rental) until 5 PM when climbing ends and it is time to just party. Starting at 6 PM, let loose and enjoy food, drink and jams until the festivities wrap up around 10 PM.
New Orleans Boulder Lounge is open M-F from noon-10pm with yoga classes nightly and on the weekends from 10am-10pm. Day pass includes both climbing and yoga.
Image courtesy of New Orleans Boulder Lounge.