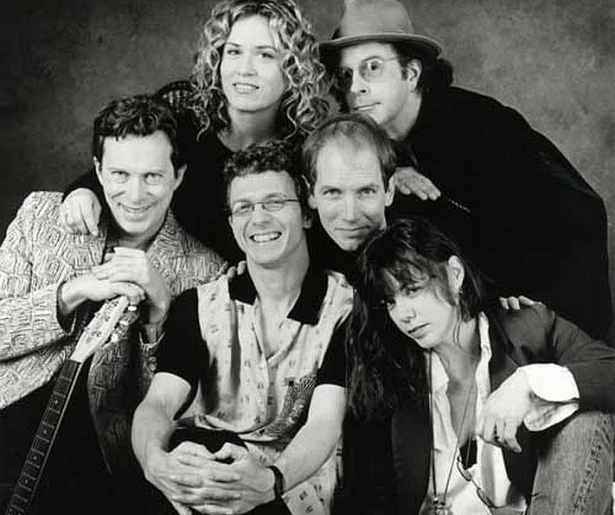 SHARE
In the beginning was Raji's. Now the stuff of legend, the Hollywood rock dive helped breed iconic L.A. bands like Jane's Addiction in the '80s. And for a brief, shining period in the early '90s, Raji's became the Tuesday night family rec room for a loose confederacy of singer-songwriters known as the Continental Drifters.
Founded by New Orleanians Ray Ganucheau and Carlo Nuccio, who brought the group's name with him to L.A. (from LA), the ever-expanding supergroup had a rotating roster of musicians from other notable bands. Among them: Mark Walton (Dream Syndicate), Peter Holsapple (dBs), Susan Cowsill (The Cowsills) and Vicki Peterson (The Bangles), all of whom eventually relocated to New Orleans.
The Drifters quickly built a rabid live-show following with their sparkling roots-rock harmonies. But despite several critically-acclaimed releases, their recording career was spotty.
In 2001, it suffered a serious setback when the 9/11 terrorist attacks derailed their promotional tour for two back-to-back releases. And in 2005, it came to a grinding halt when the federal floods unleashed by Katrina destroyed the entire Drifters' archive of tapes and demos.
Or so they thought.
Thanks to longtime Drifters' sound engineer Disco, and a series of major and minor miracles, many of those drowned recordings were salvaged and resurrected for their new two-CD set on Omnivore Recordings: Drifted: In the Beginning and Beyond.
Dating back to every era of the band's storied career, the Katrina-survivor tapes will be duly celebrated at a historic reunion show at Tipitina's on September 12. There, for the first time ever, all 10 members from every incarnation of the Continental Drifters will be on stage together for an epic trip down memory lane.
"The original idea for the album was to just have the first Raji's band," says Susan Cowsill, who I caught up with by phone while she was touring with The Cowsills.
"It became what it was because of Mark [Walton]'s recovered tapes."
And like the Katrina recovery itself, it didn't happen overnight.
"My wife and family and I lived near the Greek church between two levees, so we got hit by both sides and everything was destroyed," recalls Walton, who evacuated to Las Vegas, where he continues to live today.
"After the flood waters receded," he added, "I went back to see what could be salvaged with my old sound man Disco. The tapes were under the water line, so I was ready to throw them all away. But Disco said no, you can't do that, and put them in his truck and drove back to Pensacola."
Fast forward five years. Walton returns for a Gulf Coast visit, Disco gives him back the tapes exactly as he found them, and they sit on a shelf in Walton's house in Vegas for another couple years. Then talks start heating up with Omnivore, which needs CD material, so Walton decides "out of desperation" to give the flooded tapes a try.
There's just one problem: Most of the tapes are "DAT's" (Sony's Digital Audio Tape format), an outmoded technology, and no one has a working DAT player. Then a "friend of a friend of a friend" spots a player for sale in a pawn shop.
Walton snaps it up, pops the first one in, massages the nearly decade-old drowned tape with a couple rewinds, and presses "play."
"And it just played," he recalls, still kind of astounded. "Oh my god! I was crying. Tape after tape I did that, and the memories came flooding out of the speakers. It's been a very emotional journey, but it gave me salvation and closure."
The long, strange trip reaches its culmination when the players come together to revisit their collective past and write the next chapter in the Drifters saga at the Tip's reunion show.
Whether you're a Drifters virgin or a longtime fan dating back to "The Mississippi" and "Rain Song," you'll be magnetized by what Peter Holsapple calls "a family-style drinking society of impavid [fearless] proportions." The Drifters canon is deep and wide, and their harmonies are shaved so close to the bone you can almost taste the marrow. And boy, is it bittersweet.

During the course of its nearly quarter-century history, as members cycled in and out, the Drifters family reshuffled multiple times. Susan Cowsill's evolution from her Raji's-era marriage to Holsapple to her current marriage to drummer Russ Broussard, who joined the band in the mid '90s, was just the most public of many romantic and artistic reconfigurations.
All of which makes the roux much darker, and the gumbo that much richer.
"People learned and grew and drifted apart and drifted back together again," says Cowsill, who's giddy as a schoolgirl over "the Drifters event," as she calls it. "Because that's what life's about. Music is such an expression of life anyway. And when you have that many people who've had that many life adventures together come back together with the soundtrack of those events … it's indescribable."
How does Cowsill expect to feel when she hits the stage at Tip's?
"Looking around that stage, seeing all those faces? I can't even imagine what that will be like." Then again, maybe she can.
"Like a high school reunion on steroids!"
The Continental Drifters: In the Beginning & Beyond Reunion Show is on Saturday, September 12, Tipitina's, 501 Napoleon Avenue. Doors 8pm, showtime 9pm. VIP tickets ($130) include double CD, silkscreen poster, t-shirt and band meet & greet. General admission tickets $50. Tickets can also be purchased at the Tipitina's box office (M-F, 10am-5pm).
Image courtesy of Wikipedia.