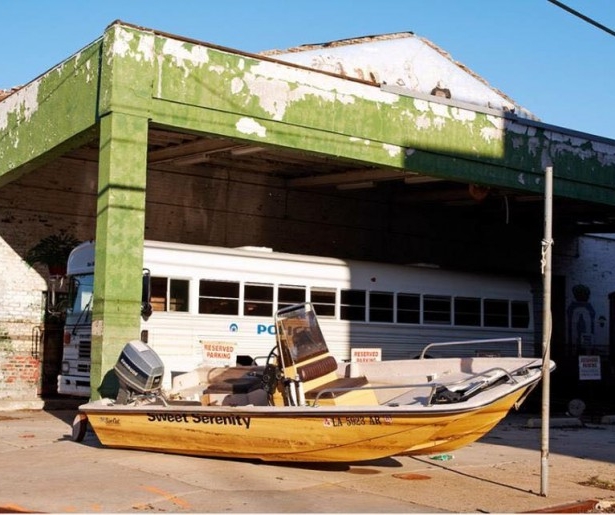 SHARE
New Orleans has been, if you'll excuse the term, inundated with a sheer mass of media dealing with Hurricane Katrina's 10-year anniversary this week. Many people have subsequently, and understandably, installed a media blackout as a result.
While we understand the sentiment, it's also worth pointing out that many of the events, memorials and recollections of the storm were created with craft and care; taken together, they represent a nuanced attempt at understanding New Orleans a decade on. Here are some of our recommended picks, many of which have been produced by New Orleans & Me's publishing partners.
The folks at WWNO and Dirty Coast Press have put together a powerful series of oral histories titled Katrina: The Debris; the episodes have been cataloged here. Each entry on the list traces particular themes and facets of post-Katrina New Orleans – both the immediate aftermath, the long term scars, and the healing.
One of the city's newest museums, the Southern Food & Beverage Museum, explores the ways the city's foodways have indelibly influenced out culture, and in the case of Katrina, our recovery. The museum recently posted the following video, about restaurants and recovery, on their website.

The New Orleans Museum of Art has, unsurprisingly, explored the post Katrina decade via the myriad ways it has been artistically interpreted, a subject we wrote about when we covered Ten Years Gone.
At The Historic New Orleans Collection, visitors can access The Katrina Decade, one of the most powerful photographic records of the storm and its aftermath.
Speaking of photography, the above picture, taken from the Facebook page of the Mid City Yacht Club, one of the city's great neighborhood bars. The establishment, previously a bar called Extra Innings, earned its name during the immediate post-storm days, when Mark Melan cruised the flooded streets of Mid-City in a pirogue scooping up stranded residents.
Melan, who was friends with the owners of Extra Innings, joked that the bar should be renamed the Mid City Yacht Club, and his friends Ben Markey and wife Stefanie took that advice to heart when they purchased the property in 2006. Pictured above is the Sweet Serenity, the boat that saved Mid-City residents and inspired the name of a great Mid-City bar.
Finally, a shout out to the folks at Dear World, who recently posted this love letter, from former Saints player and New Orleanian Steve Gleason, to his adopted hometown.