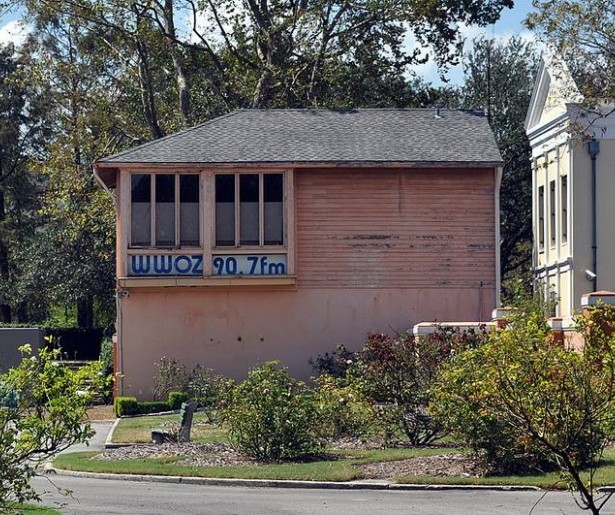 SHARE
It would be an understatement to say that WWOZ is one of the most visible (well, maybe listenable is a better term), recognizable organizations associated with New Orleans music. Plenty of tourists, and most New Orleanians, know that the number 90.7 stands for good tunes and the preservation of the city's sonic culture.
What a lot of people don't know is WWOZ was almost wiped off the face of the Earth, along with the city that houses her, in 2005 in the wake of the floodwaters of Hurricane Katrina.
At the time, the WWOZ studios were located in the Treehouse in Louis Armstrong Park, in the heart of the Treme. Saving the station became a story of not just rebuilding New Orleans physically, but keeping an important cultural torch lit even as many lights in the city remained blacked out. It's about the contributions and work of hundreds of citizens, an extended OZ family that includes some of the city's most iconic musicians.
Listen to the entire saga on New Orleans Calling – and fair warning, once you start, it's hard to stop.
Also, if you're around town this weekend, there's three events you need to check out. All of these are occurring on Aug 29.
Gracias Latinos
This street party celebrates the contributions of the thousands of Latinos who moved to New Orleans post-Katrina. This community has been an invaluable addition to the city's ethnic gumbo, providing much of the city's construction labor, as well as contributing greatly to the food, music and arts in South Louisiana. The celebration starts at 3pm at Casa Borrega.
Mid-Summer Mardi Gras
It's the Mardi Gras that reminds us we're halfway between the last Mardi Gras and the next Mardi Gras. Hey, this a town that likes to Mardi Gras. This wonderful summer parade features a grand panoply of costumes (the theme is Mid Summer OF LOVE-TIE DYE ME UP) and rolls at 7:30pm from the Maple Leaf.
World's Biggest Second Line
This one sounds like a can't miss. I think something like eleven Social Aide & Pleasure Clubs ad at least four brass bands, including Rebirth, the Hot 8, All For One and Most Wanted, are rolling. The marchers will leave from the site of the levee breach in the Lower Ninth Ward at 10am, and are expected to reach Hunter's Field, at St Bernard and Claiborne, around 12:30pm.
Image of the old WWOZ Treehouse courtesy of WWOZ.