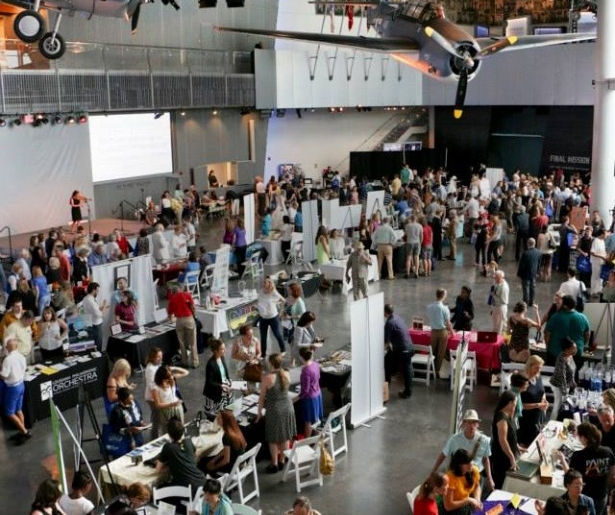 SHARE
The end of August doesn't just usher in cooler weather in New Orleans (also, let's be honest. We've got at least a month before it gets anything like temperate out there). It's also the beginning of the vaunted New Orleans cultural season.
Of course, New Orleans culture doesn't stop for anything, but it's safe to say it slows down a little during the stickiest, hottest months of the year. Social Aid & Pleasure Clubs hang up their dancing shoes; bands look for gigs on the road; theaters, operas and symphonies slow their performance roll a little bit more.
And then September comes. The cultural calendar opens up. And the official kick off party is the aptly titled Culture Collision.
Now in its seventh year, Culture Collision is a gathering of over 65 local nonprofit visual and performing arts organizations. If you want to get acquainted with anything related to the arts in New Orleans, this is your ultimate gateway. The Collision is presented by WWNO and New Orleans & Me.
Effectively, the event, which runs from 5:30-8:30pm at the National WWII Museum, is a combination fair, information clearing house and schmooze fest (the good kind of schmooze fest, where everyone is sincerely excited about the schmoozing). Arts organizations will set up booths that include giveaways, promotions, season calendars and informational material.
Several pop up performances are on tap throughout the night, and while a subtext of networking is clearly palpable, this being New Orleans, the evening is more about fun than anything else. It just happens to be the sort of fun you have with hundreds of New Orleanians who are dedicated to the arts in this massively creative city.
Like we said before, there will be dozens of arts organizations at the event. Some favorites include:
Dancing Grounds An organization that brings dance and dance education to downriver neighborhoods along St Claude Ave, and beyond.
NOCCA The New Orleans Center for Creative Arts is one of the seminal arts education institutions in the South.
Ashe Cultural Arts Center A cornerstone of the creative renaissance currently playing out in Central City.
Arts Council of New Orleans The city's official arts agency has its fingers squarely on New Orleans' creative pulse.
For more information, and to see a complete list of participating organizations, click here. The event will be held from 5:30-8:30pm in the US Freedom Pavilion: The Boeing Center of the National WWII Museum.
Above photo by Jason Saul.