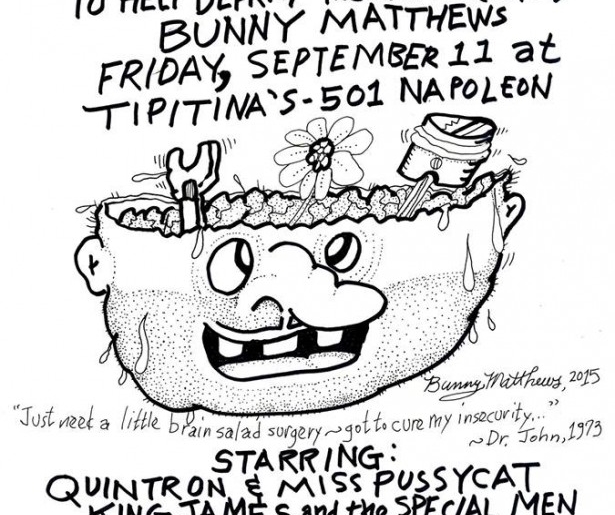 SHARE
Back in 1977, when it was still called the 501 Club for its Napoleon Avenue address, the just-opened music venue that became Tipitina's held its very first benefit. The host and beneficiary? The club's in-house poster artist, Bunny Matthews.
"He funded my birth by having a party at the club, which opened right after I was born," recalls Bunny's son Jude Matthews, who spent his formative years at Tip's hanging out with Johnny Guitar Watson and other musical greats.
Now it's Jude's turn to play host at a Tip's benefit that will help fund cancer treatments for his dad, who was recently diagnosed with lymphoma.
Scheduled for Friday, September 11, Bunnyfest '15 features an all-star lineup of bands from Bunny's storied past: Quintron & Miss Pussycat, King James and the Special Men, Guitar Lightnin' Lee, Creole Stringbeans, Lonely Lonely Knights and O.L.D.
Bunny himself created the poster for the event, shortly before he went into surgery to have a brain tumor removed (The good news is, he does not have brain cancer). Inspired by Dr. John's "brain salad surgery" lyric, it features the sliced-open head of Vic of Vic and Nat'ly fame: the iconic Ninth Ward cartoon couple can be spotted all over town sharing a po'boy on the sides of Leidenheimer's bread trucks.
"I can hardly be as precise as I once was," wrote Bunny when he posted the brain-salad image on his Facebook page, where he keeps friends and fans amused with a steady stream of sardonic updates. "But the average person could care less," he noted, then added: "Not saying that I'm average!"
Indeed he's not. Since his high school years, when he defiantly posed for a yearbook picture wearing a girl's ribbon in his Beatle moptop rather than obey the principal's order to get it cut (see below), Will Bunn Matthews III has always marched to his own drummer.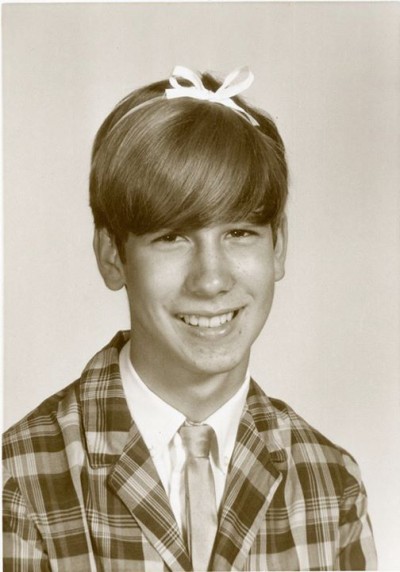 In fact, he's been a one-man band, strutting his stuff as a visual artist, a highly-opinionated scribe and a musical impresario who championed other iconoclasts, including his lifelong friend James Booker, the mad genius of New Orleans piano.
Ninth Ward multi-instrumentalist and wildly creative musical inventor Quintron is proud to be in that number, and credits then Offbeat editor Bunny with giving him his "first break in this town" a couple decades ago.
"I told [Offbeat writer] Aimee Toledano that I would only consent to an interview if Offbeat put me on the cover, thinking they would never do it in a million years," recalls Quintron, who was still a relative newcomer. "Well, to my horror, Bunny called my bluff. Bunny Matthews was and is an example to all us artists of how it's done. Stick to your guns and shoot only when absolutely necessary."
Rick Olivier, whose Creole Stringbeans are on the Bunnyfest bill with Quintron and Miss Pussycat, seconds that emotion.
"Sacred cows must sometimes be tossed on the pyre, and Bunny was always willing to bring out your dead if he smelled bullsh—," says Olivier, who, like Matthews, is also a writer and photographer. "He set a very high standard to keep [it] real and entertaining. And Bunny was open enough to encourage me. He's got a generous "spirit" that's unstoppable, though he'd probably cringe at that term."
Yeah you right. But that's not gonna stop all the recipients of that spirit from showing up in force at Bunnyfest. Dozens of friends and artists are contributing to the silent auction and raffle, where donations range from artwork and photos by Olivier and others to a kayak tour for eight people.
"We've been getting a lot of stuff," confirms Jude. "Arthur Roger Gallery, who represents my dad, may put a piece of his artwork up for auction. We'll also have prints that my dad did for sale. I gave them to him last Sunday, and he's been signing them. Also t-shirts from the event, with Bunny's brain salad drawing. Leidenheimer's is getting those printed up."
The guest of honor himself may or may not be in attendance at Bunnyfest, depending on how his chemo treatments go. But so far, so good. "Chemo isn't affecting him that much," says Jude. "He's still extremely hungry, and has been sending my stepmother out for po'boys."
It wouldn't be Bunnyfest without po'boys, and with Leidenheimer's pitching in to help, they won't run out of bread. So expect to chow down on some serious Vic and Nat'ly fare when you take a break from the main event: dancing your ass off.
It's rare indeed for such a stellar cast of musical hellraisers to appear on the same stage in a single night. Expect them all to hit it out of the park, including Dave Turgeon of O.L.D., who's on the mend from a broken back; last time I saw him, propped up on dual walkers at a friend's Circle Bar birthday bash, he absolutely killed it.
Chances are good that Bunny will be there to see that. If not, he'll likely paint a vivid picture of his own Bunnyfest dreamscape and post it in Facebook.
"Last night, I had one of my usual extraordinary dreams," he wrote on August 25, the day before returning to the hospital for chemo. "[I was] riding on the back of an alligator float we stole on Washington Avenue during Mardi Gras, crashing the elegant parade of the Krewe of Washingtonians (which I don't think exists) and the procession of the St. Augustine High School Band (which does)."
"Washington Avenue was surrounded by skyscrapers (which is hardly the truth) and I couldn't find my car. This is a recurring dream: losing my car in New Orleans."
"And then I woke up and I still had cancer. Things could be worse."
You can attend Bunnyfest '15 on Friday, September 11 at Tipitina's, 501 Napoleon Avenue. Doors 8pm, showtime 9pm. Tickets $15 in advance, $20 at the door.