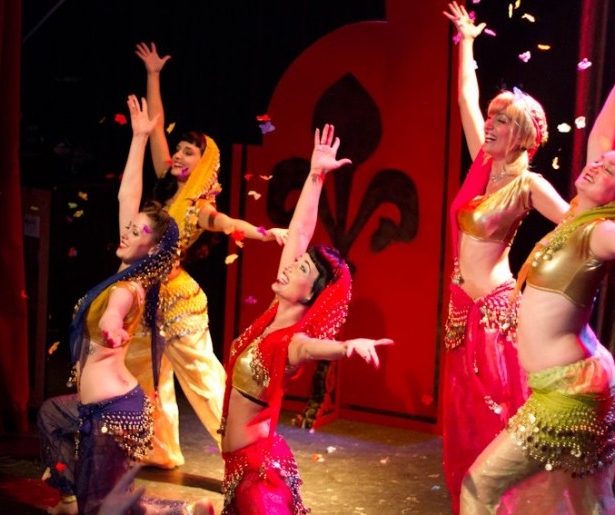 Over the last decade, burlesque — the art of dancing for admiring eyes while shedding clothes in a subtler, more cheeky and less naked fashion than employees at Hustler Club — has exploded in popularity nationwide. Here in New Orleans, where burlesque has enjoyed a longer standing tradition, Fleur De Tease burlesque troupe begins its tenth season this Saturday at One Eyed Jacks.
Legend goes that, before the flood, classically trained ballerina Alexis Graber had struggled to resist the call of burlesque dancing. Graber evacuated with her pasties however, and soon after returned to New Orleans as Trixie Minx, artistic director of her own troupe.
"Fleur De Tease started with just four dancers, one magician, a live three-person band, a host, one aerialist, and one singer," remembers Minx. "It's about doubled in size in the last ten years. The cast is now five or six dancers, three full-time aerialists. At first it was a ragtag group of kids but we've been together so long that, the enthusiasm is still the same but now we have a studio, and we rehearse."
She laughs, "Our magician, Magic Mike, has his own assistant now, if that tells you anything about how we're grown."
Of course Trixie Minx can't take the word 'professional' too seriously. "In New Orleans that's sort of a funny word. There's so much heart in the show that it's professional, but it's very…human. Over the years everything just got a little bit bigger and maybe glossier. We're now sponsored by Trashy Diva and Fifi Mahoney's, so while we started with costumes held together by glue, now we have beautiful gorgeous costumes, and bigger sets and video production."
Trixie's larger cast has been able to pull off increasingly impressive productions, such as Fleur De Tease's Wizard of Oz tribute, wherein the troupe's comedic host Chris Lane's oversized face was projected onto the stage curtains so that he glared down on the audience in a perfect watery green imitation of the wizard.
"It's a mid sized theatre and so we've tried to expand production values, essentially with lighting and projections to flesh out the big stage. We built a stylized screen with an art deco frame that we use for back projections. But then I've also just had really great costumes," ads Lane, who in the line of duty has dressed as cupid, a pirate, the first monkey in space, Nostradomus, Prince, Dick Clark, and the little girl from the Nutcracker, among others.
Lane, who has done unscripted hosting for Fleur De Tease during the ladies' set and costume changes since the troupe's third ever show in 2006, also performs standup as host of the comedy-meets-burlesque event Comic Strip bi-monthly at Siberia. Meaning, he knows the difference between traditional standup and what he conjures on stage with Fleur De Tease.
"Hosting Fleur De Tease has helped me improvise, but also improved my ability to connect to people with different backgrounds. With the bigger productions, delays tend to happen, whether it's a costume malfunction or a stall moving a prop, or the aerialists need everything set up precisely and you can't rush it. Those delays have force me to roll with it and improve my improvisation and crowdwork. The burlesque crowd is raucous and they're there for the girls. So, riding that energy out when something goes wrong and making sure they're having a good time is the challenge."
Trixie adds, "The coolest part of Fleur De Tease is that the core cast has actually stayed with the show since our very first performance: me plus Natasha Fiore and Madame Mystere," says Trixie. "But Chris Lane is really the glue that holds together the show. His comedy, wit, cynicism, wickedly funny personality is what keeps the crowd engaged.
"He started out as a host, but now Chris contributes a lot, from acting in skits to pretty much making all the props. Everyone in Fleur De Tease does something extra. No one just shows up and performs. Our show is not just one star, it's a galaxy of stars."
When she can, Trixie has used the Fleur De Tease brand she and her friends built to get them all more mainstream gigs. "From that show I was made a featured performer at Irvin Mayfield's Jazz Playhouse where we've done four or five years of Burlesque Ballroom, and I also do Creole Sweet Tease, a more classic version of Fleur De Tease with overlapping cast members. We do random events around town, and not just performing: we love working with Emeril for his fundraiser once a year, and at the PetCetera benefit adoptions."
Once a week for the last three years Trixie has flown to Atlantic City to perform in a big money burlesque show. "I fly out Wednesday and come back Friday, and I get to represent New Orleans once a week on a big stage. I've done a Marie Antoinette thing that we do in New Orleans too but usually we work on a small budget. In Atlantic City I come out of a cake with all these dancers in all powder pink and blues, just every princess fantasy ever, realized on stage — but naked."
Trixie understands that burlesque careers are often short-lived, and is grateful and bemused to begin a tenth season with Fleur De Tease. "For me I never expected it to go on this long!" she laughs. "It sort of surprises me that people want to keep seeing it — in a good way!"
The 10th Season of Fleur de Tease premiers at 8p, at One-Eyed Jack's (615 Toulouse). Reserved tables are $25, and general admission is $15.
Image courtesy of Fleur de Tease.