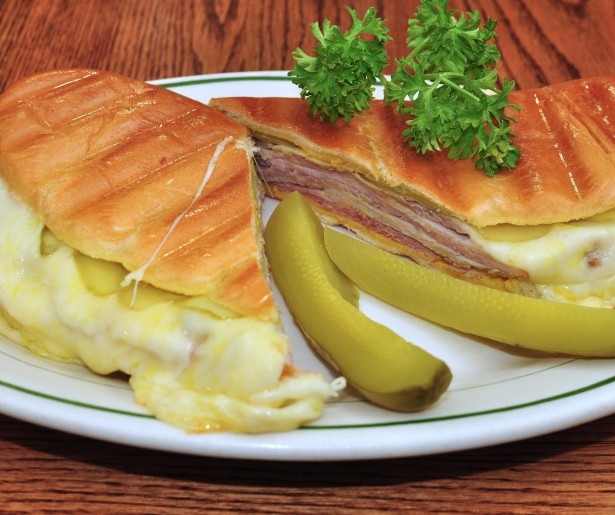 SHARE
We're always excited about new ethnic food options in New Orleans, and to this end, we're in countdown mode waiting to sip a Cafe Cubano at El Libre in the French Quarter when the new restaurant opens on Sep 16.
Cuban cuisine and New Orleans food are cousins from the same Caribbean-Creole family tree; our red beans and rice are mirrored by their Moros y Cristianos, black beans and seasoned rice. These are foodways with roots that stretch from Africa to Spain; where we add a lashing of French sauces, Cuban cuisine compensates with tropical ingredients. It's all delicious at the end of the day.
Beyond rice and beans, another area where there is strong overlap between Cuban and New Orleans cuisine is a love of big sandwiches that will put you to straight to sleep after lunch. Where we order a po'boy, Cubans embrace the classic Cuban sandwich, a French bread sub squeezed in a hot press (called a plancha), topped with ham, cheese, roasted pork, pickles and mustard.
We're hoping El Libre will also include favorites like ropa vieja – seasoned, shredded beef, and fried plantains, which bring a combination of sweet and savory that results in one of the best sides ever. And we're guessing this will be a spot to order the afore mentioned Cafe Cubano, a small shot of espresso that is basically rocket fuel condensed into a small cup.
El Libre is a small space, able to fit around 20 customers spread over two floors, including a cozy upstairs alcove. It's located at 508 Dumaine, just a little ways downriver from Jackson Square.
The restaurant will be open from 7:30am-11pm on most days (from 9am on weekends), barring Mondays, when it closes at 4:30pm. Here's the exciting part: the cafe portion of El Libre will be open until 2am on Friday and Saturday. It's surprisingly tough to find small savory bites and a good coffee in the Quarter late at night (I know Cafe du Monde is nearby, but I'm not always in mood for a sugary beignet and a cafe au lait), so we're hoping El Libre will be a welcome addition to the wee hours milieu of the city.
Above image: a Cuban sandwich, courtesy of Wiki Commons.