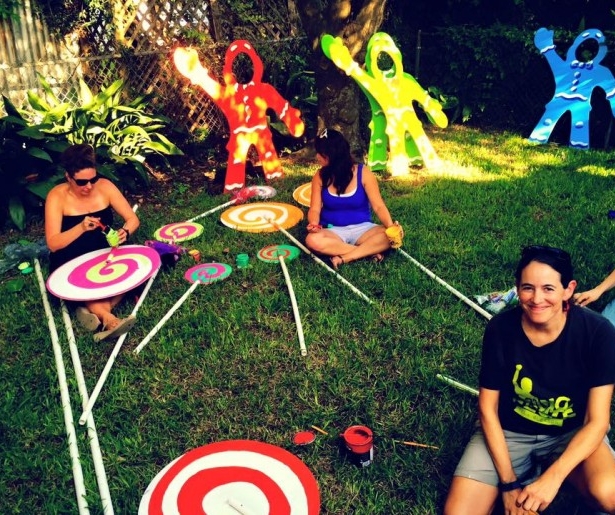 In the same way us adults tend to end up a bit loopy after certain Mardi Gras reveries, our children will return home from this Saturday's Candy Land Ball with an extra-caffeinated, saccharine twinkle in their eyes.
The Confetti Kids organization of Algiers neighbors has, since 2000, maintained both Confetti and Delcazal Parks, and will transform Federal City Auditorium into a cinematic banquet spread of chocolate and a rainbow explosion of sugar stuffs — all in support of their cause.
"They try to make it look like you're in Candy Land," says former Confetti Kids board member Liz King, whose son Nate has attended since the first Ball in 2012. "There is a light show, and giant lollipops everywhere — not real ones, props — and balloons, and just lots of color. There's a faux chocolate swamp, and someone dressed like King Candy, Princess Frostine and Lolly the Lollipop girl — all the parts of the game are brought to life."
Or as Virginia Hebert, who coordinates the volunteers for the Candy Land Ball, puts it, "It's like M.O.M's Ball for kids."
The quality of life for children in Algiers Point is several degrees better due to the Confetti Kids. "On top of maintaining the parks we put on a free annual Halloween party for the kids, and a Christmas party writing letters to Santa, plus a Mardi Gras parade and a Friendship Day Parade, and an Easter Egg Hunt. All of it free and open to the public," says Hebert. "The Candy Land Ball is the only event we charge to get into, so that we can do all these other events throughout the year."
An arts and crafts area at the Ball offers kids the chance to experiment with animation. A dress-up area provides costumes aplenty to encourage make believe, while kids ages two and under are provided with their own private playhouse.
The event's highlight, say the moms, is the kids dance-party thrown by DJ Cupcakes, aka WHIV kids radio DJ Kathryn Hobgood Ray, who also heads up the Confetti Park Players kids chorus project — which happen to sing an original song featuring buttermilk drops, roman candy, and the "Candy Land Ball," on the group's recent first album, "We're Going to Confetti Park!"
Adult drinks will be served but "real food" will be limited to kid-friendly options like pizza. "The grown up part of it is the silent auction," says Liz King. Local businesses with prizes up for bid include Sally Asher Arts, Voodough Bakery, swimming lessons from LOVE Swimming, Kindermusic and BooKoo Bounce, Laser Tag, the Bourbon Orleans and the Shakespeare Festival.
At the end of the night a young Candy Land king and queen are crowned. Liz King, whose son Nate served as king two years ago, says attendees have nothing to worry about, giving their kids an overload of sugar at this year's Candy Land Ball.
"They do a lot of dancing, running around, playing tag and whatever else — it's a whirlwind of activity, and at the end they just crash. They kinda go crazy and wear themselves out and that helps regulate the sugar."
Tickets for the Candy Land Ball are $25 for adults and $10 for kids at the Federal City Auditorium at 2485 Guadalcanal Street, New Orleans, LA, 70114 from 5-9 pm on September 19.
Image courtesy of Confetti Kids.