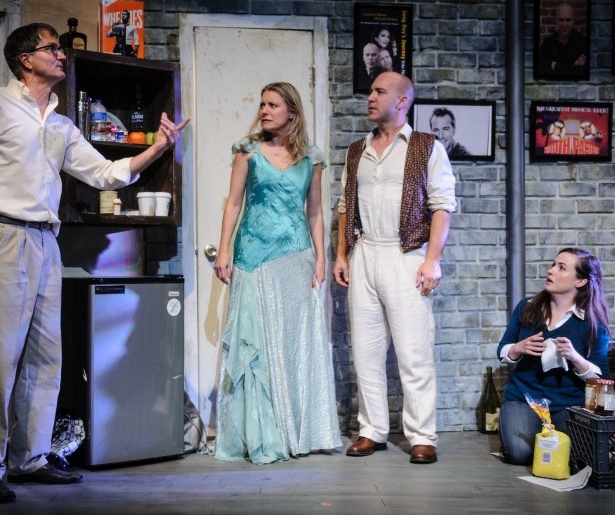 "A stage kiss is a particularly alien, artificial thing," says Jason Kirkpatrick, director of the Southern Rep Theatre's new meta-comedy, Stage Kiss, adding, "This is partly a play about the strangeness of staging intimacy."
Stage Kiss kicks off Southern Rep's new seasons with two actors (Trey Burvant and Aimee Hayes, playing two actors (dubbed He and She). "At one point, the actors [the characters] had a romance that was very profound for both of them," explains Kirkpatrick, "but they did the Irish goodbye — they ghosted each other after a meaningful relationship and never talked again."
Then the actors [again, the characters] find themselves hired at the same job. "Twenty years go by and they get cast in this play together as lovers, and they have to kiss," Kirkpatrick says. "The 20 years between them had built up a bunch of doubts. They both regret, and long for, what they had. At the same time there's a lot of anxiety."
That fairly simple (but "hyper-modern" as Kirkpatrick puts it) rom-com premise is given added depth as the lives of the actors playing actors begin to perfectly mirror the characters they play. "It shifts from right now, then to the plays that He and She are working on," says Kirkpatrick, "it's constantly going back and forth."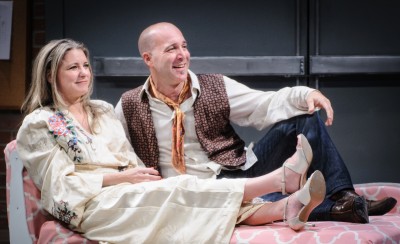 Above: She (Aimee Hayes) and He (Trey Burvant).
Stage Kiss is also gleefully discombobulated by sudden perceived time shifts, says the director: "It's a couple plays within the main play, and in that way it's ultra right now. The first act is a 1930s melodrama, followed by like a 1970s gritty sort of exploitation type play — then, eventually, on the opening night for both of those plays, the worlds they're operating in become more than real."
"The lines in the play so closely match the characters' real lives that even they get confused whether they're saying lines from the play or talking to each other. Between practicing their play and their relationship, they end up having this sort of existential meltdown."
The characters' confusion is designed for maximum audience satisfaction. "One moment you're wondering, Are they acting in the play? Or are they talking in real life?" says Kirkpatrick. "The audience should have great fun figuring that out, whenever He or She take the stage."
The local director limits himself to one or two theatre projects a year, focusing instead on acting film and television. Many of the theatre projects Kirkpatrick has taken on have been with Stage Kiss star and Producing Artistic Director, Aimee Hayes.
Kirkpatrick directed Hayes in A Streetcar Named Desire at Southern Rep in 2010, and Hayes directed Kirkpatrick in Southern Rep's In the Next Room. "
The two were both previously fans of Stage Kiss author Sarah Ruhl, who wrote In the Next Room and Clean House. "Stage Kiss has quite a few brilliantly written scenes that have so many complexities to them." Kirkpatrick laughs, "During rehearsal we'd get confused because, in the play there are times when the characters yell, 'Line!' And so it was hard to tell, whenever anyone shouted 'Line!' if it's in the script, or the actor actually calling for a line — we went down quite the rabbit hole."
Still without a permanent home, Southern Rep opens its season with Stage Kiss at Ashe Power House Theater (1731 Baronne St).
The opening night of Stage Kiss is Sept 19, and the show runs until Oct. 10, Thursdays through Saturdays, with 8pm Sunday Matinees; Oct. 2, 3pm Ladies Night (ladies enjoy a glass of champagne on the house); Post-Matinee Talkbacks with Cast, Sept. 20 and 27, and Oct. 3; Pay What You Can Night, Thursday, Sept. 25.
Main Image: from l-r John Neisler, Aimee Hayes, Trey Burvant, Kristin Witterschein. Photos by John B. Barrois.