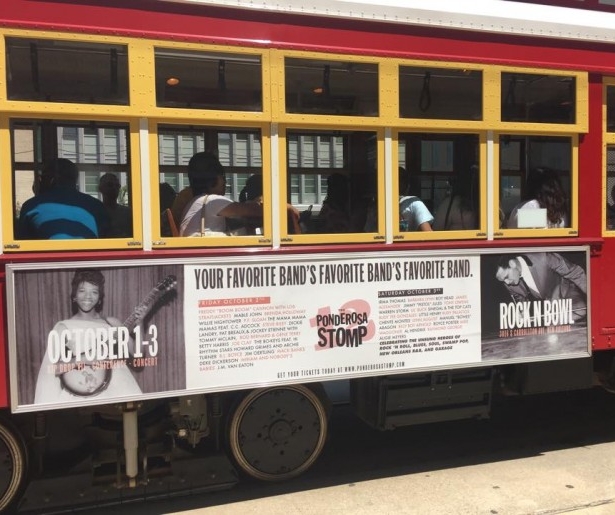 SHARE
Ira Padnos never meant to start a music festival, he just didn't want to hire the same old wedding band for his wedding. So instead, he hired some of his favorite artists (RL Burnside, Lil Freddie King, Lil' Bob, and many more) to play sets at the reception. The lineup he accrued put on such a show that folks around town encouraged him to start booking concerts in New Orleans. For several years, Ira booked bands at Circle Bar, and then in the early-2000's, he decided to pool his resources and produce one yearly show.
"We decided to do one big blowout between Jazz Fest weekends," said Ira. "The idea behind the event being that we would celebrate the secret history of rock n roll, and book artists that weren't as well known, yet still had a huge impact on popular music."
Ponderosa Stomp,, as it came to be known, has grown considerably in the last decade-plus. Ira moved it from spring to fall so it could take place on a weekend and attract a bigger crowd.
Concert venues such as the Fine Arts Center, House of Blues, Howlin Wolf, and both iterations of The Rock 'N' Bowl have housed the event. This year, Ponderosa Stomp takes place from Thursday, October 1st to Saturday, October 3rd at The Rock 'N' Bowl.
All music festivals like to bill themselves as unique, but the Stomp is truly a one-of-a-kind experience. Ira and his staff book cult bands from all over the country, artists you won't always hear about in the American music history books.
"So many festivals today just book the same headliners, the same indie bands," said Ira. "We wanted to honor musicians that maybe didn't get their due when they first cut their records."
The artist-friendly festival also prides itself on its house party atmosphere. "We model it after the old rock n roll shows," said Ira. "There's one stage, and every act plays for about 45 minutes. We like to keep it moving."
Though the Friday and Saturday night concerts are the main events, the Stomp also features a music history conference and vinyl record show (a must for any vinyl collector in town).
Both take place at the AC Hotel by Marriott downtown. The conference features panels and interviews with nearly every act booked for the festival, while the record show has tens of thousands of records from various dealers, featuring all kinds of musical genres, especially garage, soul, rockabilly, and 70's punk. Vinyl dealers and collectors from across the country and world congregate at the record show, and WWOZ will broadcast from the show floor on Oct 3.
"We want to recognize these records as pieces of art," said Ira. "The idea behind the conference and record show is to make Ponderosa Stomp kind of like a rock n roll camp. During the day you go to the conference, learn about the artists, buy some records, and then that night you get to see the live performances and have a good time."
Another festival highlight is the Hip Drop DJ Kick-Off Party at d.b.a that opens the festival on Thursday, October 1st. Originally started by DJ Soul Sister and now curated by Brice Nice, the party showcases DJs from near and far, all spinning rare tracks from their collections for a half hour each.
Highlights from this year include Shimmy Shimmy DJs from Australia, Carlos Rene & Elisse Locomotion from Mexico City, and Gary "Gazfunk" Small from Ireland. Of course, New Orleans staples Soul Sister and Swamp Boogie will be spinning as well. The show starts at 9:30pm.
Though it's hard to pinpoint just a few acts to check out, given the endless lists of artists, here's some concert highlights to consider:
Friday, October 2nd

Freddy "Boom Boom" Cannon w/ Los Straightjackets – The late 50's and early 60's teen idol holds the record for most appearances on American Bandstand. He's backed up by the surf-pop, spaghetti Western, masked L.A. rock band Los Straightjackets.

P.F. Sloan – Sloan is known mostly for writing "Secret Agent Man" and playing the infamous opening guitar to "California Dreamin'" by the Mamas and the Papas, but the singer-songwriter brushed shoulders with some of the greatest figures in all of pop-music in the 50's and 60's. After decades away from music, he's back to play his hits, including Eve of Destruction.
Saturday, October 3rd

Barbara Lynn – A triple-threat from Texas that's been sampled by Moby, Lil Wayne, and plenty of others. Lynn is an unsung American soul-singer finally getting her due. She'll no doubt play her biggest hit, You'll Lose A Good Thing.

Roy Head – A true Texas wild man and unbelievable showman with microphone tricks like Joe Tex and James Brown, Roy Head will play two sets, one rockabilly, and one a more horn-driven affair. He's just one part of the Stomp's emphasis this year on West Side Soul from San Antonio.

Tony Owens – The Lost Soul King of New Orleans is a true underground hero with a devoted following in Europe and Japan. Owens returns to the stage at this year's Stomp after a long hiatus from performing.

Irma Thomas – The Soul Queen of New Orleans has led a prolific and eclectic career as one of R&B's most unique voices.
Ponderosa Stomp seeks to celebrate the legacy, preserve the history, and revitalize the careers of American musicians. It's a concert experience unlike any other, in New Orleans or the rest of the country. Ira insists that even if you're not familiar with a lot of the artists, come check it out.
"You don't need to be a music connoisseur to enjoy yourself," he said. "Both nights are the best eight hours of music you've never heard of in your life."
For ticket information, check out the Ponderosa Stomp website.
Image courtesy of Ponderosa Stomp.