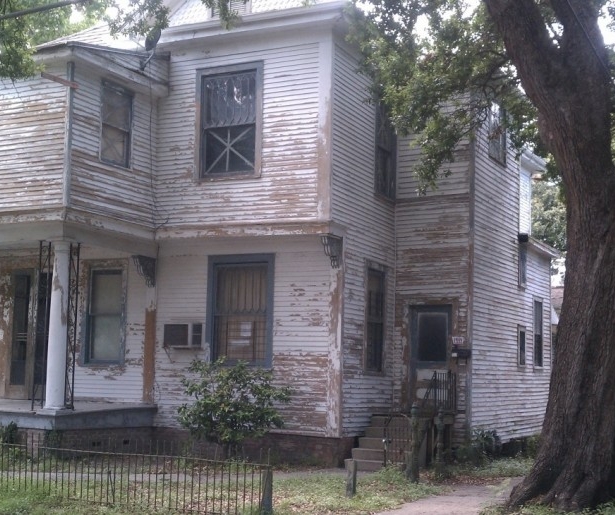 New Orleans is considered one of the world's most haunted cities. Certain realtors brag or warn of this fact when pitching French Quarter properties. Our tourism industry is bolstered by our city's spookiness.
You can add film to the list of spook-related New Orleans activities: now in its fifth year, the annual New Orleans Horror Film Festival (NOHFF) aims to celebrate the craft of giving audiences a fright.
The NOHFF has already grown to the point where, this year, judges received 200 submissions from outside the United States. "But we have no local films this year," festival director and New Orleans native Charles Lucia is sad to admit. "None from New Orleans. I work in the film industry here, and half of the films would be able to submit to our festival. We have to work on that."
Until then, Lucia is touting horror films like Chimeres, a Swiss film shot in Belgium and acted in French. "An outstanding film," says Lucia. "It's a vampire film but not a traditional one: more of a wendigo story than a werewolf story" (explainer: a wendigo is a cannibalistic Native American spirit; humans can turn into them when forced to live in animalistic conditions).
Also from overseas, Reveries of a Solitary Walker – it's a little hard to follow, edited oddly, but that's part of the culture because it's an Italian film, and they're generally more experimental. But this is a phenomenally beautiful film, maybe the best looking film we have in the festival. It incorporates some stop-motion and Claymation — just a very interesting movie."
The festival begins on Sep 24 (Thursday) with an open-to-the-public filmmaker meet-and-greet featuring live music by The Troublemakers at Mag's 940 at 9pm.
On Sep 25 (Friday), the NOHFF rolls out the red carpets for directors and actors at 5:30pm, with horror, sci-fi movies and shorts to follow from 6:30pm till midnight or 1am; all events will take place at Rare Form.
"We've added some extra time at the end of the night for a possible encore screening of Chimeres, if there is a demand," says Lucia. Saturday's proceedings begin at noon with a block of horror shorts, a public reading of various new horror screenplays, and ends after midnight with Bloosucking Bastards, plus a possible encore of The House on Pine Street, one of Lucia's personal favorites:
"I tend to go more toward dark comedy but Pine Street just grabbed me as a kind of ghost story with a twist. A real slow-burn. Great cinematography as well. Bloodsucking Bastards on the other hand is sort of Office Space meets Fright Night: a really dark comedy, the characters are really well developed. The fest is actually curating this film, which normally we shy away from."
Sunday means more spooky movies starting at noon, a panel discussion on indie film distribution at 2:15pm, an awards ceremony at 9pm, followed by more possible encore screenings, plus a closing party featuring spooky surf-rock band, The Unnaturals.
Having started as a volunteer and now in his third year as a director, Lucia is grateful to see the festival be taken seriously under his watch. "To have a horror themed festival during Halloween weekend with so many festivals to compete with that weekend, and to see it become successful is amazing. We'd wanted to make something accessible — and we did! The response we've had, there will be 20 tickets at the door each night only." Meaning, both VIP and regular Weekend Passes for NOHFF are sold out.
But Lucia's most excited about how at home the festival feels in his own hometown. "Things that work really well here are things that are multifaceted," he says. "So even though we're first and foremost a movie festival, we're trying to bring as many aspects of the city's artistic culture from filmmakers to artists, musicians, jewelry makers — and everyone collaborates."
Catch a trailer for the film festival below; fair warning, it gets a little graphic.