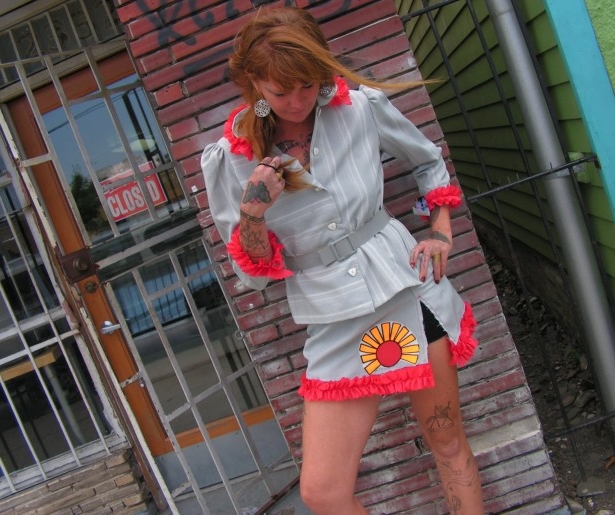 SHARE
It's twilight on St. Claude Avenue, where the setting sun bathes a surreal streetscape that's causing drivers to rubberneck and diners across the street at St. Roch Market to do doubletakes over their crawfish ceviche.
Out on the neutral ground, a lanky jungle-striped creature is shooting selfies while striking poses for surveillance cameras. Meanwhile, mirroring his actions, smartphone-wielding models spangled with tape and masked in facepaint stalk cameras pointed at the sidewalk.
Suddenly, the storefront doors burst open, and the queen of this beautifully tattered tribe emerges: a small tattooed woman wearing a regal headpiece and a flowing blue gown emblazoned with a giant Hello Kitty.
Welcome to Ex Voto (2350 St Claude), purveyors of "curiosities, magical relics and experimental cocktail hats," which showcases cutting-edge local designers amid a trove of vintage finds, and stages fashion shows and happenings at the drop of an avant-garde hat.
"That to me is the pulse of shop," says Mo Lappin of the pop-up storefront Howlpop New Orleans, who joined forces with Ex Voto founder Alita Edgar and Calamity designer Jonathan Wood to open the store. "It's an art project with a retail engine."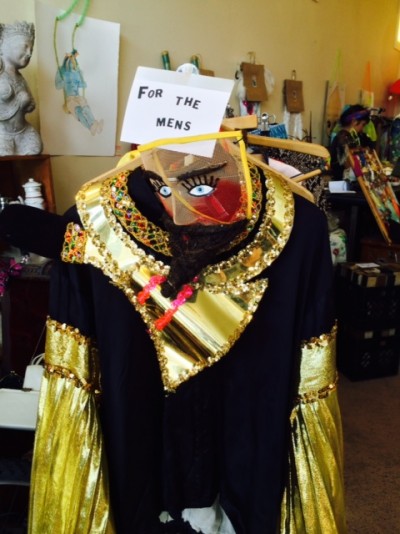 The name Ex Voto means votive offering, and was inspired by relics left by the faithful in the little chapel in St. Roch Cemetery, just a few blocks away. But instead of medical prostheses, which testify to miraculous cures, the shop is festooned with a fanciful array of body decor that dazzles the eye while its shelves are bursting with curios both found and created.
"I find it really gratifying that people who come in quite often say that they've never seen a store quite like this one," says Edgar, who tapped Lappin and Wood as partners as soon as she found the space. "We've had tourists, teenagers, grandmas, people from Chalmette – a real mix. Yesterday, a lady came in looking for a flapper dress for a family party, and we were able to outfit her from head to toe."
Vintage clothes and artifacts make Ex Voto a popular destination for set decorators from the movie business. But locals tend to make a beeline for the "value-priced art fashion": wildly creative repurposed designs that even struggling artists can afford.
Lappin coined that catchy tagline 14 years ago, when she first hit New Orleans and started staging seasonal Howlpop/Calamity pop-ups with Wood. The most successful of these became the much-loved Tinseltown, where Edgar joined the team when she became a permanent New Orleans resident three years ago.
The trio still stages Tinseltown pop-ups every Halloween and Mardi Gras at the Tigermen Den (3113 Royal St.). They also recently launched the Pleasure Center Night Market, a rock-and-roll performance event with a Marrakesh-style market that happens every third Tuesday at the Allways Lounge.
But the heart of the retail engine that drives this ever-evolving art project is the Ex Voto storefront.
Opened as a one-year pop-up with an expiration date of December 31, 2015, Ex Voto has been making the most of its current location on rapidly changing St. Claude Avenue while the team scouts for other locations to set up shop come 2016.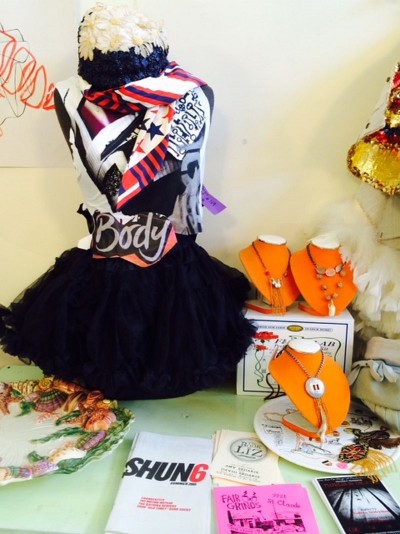 "We were the first real storefront to open on this block, after the Botanica [in the New Orleans Healing Center]," says Edgar. And though they were delighted to welcome their new next-door neighbor Oya, named for the African goddess of the marketplace, "St. Claude is still a bit of a frontier," says Lappin. "We've had to work hard for everybody who walks in the door."
Once they walk in, however, Ex Voto shoppers keep coming back.
"I love serving the people who live in the community, and seeing the same people over and over again," says Lappin. And wherever they set up camp in 2016, Ex Voto devotees are sure to follow.
What are they looking for in the next space?
"If someone wants to give us a huge warehouse, I'd love to set up a business that includes a warehouse full of recycled materials for movie props," says Edgar. But the Ex Voto team isn't only thinking big, she says, adding, "We've also talked about working on a super tiny space. It might end up being a trailer, or some tiny specialty storefront."
Whatever their new abode turns out to be, they'll be up to their old tricks. Fun fact: In their previous lifetimes, both Edgar and Lappin worked as magicians' assistants, in Coney Island and Las Vegas respectively (which they only discovered after they opened Ex Voto together). Who knows what they'll pull out next from those "experimental cocktail hats"?
Ex Voto is located at 2350 St. Claude Avenue in the Marigny neighborhood of New Orleans. Open 12pm-7pm Wednesday-Sunday. Check the Ex Voto Facebook page for special events at the shop, and info about their pop-ups in other venues._