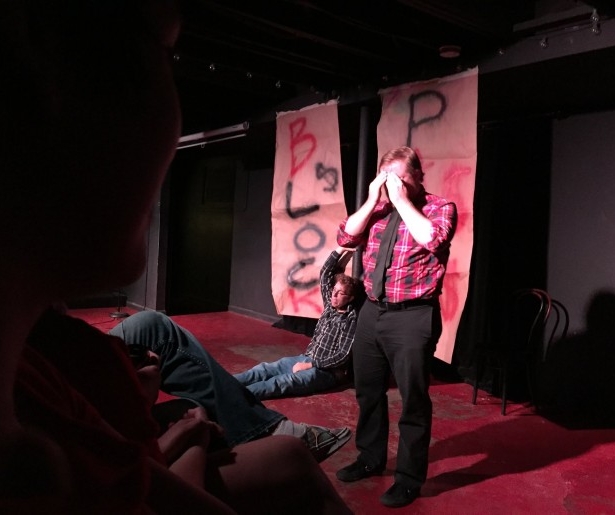 You can see comedy every night of the week in New Orleans. That's true in 2015 – the fifth year of the New Movement's comedy festival Hell Yes Fest – but it wasn't true five years ago. The city's rapidly-spreading comedy universe is growing right before our eyes.
To mark its fifth year, Hell Yes Fest expands to an 11-day bacchanalia across New Orleans. Along with a dizzying array of sketch, improv, stand-up and alt comedy, the festival presents nine headlining shows: Sean Patton, Nikki Glaser, Tim Heidecker, Doug Benson, a "Doug Loves Movies" podcast recording, Neil Hamburger and Matt Braunger, James Adomian, Baron Vaughn, and Todd Barry. (Note: Neal Brennan's "3 Mics" show has been canceled.)
Six picks for the fest are below, but don't stop there. Make it a point to drop into one of New Orleans' regular comedy shows during the week. You never know which special guests may stop by for a quick set, and you might discover a few local comedians that you really like. All tickets can be purchased here. Pro tip: if a show has no cover, it's good etiquette to throw a few dollars in the tip jar.
Sean Patton
Friday, Oct. 2, 8 p.m.
Cafe Istanbul, 2372 St. Claude Ave.
$15 online
Sean Patton is a hell of a comedian. He's starkly imaginative and empathetic, and I've never seen him do the same set twice. New Orleans is lucky that the Slidell native comes home to perform often, but it's never often enough. Patton performs with Matteo Lane and Nato Green; Molly Ruben-Long hosts.
Part 2: Unnecessary Sequels – "Clueless" Edition with Amy Heckerling
Saturday, Oct. 3, 10 p.m.
The Theater at St. Claude, 2240 St. Claude Ave.
$18 at the door, $15 online
Amy Heckerling's "Emma"-inspired teen movie masterpiece "Clueless" turned 20 this year, and Hell Yes Fest celebrates the occasion by drumming up hilariously bad pitches for its sequel, prequel, web series, or whatever random projects inspire six teams of comedians. Lisa Friedrich hosts the show, which pits three teams from Austin against three teams from New Orleans. Amy Heckerling, Brock LaBorde and Brandon Stroud will judge.
77 Cents: An Unapologetically Feminist Comedy Show and Coloring Book Party
Friday, Oct. 9, 8 p.m.
Cafe Istanbul, 2372 St. Claude Ave.
$15 at the door, $12 online
Molly Ruben-Long and Sophie Lucido Johnson premiered 77 Cents to a sold-out crowd at the Hi-Ho Lounge in May 2015, and they're bringing it back for Hell Yes Fest. The lineup includes Farah Brook, Sara June, Josh Androsky, Kaitlin Marone, Ella Gale, Anna Seregina, and Alex Kumin, with music by Jessica Hong. Audience members receive a free coloring book featuring the 77 Cents Hell Yes Fest comedians, and can choose to purchase the original 77 Cents coloring book of favorite female comedians for $7.
Picture This!
Friday, Oct. 9, 8:30 p.m.
Hi-Ho Lounge, 2239 St. Claude Ave.
$15 at the door, $12 online
Comedians tell jokes in front of a screen, and animators draw the background. This Hollywood-based show from Brandie Posey and Sam Varela features stand-up from Kate Willet, David Venhuizen, Mary-Devon Dupuy, John Michael Bond, Jeff Simmermon, and Dave Child; holding the (digital) pens will be Janine Brito, Clare O'Kane, Kati Prescott, Andrew Polk, Mike Mayfield, and Mike Hollingsworth.
Todd Barry: Crowd Work
Friday, Oct. 9, 10:30 p.m.
Cafe Istanbul, 2372 St. Claude Ave.
$18 online
In late 2013, dry-and-droll comedian Todd Barry went on a short tour with absolutely no prepared material. His headlining sets were all crowd work: What's your name? Where are you from? Where'd you get that shirt? You can stream Barry's "Crowd Work" special on Netfix, or purchase it for $5 at LouisCK.com. Then pick out a cool shirt to wear to Cafe Istanbul. Andrew Polk hosts the show, which also features Christina Parrish and Terance McDavid.
Late Late Breakfast
Sunday, Oct. 11, 2 p.m.
The New Movement, 2706 St. Claude Ave.
$8 at the door, $5 online
The Chicago-based show from Danny Maupin and Tyler Jackson combines stand-up, games, and free pancakes. Comedians tell jokes while also playing along with ridiculous challenges, such as smashing fruit like Gallagher or getting pied in the face. The show just spawned a satellite in New York City last month. Bring your own Bloody Marys. (In fact, the theater will be adding a bar this month, so it's one of your last chances to BYOB.)
Above image: a show at The New Movement Theater, via Facebook.