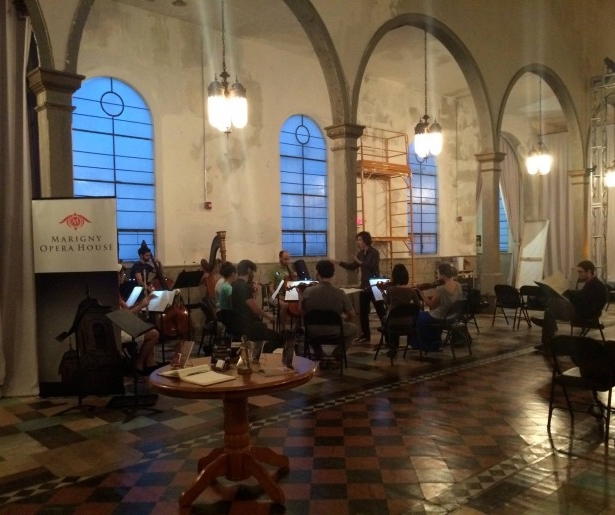 SHARE
The story of the descent of Orpheus into the underworld is one of the earliest known depictions of a trope common to cultures around the world: an individual seeks to defy death itself for the sake of their beloved. In this case, Orpheus longs for his dead bride, Eurydice, but there are conditions to be met if he wants to bring her home from the underworld…
We won't spoil the outcome of the saga, but you can learn the ending for yourself this weekend when the Marigny Opera House's own ballet company kicks off its second season with the premier of Orfeo.
Based off of the classical 17th-century 'L'Orfeo' by Claudio Monteverdi, Orfeo at the Opera House features an original score penned by Tucker Fuller and performed by a chamber orchestra under the direction of Francis Scully. The music will accompany a full suite of original choreography courtesy of Maya Taylor.
The ballet will be presented in two acts consisting of 14 musical numbers; as genre goes, the music sits at the crossroads of classical and contemporary, as do the associated dance performances.
As outlined above, the ballet follows the bard Orfeo, based off of the legendary Orpheus, who meets and falls in love with Eurydice. The two are married, but on the evening of their nuptials, the bride is bitten by a snake and dies. Orefo seeks out his wife's spirit in the underworld, where he must affect a deal with the Lord of the Dead to claim her soul back.
(Side note: According to the Greek poet Pindar, Orpheus was descended from the goddess Calliope, the source of the name of the iconic New Orleans street. At New Orleans & Me, we're always happy to point out quirky parallels between Greek myths and local geography).
The Marigny Opera House has become a mainstay of the city's performing arts scene, particularly since the formation of its in house dance company, the Marigny Opera Ballet. The opera house space, which epitomizes the romantic mix of entropy and faded veneer that so many love about New Orleans, sits in the old Holy Trinity Catholic Church, close to the edge of Faubourg Marigny.

Orefeo's dancers include Trey Mauldwin, Anna Isoipiv, Donavan Davis, Kellis Oldenburg, Gretchen Erickson, Phillip Rush and John Bozeman. Curtains rise at 8pm Friday, Saturday and Sunday; tickets are $30 and can be bought at the door or at www.marignyoperahouse.org.
Above image: the orchestra of Orfeo rehearses in the Marigny Opera House, via Facebook.