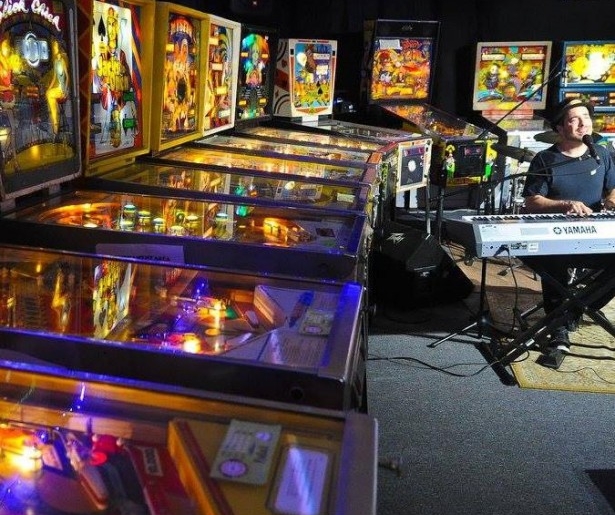 The main room of this particular church in Metairie is lit only by 90 or so blinking, flashing, ringing, dinging old-school pinball machines, along with another couple dozen full-sized, classic and 80s video games.
"I used to have pinball machines in my house, in my living room, in my bedroom, my dining room," recalls Mike Perry, proprietor of the mostly members-only PinChurch.
"The plan was always to open up a public arcade," he adds. "But running an arcade now would be different than in the 70s and 80s; kids these days are much more into consoles and computers, so pinball is more of a retro thing for adults. But the laws on the books aren't friendly to the demographic that would be into it; in Louisiana, if 50 percent or more of your revenue comes from coin op, you can't sell alcohol on the premises."
Perry could have maybe worked around the law by selling armbands allowing customers free play of all the machines. "But I am more of a purist," he says. "Pinball should be played the way it was originally meant to be played. If the game is on free play you don't pay as much attention to the game. If you play poorly one ball you take for granted 'I'll just play another game.'
For Perry, his love of pinball ascends into the philosophical. "I think real pinball is a metaphor for life: you should be going for it all the time because you never know if this is the end of [the game]"
While true pilgrims will want to head to Metairie for services at the PinChurch, as it were, a sampling of Perry's pinball machine collection can also be played at Kebab in the Bywater, and serious pinball enthusiasts can sign up to compete in a "pin-golf" tournament at Kebab, this Sunday, Oct 4, at 3:30pm.
Back in Metairie, Perry has modeled his semi-private PinChurch after private Mardi Gras Krewes. "The Mystik Krewe of PinChurch is a social group, makerspace and business incubator: a private venue for a small group of friends to work and collaborate, a 21st Century Secret Society," he says. "Dues are $600 a year standard membership. But whereas in a Mardi Gras krewe you get maybe two events a year, we have a couple events a week, with open bar and potluck dishes."
Membership to PinChurch includes a rotation of high-end musical performances in an intimate, unique setting: from Tommy Malone, to Eric Schwartz, Texan Rebecca Loebe from 'The Voice', and Shelly Segal from Australia. November 10th welcomes Greg Klyma from Buffalo, NY.
"We're trying to create an Austin City Limits kind of thing," Perry says. "The main pinball play room is wired with 3,200 watt sound system, has custom designed lighting. We broadcast a chatroom on the wall, so people can interact online. Bands who play here get a full ProTools recording as well as a video recorded from several shifting angles, with pro editing."
While not a public entity, Hollywood has discovered PinChurch. "They have a bead on me for rental," says Perry. "But stars also just come in on their own. We've had Ed Robinson of Barenaked Ladies. Jello Biafra is a regular over here. Jason Sudeikis from Saturday Night Live was in town and came in and played and also rented a few pinball machines."
Rentals? "I usually don't rent them out because they're such a pain to move, but if you've got movie star money than I will absolutely put a machine in the Uptown house you rented for a fortune while you're in town," Perry laughs. "I will take care of you."
PinChurch is, in the end, intended as a populist endeavor. "All the rich and powerful have collectives, secret societies and groups," says Perry. "But I wanted to create a modern version of that that's more inclusive and open. Usually those groups are all men, or all women, or all black people or white people. We don't care what kind of skin color or preference you have as long as you're not a sociopath — and that you're generous and creative and interested in sharing with the group."
The public is invited to join the krewe officially, make arrangements to visit, or book a private party at Pinchurch; a good place to start is the church's website.
Image courtesy of PinChurch, via Facebook.