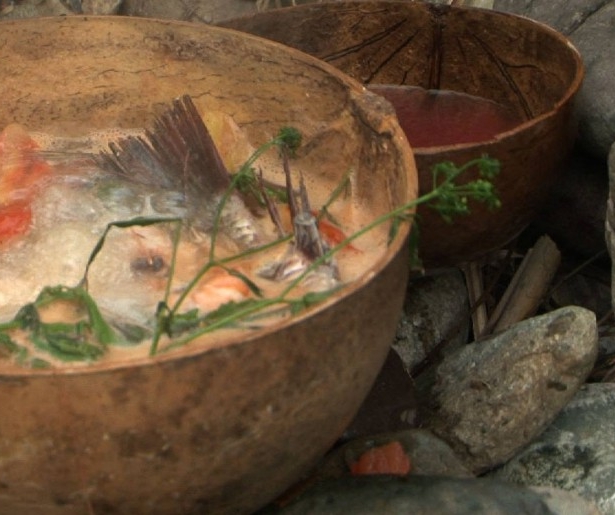 SHARE
"What you got in that suitcase? Rocks?"
Chef Cesar Gachupin de Dios and his son Victor Gachupin Velasco heard that moldy old joke from every airport agent and customs official they encountered en route from Oaxaca City to New Orleans in 2013, when they created their first Stone Soup pop-up at Vaughan's Lounge in the Bywater.
And it cracked them up every time. Because the punchline was "yes!"
You can't make traditional Chinantec hot-stone fish soup from any old stones. They must be gathered from the banks of the river that runs through the Oaxacan pueblo of Usila, where generations of Chinantec men have prepared the ritual soup to honor the women of the community. So the chefs were indeed packing rocks in their bags when they made their first trip.
This time around, they didn't have to; Vaughan's owner Cindy Wood drove 200 pounds of Usila stones up from Mexico last summer and stored them in the bar's back room. But the rock star chefs will bring the hollowed-out jicara gourds they'll use to prepare Stone Soup for 35 people each night during the four-night Vaughan's pop-up (October 6-10, 6pm-10pm, 800 Lesseps St.)
"It's kind of a homecoming for the project," says filmmaker Sarah Borealis, who tracks The Path of Stone Soup from its ritual home in Usila to the chefs' Oaxaca City restaurant in a 24-minute documentary that will be screened at the event. "Since the first pop-up, the film has been screened in 13 countries."

A successful Kickstarter campaign sent the Stone Soup team to Nova Scotia for the 2014 Devour! Food and Film Fest, where their pop-up at a food truck rally was a huge hit. There, the chefs used meaty Canadian haddock in the soup; here, Gulf Coast red snapper and shrimp and will be the pescatarian stars. But wherever they travel, the chefs' method of preparation remains the same.
Stones are heated on an open fire for at least two hours, then dropped into a gourd filled with water that flash-cooks the seafood before your eyes in a spicy brew of chiles, cilantro, garlic, tomato and epazote, an herb common in Mexican cooking.
Though the soup cooks in an instant, the journey all the elements took to get to your bowl makes it the ultimate slow food. And, just like the soup itself, the Stone Soup film didn't happen overnight.
"We have worked together on creating an audiovisual narrative of this tradition for at least five years," says Borealis, who first encountered stone soup while having lunch with a friend at the chefs' Caldo de Piedra restaurant in Oaxaca City. When she returned to Mexico as a fledgling filmmaker in 2010, she made a three-minute mini doc about the restaurant as a class project that won first prize, and delivered a DVD to the family as way of saying thank you.
"They were shocked," Borealis recalls. "Other filmmakers had come through, taken their information, and never given anything back. When they saw the DVD, they said they'd like to expand the project and invited me to come to their pueblo, Usila, in the Papaloapan River basin."
Pre-production took more than a year – "I wasn't a filmmaker at the time!" – but the actual shoot happened on a shoestring budget over just 12 days.
New Orleanian and WWOZ fixture George Ingmire signed on as soundman, and Borealis recruited Mexican cinematographer Arturo Juarez Aguilar. Chef Cesar Gachupin de Dios and his family helped develop the screenplay and sequences shot at the pueblo.
They then spent another couple years going back and forth with the Mexico City-based editor, Aldo Alvarez, on the painstaking process of translating the Chinantec dialogue and approving the roughly edited sequences.
"It was important to do it in their language, which is a tonal language that less than ten thousand people speak," says Borealis. "It had to be translated first to Spanish, then to English, word for word. We are all co-producers – the family, [cinematographer] Arturo and me."
During the course of the filmmaking process, Chef Cesar's son Victor, a political science student who assists his father in the restaurant, achieved one of his shining goals: to learn the English language. He now speaks it so beautifully, he'll be able to translate directly from Chinantec to English when the team travels to Denver to screen The Path of Stone Soup at the 2015 Indigenous Film and Arts Festival.
The Vaughan's pop-ups will help fund the Denver trip, and feature live music by local artists including members of the Iguanas drink specials like mezcal cocktails and Victoria beer; and a display of intricately patterned Chinantec textiles.
The event also celebrates the bridges Borealis and her team are building with different cultures along The Path of Stone Soup. And here in New Orleans, that's not much of a stretch.
"It's the same as a barbecue or crawfish boil in Louisiana," says Borealis, who plans to continue the pop-up series with cuisine from Cuba, the Garifuna community in Honduras and other Latin American cultures. "It's a multisensory experience that brings people together to share food as a community."
Stone Soup Pop-Ups run from 6pm-10pm on October 6, 7, 9 and 10 at Vaughan's Lounge, 800 Lesseps St. Tickets, available here, are $15 include an individually-prepared bowl of stone soup and a screening of the short film.
Image courtesy of The Path of Stone Soup via Facebook.