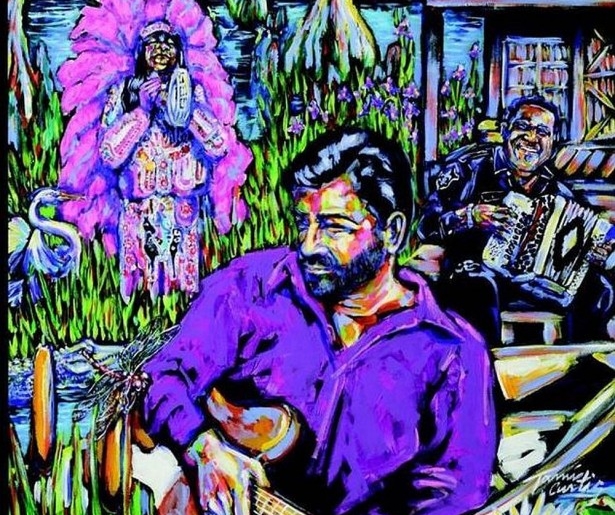 Guitarist Tab Benoit, known for his hot blend of Cajun blues music, should be just as famous for this quote from the release announcing this year's Voice of the Wetlands Festival: "I grew up on 300 acres. We have 40 left."
He goes on to explain, "It's not that somebody took the land. It's not land anymore. It's open water. The places I wrote my first songs are gone. The places I learned to play and camp and hunt and fish are gone. It's open water now. It used to be cypress swamps and bayous and trees. That hits home when it happens so fast."
Seeing it all up close, Benoit told Houma Today newspaper that he didn't feel right not doing something about it, and in this case, that 'something' is the Voice of the Wetlands, now in its 12th year.
"Every time I got word of a public meeting about the coast, I would go," says Benoit. "But nobody heard about the meetings and there wasn't any public showing-up. You saw what was happening in New Orleans at the time — the things that are important to the government were not about people. And when FEMA got taken over by Homeland Security, I thought, this is it: If I don't do something, I will never be able to live it down."
Benoit's message — really, Louisiana's message — could be of particular use in Houma, one of the many rural homes of major oil production, where the oil industry exists side by side with fishing and shrimping.
"I think most people where we live would like oil and wetlands to co-exist," says VoW's volunteer PR person, Jill Kettles. "It almost has to, or we would lose our ports because they lie on the banks… We feel it will take a coming together because we can't do it alone. The oil industry will have to help, and the pressure has been on for quite a while. They are doing some things in regards to restoration, but we have to demand more."
The VoW group and the band it spawned (also named Voice of the Weltands) both focus exclusively on raising awareness. "We send out our Voice of the Wetlands Allstars [band] who will be closing the festival as always," says Kettles of Benoit's awareness-raising musical supergroup, featuring Benoit plus fiddler Waylon Thibodeaux, Cyril Neville, harmonica player Jumpin' Johnny Sansone, drummer Johnny Vidacovich, and Big Chief Monk Boudreaux of the Golden Eagle Mardi Gras Indians.
"We send out our Voice of the Wetlands CDs to strategic radio programs — that gives writers and radio a chance to talk about the tour as well as about the issues. Most of all Tab Benoit is on the soap box 24/7. It is his passion, and he talks about it every time he performs and usually to fans following the performance," says Kettles.
In 2008 Benoit also brought over 50 New Orleans musicians to perform at the Democratic and Republican National Conventions. He and VoW also presented arguments to the federal government on Capitol Hill in 2008, stressing the need to restore and preserve the Louisiana wetlands. Benoit also played himself in the Meryl Streep narrated Imax/Universal movie "Hurricane On The Bayou."

This year's VoW fest, October 9 through 11 will take place at a new location at 5407 West Park Ave in Houma, Louisiana: 145 acres of field located in the heart of the Wetlands between Houma and Thibodaux, LA. New digs mean attendees can choose expanded tent and RV camping.
There's now space for carnival rides, plus the usual couple dozen musical acts on two stages each day, followed by late-night jam sessions on the Red Dog Saloon stage Friday and Saturday at midnight — the new rural location means the music can go all night.
The popular Friday Night Guitar Fights, which have in the past featured Benoit alongside a host of six-string legends from Louisiana and around the world, are a major draw.
"It's 120 minutes of jamming between guys who have never played together—though music is a universal language, and these are all great players," says Kettles, listing off a who's who of axemen: "Albert Castiglia who was the guitar player for Blues Legend Junior Wells, Tab Benoit, Tyrone Vaughan (son of Jimmy Vaughan), Bart Walker, and local touring artist Josh Garrett. It is awesome to have Mason Ruffner and Randy Jackson of Zebra joining the show this year."
"The members of the Radiators have a new group with John Gros on Keyboards called Raw Oyster Cult," says Kettles. "Mia Borders is another one. All of the groups that play the event believe in the cause. We pay them less, and we are a volunteer organization, so to have them all take part is amazing. We feature great musicians," she says." I guess that's what happens when Tab Benoit produces a festival."
For more information, visit the Voice of the Wetlands website.
Image courtesy of Voice of the Wetlands via Facebook.