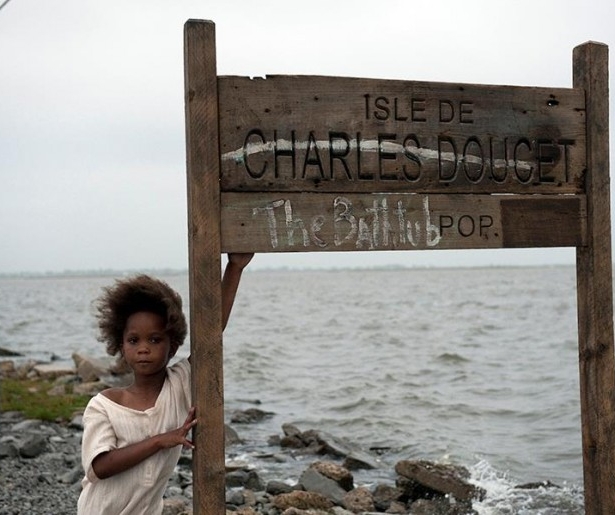 SHARE
In the beginning was the Lost Bayou Ramblers.
Director Benh Zeitlin was just starting preproduction on Beasts of the Southern Wild, his awarding-winning film set in a fictionalized outpost of Louisiana's fast-disappearing wetlands, when he and musical collaborator Dan Romer traveled to Cajun country to recruit the Grammy-nominated punk-trad Ramblers for the soundtrack.
"They came to us in Lafayette, and we found a two-hour window of time in a studio," recalls Ramblers fiddler and co-founder Louis Michot, who'll be performing the score live with his band and full orchestra at the Wordless Music screening of Beasts at the Saenger Theatre on October 10. "From there, they built on what we had done, and came back a year later with this amazing score."
Fast-forward to the 2013 Oscars. Shot on a shoestring budget, Beasts snagged top honors at Sundance and Cannes and was up for four awards, including Best Picture and Best Actress, for the remarkable performance of then nine-year-old Quvenzhane Wallis, cast at the age of five in an open call down the bayou in Houma.
"They were literally on their way to the Oscars when I first contacted Benh and the producers," says Wordless Music producer Ronen Givony, who had just seen the film and knew its "powerful, breathtaking imagery" was a perfect fit for his genre-busting Wordless Music series. "But they loved the idea, and somehow we were able to put a show together on short notice."
The initial performance of Beasts, in front of 7,000 people at Brooklyn's Prospect Park, was the first time Givony's New York-based orchestra had performed a live score at a film screening. (They've since done others, including Birdman.) Having a Cajun fiddler play with the orchestra was another first.
"When Benh first suggested it, I thought 'do we really need bring one violinist all the way up from Louisiana?'" Givony recalls with a laugh. "But within thirty seconds of
Louis doing his thing, I understood."
It was a first for Louis Michot as well.
"We don't work with conductors or sheet music, so there was a bit of a learning curve" says Michot, who traveled with Beasts to London and brought the entire Lost Bayou Ramblers band to New York in January for a screening at Symphony Space. "But that's the beauty of music: the ability to collaborate with people from different musical worlds. The fact that we're all playing music is where the magic happens."
Played in concert with the phantasmagorical images on the screen, that magic literally conjures up fireworks in the opening minutes of the film, which are powered by the music without a single word of dialogue.

Setting: Fourth of July in The Bathtub, a ragtag encampment of fishers, crabbers and drinkers on a fictional swampy spit of land, who are stubbornly perpetuating the old bayou way of life miles away from the protection of levees and the soul-deadening crush of consumer society.
In an indelible opening image used for the poster, Beasts' indomitable young heroine Hushpuppy lights up the sky with shooting-star sparklers as she rushes to join the rowdy celebration, drawn by the seductive strains of the Ramblers' Cajun waltz.
The scene sets the stage for a journey that unleashes an epochal hurricane and rouses massive beasts called aurochs from their Ice Age slumber, as Hushpuppy confronts the impending death of her father, Wink, a fiercely independent spirit played by New Orleans baker and first-time actor Dwight Henry (of Buttermilk Drops fame).
"The film just grabs you," says Wordless Music sound editor Richie Clarke, who helps make the magic happen behind the Wizard of Oz curtain; it's Clarke's job to live-mix the score while the film plays with the soundtrack stripped out. "It gets me every single time, and it's hard not to get emotionally involved. I have to wipe my eyes and remind myself that I'm actually working."
The October 10 performance will be even more emotional for everyone involved when the Wordless Music production of Beasts comes to Louisiana for the first time – its local premiere at the Saenger Theatre will also be its grand finale.
"It's going to be all hands on deck," says Givony, who credits Louis Michot with the "brilliant idea" of bringing the production here for its swansong. "Every show we've done with this project has been a life-changing event. But this one's extra special, because it's the last one. It's also a homecoming, which was our hope and intention."
Onstage together for the first (and last) time ever, Benh Zeitlin and Dan Romer will join the Ramblers on banjo and piano accordion respectively, along with the Wordless Music Orchestra, conducted by Ryan McAdams and comprised of LPO members and other musicians.
Local sponsors include Beasts producers Court 13, the New Orleans Film Society and Winter Circle Productions, creator of the Buku Music + Art Project.
"It's cool that we've done it in all these giant markets," says Michot, who's played the show with live orchestra in several worldclass venues. "Now we're bringing it back to New Orleans, full circle to where it all began."
'Beasts of the Southern Wild' Wordless Music Orchestra performs at 8 pm on Saturday, October 10, at the Saenger Theatre, 1111 Canal St. Visit Ticketmaster to purchase tickets ($20-$65).
Image courtesy of Beasts of the Southern Wild via Facebook.