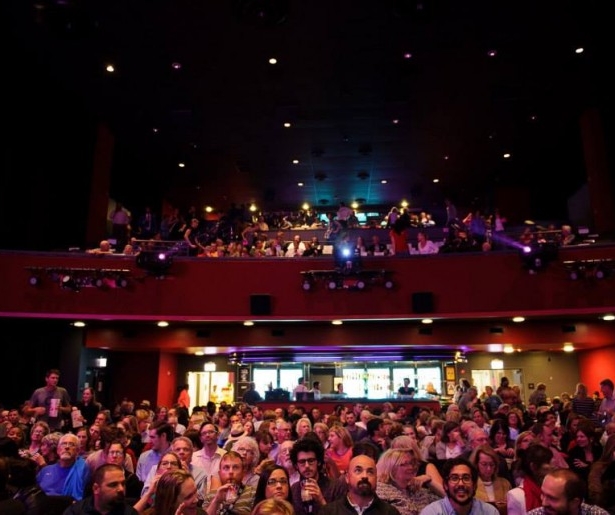 SHARE
We've all seen the bumper sticker, "It's LA, not L.A," a sly dig at the public perception of Los Angeles as the cinematic epicenter in the country. Of course, Louisiana, and New Orleans in particular, hosts a plethora of film productions every year. You're hard pressed to take a walk through any neighborhood and not stumble upon a set.
But until recently, the city didn't have the kind of nationally recognized film festival to go along with all the moviemaking in town. Now, of course, the New Orleans Film Festival (NOFF) has planted itself as that event, and in the past half-decade, it has blossomed into a formidable affair.
"I don't know of another festival that's grown this much, this fast," said Clint Bowie, Director of Programming at NOFF for the past six years. "In 2010, we had 600 submissions. In 2015, we had 3400." Such growth has allowed screeners and programmers to be more selective than in year's past. In fact, this year, NOFF is actually screening less films (194) than in 2014.
Increased submissions comes, in part, from the ability for grassroots filmmakers to make high-quality products more frequently and effectively than in the past. But Clint also points to the festival's emphasis on hospitality.
"We've tried to bring in more distributors and promoters to the festival as we can," said Clint. "The goal is not just to entertain moviegoers, but to provide networking opportunities for young, passionate filmmakers."
Also, for the first time in the NOFF's twenty-six year history, it will be an Oscar-qualifying film festival in the category of documentary shorts. This means that a documentary short film that premieres in New Orleans and wins the jury prize is automatically eligible to submit to the Oscars for a potential nomination (so you can say you saw it before it was cool). "It's a great stamp of approval from the Academy," said Clint.
The festival runs from October 14th to October 22nd, with screenings and events all across town. Ticket information, including info on VIP passes and package deals, can be found at the festival's website. Here's some of our picks for what to check out:
Wednesday, October 14th

Born to be Blue starring Ethan Hawke as trumpet-legend Chet Baker, opens the festival with a 7pm screening at the newly reopened Orpheum Theater. The film generated major buzz as a Special Presentation at the Toronto Film Festival last month.
Thursday, October 15th

Aspie Seeks Love @ Contemporary Arts Center. Feature documentary about a Pittsburgh man diagnosed with Asperger's late in life, who seeks companionship by posting enigmatic fliers all around the city. A real-life romantic comedy.
Friday, October 16th

Havana Motor Club 8:30pm @ The Ogden Museum of Southern Art. A documentary feature about Cuban car enthusiasts and their political struggle to lift the long-standing prohibition on auto-racing in Cuba. Havana Motor Club is one of several films at the NOFF with a focus on Cuba.

Carol – 9:00pm @ The Prytania Theatre. New narrative feature from the critically acclaimed Todd Haynes (I'm Not There, _Velvet Goldmine) about an unlikely New York love affair between a department store clerk (Rooney Mara) and an upper-class woman in an unhappy marriage (Cate Blanchett). The film made waves at Cannes this past year, especially Mara, who won Best Actress Award at the festival.
Saturday, October 17th
Louisiana Shorts 1 – 12:00pm @ Prytania Theatre. Come support local filmmakers at one of the four screenings of shorts produced by up and coming Louisiana artists.
The Black Panthers: Vanguard of the Revolution – 3pm @ Orpheum Theater. Documentary feature from acclaimed filmmaker Stanley Nelson about the history of the Black Panther Party.
The Reflektor Tapes – 9:15pm @ Orpheum Theater. Documentary about superstar Canadian music group Arcade Fire recording and touring for their most recent album.
Also on Saturday night, Win Butler of Arcade Fire will DJ at the This Is A Reflektor… Party. 10pm-2am at 233 Newton Street.
Sunday, October 18th
Legend – 9:15pm @ The Prytania Theatre. Tom Hardy stars as identical twin British gangsters. Cool.
Monday, October 19th
Driving While Black – 9:15pm @ Canal Place. Narrative feature about a hard-luck pizza delivery driver trying to get his life going in the right direction. Part comedy of errors, part criticism of 21st century over-policing. The official trailer is red band (i.e. R-rated), so put in those headphones if you're at work.
Tuesday, October 20th
Louisiana Shorts 2 – 6:00pm @ The Prytania Theatre. Come support local filmmakers at one of four screenings of shorts produced by up and coming Louisiana artists.
Room – 8:30pm @ The Prytania Theatre. Much buzzed-about psychological drama about a mother and her son forced to live in a small, windowless room for years before escaping and confronting the real world.
Wednesday, October 21st
Narrative Shorts – 12:00pm to 6:00pm @ Contemporary Arts Center. A wide array of narrative shorts from filmmakers near and far.
Thursday, October 22nd
The emotional, mid-20th century immigrant drama Brooklyn closes out the festival at the Prytania Theatre @ 8:30pm.
The New Orleans Film Festival is presented by the New Orleans Film Society. To learn more or become a film society member, check out their website.
Image courtesy of NOFF via Facebook.