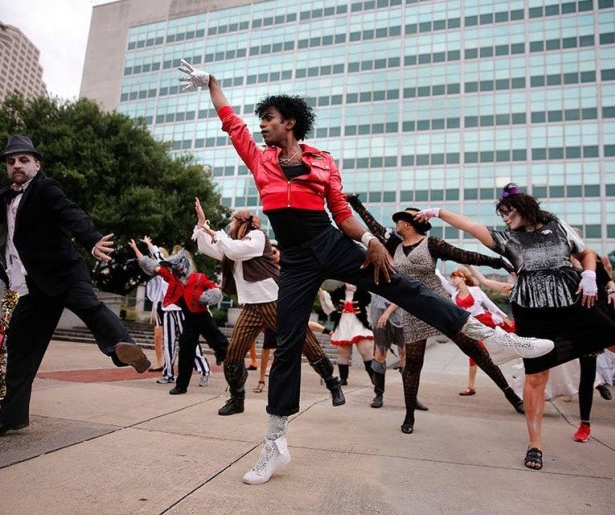 Used to be, if you were out in the world minding your own business and all of a sudden some spontaneous choreography broke out, you were likely an extra in a musical or MTV video. But these days, those unlikely dramatic scenes do occur in real life, billed as "flashmobs."
"A flashmob is a random spontaneous combustion of energy in any way shape form at any random time in any given space," explains local techno music singer, dancer and actor Kenneth "Kynt" Bryan, the first person to ever bring the art of the flashmob into the academic realm, via his workshops at Loyola University.
"A flashmob can be anything: dancing, singing… They do wrestling flashmobs, rollerskating flashmobs," he added,
Before you make any liberal arts jokes, Bryan, a Loyola trained ballet dancer, wants you to understand that, "A flashmob is good for people's self-esteem, and it helps to spread joy around the world. If someone's feeling down, you just pop up and surprise them! They'll remember that for the rest of their lives, along with it brightening their day. Seeing a flashmob can influence those who maybe haven't seen much dance in their lives — it might get them interested."
Thirty-five people were interested back when Bryan first taught his 'Thriller' based Michael Jackson flashmob class at the New Orleans Dance Academy, starting in 2013. After moving the class to Loyola, attendance grew. "We got parents, mother daughters, senior citizens — so many different types of people are Michael Jackson fans."
Like many other children of the 80s, Bryan grew up imitating Michael Jackson's moves — though he ended up taking it all more seriously than most. "I love that I have been able to dance everyday and share the love and joy of dancing like Michael Jackson," he says. Bryan has focused on teaching not just his students, but folks from all over the city, the choreography from Michael Jackson's 'Thriller.'

"The city hires me teach 'Thriller' all throughout the community," he says. "We do a tour of the city, from the Children's Museum, to the Ogden and places around the Quarter. They hire me at NORDC seasonally, to teach the 'Thriller' class at parks throughout the city."
On the side, Bryan has enjoyed small roles in several feature films, including Dallas Buyers Club and Sticky Notes, out soon featuring Rose Lesley and Ray Liotta. Currently he's appearing in the FOX TV show Scream Queens with Emma Roberts, Jamie Lee Curtis, Nick Jonas and Ariana Grande. Plus, Bryan has written 20 new techno songs to record for a new album in the works.
But in terms of flashmobbing, Halloween is Bryan's big season. "I teach 'Thriller' all year, then we have a culminating event at City Hall. They had me teach 'Thriller' to everyone in City Hall. We practiced it in the park area across from City Hall. I'm not sure if any Council members showed, but we had about 20 or 25 people came out."
Since Halloween falls on a weekend, this year's culminating 'Thriller' flashmob will happen outside City Hall on Friday the 30th, though Bryan points out, "People are not really supposed to know where we'll be all the time! It's supposed to be a surprise!" (Slight surprise spoiler: it's going down at City Hall at noon, and at Taylor Park at 6:30pm).
Bryan though, can be found leading a "Dance Fit" program he developed that combines ballet, hip-hop and jazz dance, plus 'Thriller,' for both the novice and the advanced dancer, at Loyola University New Orleans Recreational Sports Complex Aerobics Room, Thursdays 7 to 8pm, as well as at Norwood Thompson Park (Mondays 6 to 7pm), Gentilly Park (Tuesdays 6 to 7pm), Taylor Park Wed. 6 to 7pm) and at Joe Brown Recreational Park (Tues. 10:30am) and the Lyons Center (Wed. 10:30am).
Image courtesy of Flashmob New Orleans.