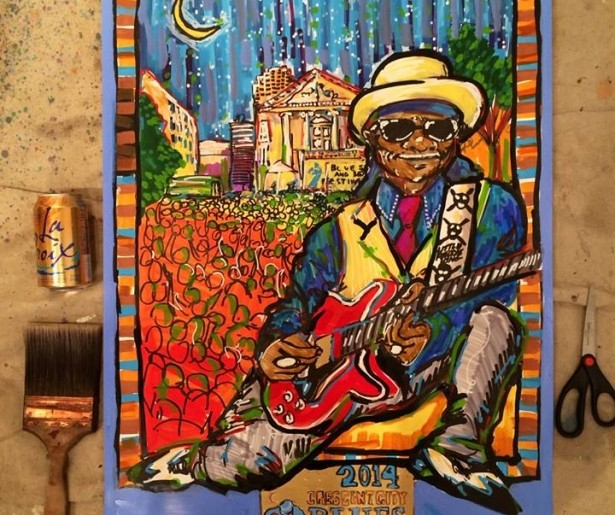 SHARE
Does anything go together better than listening to blues guitar riffs while eating a rack of ribs? The answer is no. And that's why the Crescent City Blues & BBQ Festival is a can't miss event on the crowded New Orleans fall calendar. Few free festivals can match its mix of musical and culinary talent, and its downtown Lafayette Square location is close to the French Quarter without being overwhelmed by tourists.
The festival, now in its tenth year, is produced and presented by the New Orleans Jazz & Heritage Foundation.. This year features its most musically diverse lineup yet, with acts from Texas to the Delta, all the way up the Mississippi River to Chicago. And of course, there's a wide range of food vendors dishing out pulled pork sandwiches, jalapeno mac n cheese, vegetarian/vegan options, and tons more.
Like French Quarter Festival, the Crescent City Blues & BBQ fest celebrates local icons — musicians like Walter Wolfman Washington, or Little Freddie King — while also booking acts from around the U.S., such as Chicago bluesman Lurrie Bell. Having just two stages in relatively compact Lafayette Square makes for an intimate musical setting. Various arts and craft tents also dot the festival grounds, while barbecue vendors line adjacent N. Maestri St. Plus, WWOZ live-streams the event online and on the air in case you ever have to step away.
The Jazz and Heritage foundation also organizes an Oral History Stage in Gallier Hall, across St. Charles Avenue from Lafayette Square. Here, music journalists interview blues icons like Mason Ruffler and Brint Anderson about their influences and experiences in the music industry. The interviews are as informative as they are hilarious — all of these artists know how to put on a show.
As far as barbecue, well, you have your pick of the city's finest. Some of my favorites:
-Brisket Quesadilla from Saucy's.
-Shrimp Etoufee from Praline Connection.
-Smoked Wings from Blue Oak BBQ.
-Pulled-Pork Sliders from The Joint.
And here's a quick guide to some notable musical acts:
Saturday, October 17th
2:15pm – Little Freddie King (St. Charles Ave Stage)
75-year old Delta blues survivor and member of the Louisiana Music Hall of Fame.

3:15pm – Lurrie Bell (Camp Street Stage)
Chicago blues prodigy with an embattled, up and down career, finally getting the recognition he deserves. He won a Blues Music Award for his track "Blues In My Soul."

7:00pm – Ride Your Pony Down to New Orleans – Home of the Blues starring The Funky Meters, plus special guests Allen Toussaint and Irma Thomas (St. Charles Ave Stage)
A collection of long-standing New Orleans stars. Hands down, the can't miss performance of the festival.

Special Event/Official After Party 8:00pm – Drive-By Truckers @ The Joy Theater. If you haven't gotten your fill at Lafayette Square, check out these longtime rockers out of Athens, Georgia.
Sunday, October 18th
4:30pm – Excello Records Reunion, Featuring Lazy Lester, Carol Fran, Classie Ballou, and Lil Buck Sinegal (St. Charles Ave Stage)
Collection of musicians featured on the influential Nashville blues record label, Excello.

5:45pm – Denise LaSalle (Camp Street Stage)
Blues and R&B star from Mississippi, known for her 70's hit "Trapped By A Thing Called Love."

For more information about The Crescent City Blues and BBQ Festival, check out their website..
Image: last year's poster for the Crescent City Blues & BBQ Festival, via Facebook.