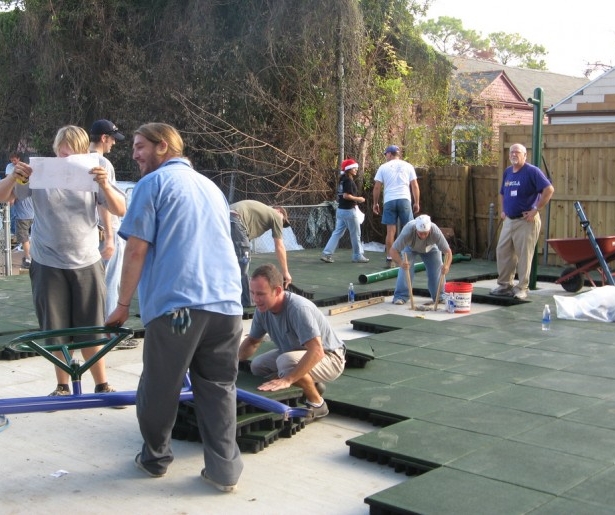 SHARE
Always nice when a neighborhood development project is finished on time.
If you've been in the Bywater lately, you may have noticed Markey Park, at 700 Piety, is open again. The grass is cut, the grounds are manicured and the kids are running around in the best tradition of a warm weather New Orleans childhood. The park, one of the area's few public green spaces, was closed in January, 2011 due to fears of high lead levels. The city and the Trust for Public Land subsequently formed a partnership that cleaned up the contamination.
We're happy to see the park reopen; it's an excellent resource for local families, and along with Clouet Gardens, it's a needed green lung in the Upper 9th. Some notable local residents such as, say, Richard Campanella, might argue such family-friendly spaces are the much-needed 'kiddie capital' that will be one of the deciding factors in the Bywater's evolution – will the 'hood remain a playground for young adults, or a living, breathing residential area with families and urban amenities? We frankly love the idea of a family-friendly park mere blocks from excellent dives like Markey's and the ever eccentric Country Club. All of these things – families, bars and…well, however you want to define the Country Club – anyways, all of these things can coexist, and the place to prove that may well be the Bywater.
Interestingly enough, the sunny Times-Picayune article we link to above does hint at the cloud behind the park's silver linings: a small but simmering tension between dog-owners who want an off-leash park and other users. Markey was an unofficial dog run prior to being closed; now it appears leash rules will be enforced here. While one can obviously be a responsible pet-owner and parent, we don't think it's a huge jump to assume local families are happy with this decision; with that said, here's hoping the Crescent-Riverfront Park, which will include an off-leash area, opens on time in 2014, if not sooner.
Image of Community Build Day at Markey Park (taken before the events described in this post) courtesy of Operation Kids