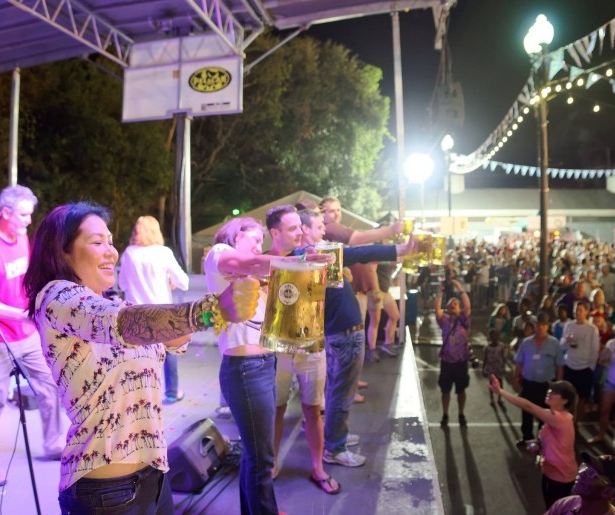 Actual Oktoberfest is technically over, but many restaurants and bars in New Orleans plan on celebrating the holiday for the rest of the month. The German tradition, originally a celebration of Crown Prince Ludwig's wedding, is today enjoyed via traditional German food, delicious German beers, and dancing.
Fortunately for you, New Orleans has you covered with the eating and drinking parts. Here are a few places around town that keep the Oktoberfest spirit going well into the month it's named for.
Deutsches Haus Oktoberfest
This is unquestionably the definitive New Orleans Oktoberfest experience. Deutsches Haus, an organization that supports German heritage and culture, puts on a three-week German-stravaganza every year. It used to be held in New Orleans, but the growth of the festival warranted a recent move to nearby Kenner.
Don't worry – the party is continuing New Orleans-style. The beer lineup includes well-known brands like Beck's, Spaten, and Weihenstephaner, as well as rarer offerings from Kostritzer and Freigeist.

The other half of the Oktoberfest experience is the food, and, at Deutschese Haus, you won't go hungry. For those with a weak stomach, French fries and chicken nuggets (among other items) are available. But if you're going to Oktoberfest, you should at least try German food – which is generally of a sausage and starch nature, so not too removed from an American eating experience.
Get a fat grilled bratwurst on a Kaiser roll with sauerkraut, and wash it down with a beer before moving on to a huge, salted soft pretzel. The menu varies a little from week to week, but staples like beef goulash with spaetzle noodles or German meatloaf with bacon are available any day of the festival.
Avenue Pub
In honor of Oktoberfest, the Avenue Pub, one of the best beer pubs in the city, is filling its keg fridge with all of the German beers you've never heard of. The lineup for the month will include plenty of unpronounceable selections from Mahrs, Freigeist, Reisdorff, and Banhoff; find the complete list here.
There will also be takes on German classics from several local breweries; you'll see Covington's Fest Bier and Abita's Oktoberfest in the mix. And the Avenue's regularly scheduled Firkin Fridays will feature beers from Germany's own Weissenohe.
The climax of Avenue Pub's Oktoberfest celebrations is Pumpkin Beer Week, running October 19-23. Seasonal favorites like New Belgium Pumkick, Southern Tier Pumking and Warlock, and Terrapin Pumpkin Fest will be available, along with a few cellared pumpkin selections. The week culminates with the October 23 tapping of a cask of St. Arnold's Pumkinator, as well as a pumpkin-carving contest.
Jagerhaus
Really, every day is Oktoberfest at this German pub in the French Quarter (833 Conti St). In fact, Jagerhaus serves their signature Oktoberfest spread, with bratwurst, knackwurst, weisswurst (hint: all sausages), red cabbage, and spaetzle, all year round.
But they do a little extra during the month of October. Enjoy an extended food menu, with customer-favorite mushroom soup making an appearance, as well as a selection of beers to mirror the Munich Oktoberfest celebration line-up. Liederhosen optional.
Crescent City Brewhouse
In honor of their favorite German tradition, Crescent City Brewhouse is offering a new Oktoberfest menu every week of the month. Where the Brewhouse stands out from other Oktoberfest events is their practice of pairing menu items with their beers.
First up: a beer-braised slow roasted duck with pickled red cabbage, served with the Brewhouse's own Oktoberfest beer. In coming weeks, expect a take on currywurst paired with Red Stallion beer, and Schweinebraten, or pork loin with sauerkraut, which the Brewhouse recommends washing down with a mug of their in-house pilsner.
Black Label Icehouse
Black Label Icehouse recently opened in Central City, but they're already attempting to redefine Oktoberfest. "Smoketoberfest" is their celebration of Germany's favorite holiday. Think bratwursts and weisswursts, but smoked and covered with barbecue sauce.
The Icehouse take on German cuisine includes brisket sliders on pretzel buns, house-made sauerkraut, pork schnitzel, and German potato salad. And their new brick-and-mortar restaurant has over 14 taps and a hefty bottle selection, including Saint Arnold's and Shiner's Oktoberfest seasonals, so you'll have something cold to wash it all down with.
Above image courtesy of Deutsches Haus New Orleans, via Facebook.