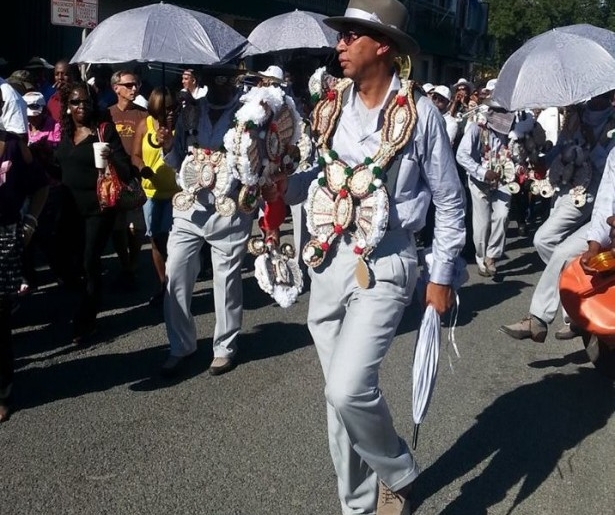 This weekend in New Orleans Fill up on blues and barbecue in Lafayette Square, check out Chewbacchus' Burning-Man-inspired festival, and dance through the streets with the Black Men of Labor. Also gracing local stages: Hurray for the Riff Raff, Riff Raff, the Drive-By Truckers and more.
This weekend
The Crescent City Blues & BBQ Festival celebrates its 10th anniversary with a three-day fete in Lafayette Square. On Saturday night, don't miss "Ride Your Pony Down to New Orleans – Home of the Blues" starring The Funky Meters (Art Neville, George Porter, Brian Stoltz and Terrence Houston) plus special guests Allen Toussaint and Irma Thomas.
Pass a good time at the 42nd annual Andouille Festival in LaPlace.
Weekend picks from the New Orleans Film Festival include documentaries about Cuban car racing, Black Panthers, and Arcade Fire, plus an after-party featuring DJ Windows 98 (better known as Arcade Fire's Win Butler).
The inaugural Ignition – Chewburnitall, a local take on Burning Man thrown by the Intergalactic Krewe of Chewbacchus, sets up for a three-day party in New Orleans East.
Friday
This week's edition of Friday Nights at NOMA includes a screening of Tim Burton's spooky 1988 masterpiece, "Beetlejuice," in the Sculpture Garden.
Red Baraat brings booty-shaking beats to Tipitina's.
Riff Raff raps at the Willow.
Who's Bad – The Ultimate Michael Jackson Tribute headlines the Civic. Twenty bucks says they'll play "Thriller."
Saturday
A benefit for Justice Aid presents performances by Ani DiFranco, Hurray for the Riff Raff, and The Roots of Music. Hurray for the Riff Raff, led by Alynda Lee Segarra, has been out touring to promote their acclaimed 2014 release, "Small Town Heroes." The band doesn't pass through town as often as they used to, so go catch them at the House of Blues.
The Black Men of Labor will be dressed to the nines and dancing through the streets, with a Second Line starting and ending near Sweet Lorraine's on St. Claude.
The Drive-By Truckers perform at the Joy Theater.
The 7th annual Anba Dlo Halloween Festival kicks off with a parade Saturday at 6pm. A number of the city's dance troupes will lead the procession to the New Orleans Healing Center, for a party with 14 bands, plus burlesque, acrobats and more.
Sunday
For a certain segment of the nostalgia set: '90s nu-metal rockers Korn will play their debut album in its entirety at Champions Square.
Image of the 2014 Black Men of Labor Second Line courtesy of Nora Ellersten.