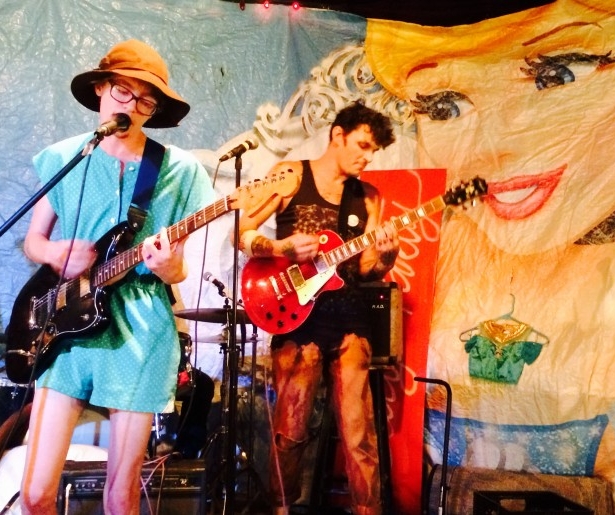 SHARE
Every third Tuesday of the month, Pleasure Center Night Market transforms the Allways Lounge on St. Claude Avenue into a bustling Marrakesh-style market of trash and treasures, complete with its own surprise-package cabaret.
On Tuesday, October 20, it will spring to life again, magically reappearing just in time for the witching season. For a little taste of what to expect, let's pan in for a close-up of last month's Pleasure Center.
Downtown denizens dressed to kill in a full spectrum of androgynous drag make a beeline for the dollar-mania boxes, hoping to unearth "eureka!" scores to complete their outfits, like the mother-of-pearl cathead choker I just snagged.
Fashionistas also scavenge bargains from cocktail tables laden with all manner of exotica, and browse thrift-store rags and wild designer pieces hung from racks in every nook and cranny of the bar.
Looming above it all, a billboard-sized Cinderella surveys the crowd from the Allways stage, cuddling a baby lamb that's crowned with a rhinestone tiara. She makes the perfect backdrop for the evening's entertainment, which is as much of a draw for Pleasure Center regulars as the gilded masks and hoodoo tophats on display.
Tonight's bill kicks off with Stanley Roy performing as the wildly-coifed Fantasy, a bedazzled ukele player, whose muse, Elijah, drapes his near-naked body around Fantasy's feet.
And it hits critical mass when Pleasure Center's reigning house band, Pretty Party, takes the stage, led by a skinny dude in a polka dot jumpsuit and floppy hat he may well have borrowed from his synth-playing vocalist wife.
Meet Seth and Opal Gideon, who grew up together in Shreveport and decided there had to be more to life than "five bands made up of the same 40 kids." The newlyweds considered California, but New Orleans was "the neatest place you could move for cheap." It was also home to guitarist Pete Elwell, drummer Fox Capone and bassist Jake Brigell, who became an instant family when they transformed Pretty Party from a duo into a band.
Though they've only been together for four months, these young purveyors of "backyard, catfight, rooftop music" have already made some serious noise. Using the Night Market as a launching pad, they've built a rapidly growing fanbase with their synth-driven guitar punk, bratty-kid harmonies, acidic lyrics and a straight-no-chaser beat that compels your body to move.
They are, for the record, my new favorite band.
Tonight, they're fresh off the road from New York City, where they played the legendary Mercury Lounge and became an official touring band by breaking down in Tennessee on the way home. So it's only fitting that they open with "G.G. Allin's Funeral"; the song pays tribute to the scatological icon of New York's Lower East Side.
Some of their references may be retro, but Pretty Party's sound is virgin-fresh, and reclaims rock and roll as a living art form, rather than a dying breed.
That makes them the perfect house band for Pleasure Center's mission: to rediscover the magic of old things discarded in the wake of our culture's relentless pursuit of the new, and remake them in our own image, so they can live another day.
The latest brand extension of the team behind Ex Voto, the avant-garde emporium a few blocks away on St. Claude Avenue, Pleasure Center Night Market is a nexus of creativity that hits multiple downtown sweet spots.
On October 20, a new crop of Ex Voto's handpicked artists will join Pretty Party to stir up some mischief. Longtime local scenesters ImagineIAM are on deck with their wild percussion-driven improv, while Three-Brained Robot, the "golden boy" of Greensboro, NC, will touch down in New Orleans to play "our nation's underbelly."
As per usual, anything could happen, and likely will. But one thing's for sure: Pretty Party will rock the house.
Pleasure Center Night Market happens the third Tuesday of every month at the Allways Lounge, 2240 St. Claude Avenue. Market opens at 6pm, with performances starting at 9pm. No cover.
Image by Cree McCree