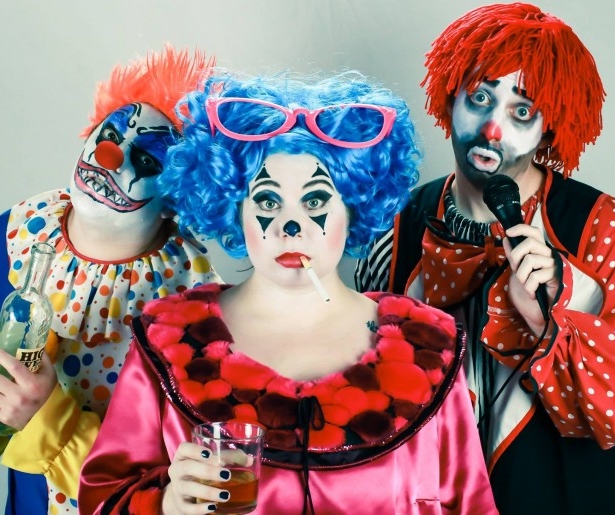 "Ten clowns walk into a bar…"
No, this is not the start of a joke. And if you get off work annoyed that once more, all the kids want is a another blue balloon shaped like a wiener dog, the Clown Bar setting up shop at the upstairs Ramp Room at the Little Gem Saloon on S. Rampart St. from October 21 through November 8 should be your new spot to cool off with some adult refreshments and talk shop with your fellow brothers in arms – or in this case, makeup.
Not a clown? That's okay. If you're alright with salty language and clown debauchery, you're invited to join The NOLA Project for a new immersive dinner theater experience: an original show by Adam Szymkowicz titled "Clown Bar".
Clown Bar combines the melodramatic acting of classic film noir with circus slapstick and a lot of action. Richard Pomes, NOLA Project Marketing Director and company member, who appears in the show as 'Twinkles', explains, "Clowns are just like us."
And sure, they are clowns, but when the working day is done, there's a whole after-hours side to their existence, and this is a part of it. Spoiler: it's gritty.
The story? Murder. Gangsters. And of course, clowns. "Clown Bar" is about a shady clown underworld, and in true NOLA Project form, the action takes place at the bar where said clowns would actually be hanging out.
"It is Casablanca meets Quentin Tarantino in terms of action," Says Pomes, "It is dark and gritty and happens to be about clowns."
James Yeargain makes his directorial debut with this fast-action immersive drama featuring NOLA Project cast members. The NOLA Project is a truly diverse, much acclaimed local theater company, and this original act joins the seasons other performances – from Shakespeare to Don Quixote – to build on their theme of "Strange Sites/Sights," where every show is tied to the motif of strange things to look at.
"We do site specific theater, every show uses a location that is appropriate for the play," says Pomes. Which is why the production of "Clown Bar" takes place in a real bar, a space where audience and actors combine to make the event truly unique.
Join clown-turned-detective Happy Mahoney (played by company member Alex Martinez Wallace) as he returns to his old haunt to get some answers in light of a clown murder. As the story unfolds, lines are blurred as Happy runs into old figures from his past life and must, ultimately, come to terms with his place in the world of clown lust, clown music and a sea of old cohorts to finally close a dark chapter of his past.
Doors open a half an hour before show time. Performers might be placed anywhere, so audience members should have eyes and ears on the bar and the stage. There will be a drinking game mixed in with the show and a fitting array of clown-themed specialty drinks served up at the bar.
Seating is first come, first served with advanced tickets purchased online strongly encouraged. The bar will be set up with cocktail-style table chairs for the viewing audience, and although the show runs just over an hour, everyone is invited to stay and partake in libations after. Underage individuals can watch the show if accompanied by an adult, but the NOLA Project recommends audience members be 18 or older.
Tickets can be purchased for $25 at the NOLA Project. A limited number of standing-room entry admissions will be available at a discounted rate for stragglers that arrive to a sold-out show.
What The NOLA Project presents "Clown Bar" by David Szymkowicz
Where Little Gem Saloon, Ramp Room: 445 S. Rampart Street
Tickets $25 General Admission
When Oct. 21-23, 25, 28-30. Nov. 3-6, 8.
Image courtesy of the NOLA Project.