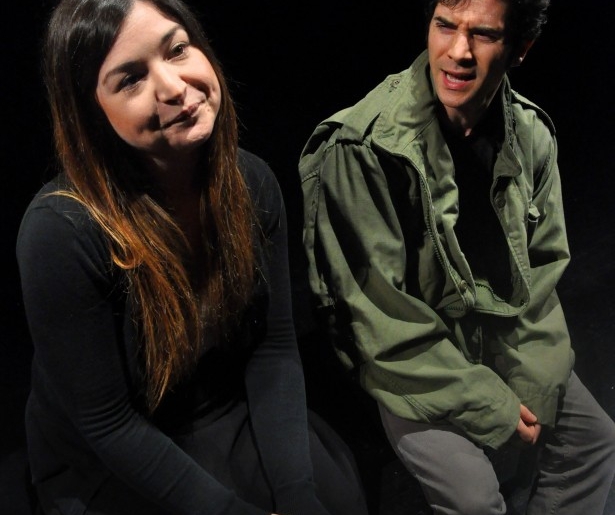 A four-hand sonata is a musical undertaking wherein two people come together to play a piece of music so difficult, it takes a duo to perform it on one piano. But what if those two people don't get along, personally, or politically? Or perhaps worse: what if they fall in love?
"It's about first love, but also about losing things for the first time," says Harold Gervais, the director of the new Generate INK/ Second Star Performance Collective play, Sonata for Four Hands, which premiers at NOCCA (2800 Chartres St) tonight.
Generate INK—founded by writers Kate Bailey, Bridget Erin, and Rudy San Miguel—bills itself as New Orleans' first and only playwright-driven non-profit. The group aimed to produce one play from each writer over the course of 2015.
Its third production, Erin's "Sonata for Four Hands", "is a memory play that shifts back and forth in time, letting us watch two very talented child prodigies piano players grow up over the course of ten years," Gervais explains. During that period, the two fall in quiet love while attempting to learn to perform a difficult four-hand sonata by the 19th century Russian Jewish composer Anton Rubinstein.
"The male pianist eventually goes to Israel and discovers faith—which becomes a wedge between them." The play then focuses on the Israel-Palestinian conflicts in the Middle East, and the political differences between the two pianists as they attempt to come together to perform.
All three actors appear on stage simultaneously for the play's duration: Mike Spara (co-founder of The New Movement theater), Kaitlyn McQuin (played Maid Marion in NOLA Project's production of "Robin Hood"), and Rebecca Meyers (who acted with Gervais in the Verbatim Verboten series).
Director Gervais, who helped found Loyola's The Lower depths (the first student-run university theater in the country), started the Second Star Performance Collective with Dan Zimmer, where they have produced "Saints & Sisters: Nuns With Guns In Old New Orleans," "Smudge," "Two For Tennessee 2014," "Mauritius," and "Chesapeake and Red Light Winter".
"Second Star's name is a reference to Peter Pan and never growing up," says Gervais, who first acted alongside Zimmer in 1980's "Don't Drink the Water" at East Jefferson High School. Following the success of its Tennessee Williams tribute "Two For Tennessee" (also written by Bridget Erin) last spring, the Second Star Performance Collective transitioned to all original theater.
While piano composition is central to the script, the performers manage to pull off "Sonata For Four Hands" without an actual piano on stage. "The male prodigy has tape recorded the two of them playing piano a lot over the years," explains Gervais, "and we get to hear those recordings, which also contain a lot of conversation between them."
The script's writer, Bridget Erin, has produced works including "You Don't Know The Half Of It" and pieces for Southern Rep Theatre's 3×3 and 6×6 series.
"She has a beautiful ear for dialog and characters," says Gervais. "Bridgit did research with NOCCA music students for the script, and she also consulted with her rabbi and another rabbi on the script, to make sure all the Israel-Palestine stuff is accurate."
Gervais stresses, however, that "Sonata For Four Hands" is not a political play. "It's about where you need to go to find out who you are," he says, "and about how you can travel halfway around the world only to realize you should have never left home."
The Sonata for Four Hands runs Oct 21 until Nov 7 at New Orleans Center for Creative Arts (NOCCA), 2800 Chartres St. Tickets are $20 at the door.