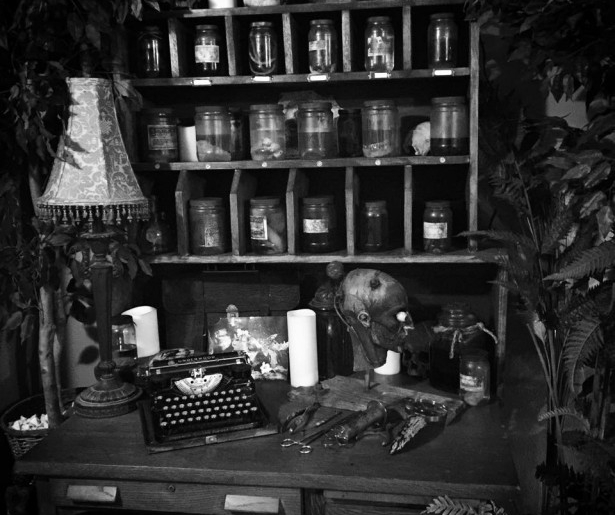 SHARE
As the days get shorter, and the temperature begins to drop (sort of), and the leaves start to…well, it's fall in New Orleans is what I'm getting at. And there may be no better city in the country, certainly in the South, for one to find a good old fashioned scare.
This time of year, area actors, make-up aficionados, costume designers, set-decorators and other artists lend their expertise to several area haunted houses, some of which have carved out quite the reputation for themselves (cough: House of Shock). Here's a guide to some of the best haunted houses in town, as well as a few not-quite-as-terrifying alternatives.
House of Shock, 319 Butterworth Street, Jefferson, LA
Let's start with the impossible to kill House of Shock. After a much-publicized final year in 2014, New Orleanians were prepared for their first fall season in 22 years without the heavy metal, fireworks-laden haunted tour. But then, an anonymous supporter offered to help resurrect the theatrical operation, and now House of Shock lives on with some brand new features.
Designers remodeled the entrance to resemble LeBeau Mansion, an historic plantation home in Arabi that burned down in 2013. They've also added Laff in the Dark, billed as a "3D Clown Assault," and a "Bordello of Freaks," which apparently takes after season four of American Horror Story with carney workers abound (also, this exhibition is rumored to be staffed by folks contacted via Craigslist, so…)
House of Shock is open every weekend, with additional hours the week of Halloween. It costs $25-$30 per person. For more schedule information check out their website.
A confession: I love haunted houses. I've been to the House of Shock each of the last two years. It's downright terrifying. Not for the faint of heart, and really, not for kids, though every year I see scores of them waiting in line. If you really want to scare the stuffing out of your kids tastefully, I'd recommend our next choice…
The Mortuary 4800 Canal Street
Located in a former funeral home, and surrounded by two operating cemeteries, The Mortuary wins the prize of "best haunted house location". Inside the neoclassical mansion, there's no shortage of special effects, heart-stopping scares, and intricate, grotesque make-up. And yet, thankfully, The Mortuary foregoes the diabolic themes of its Jefferson Parish competitor. Better for kids, though still not for the squeamish or nightmare-inclined.
Also, The Mortuary teams up with The Blood Center on select nights and asks participants to give blood in exchange for a free VIP ticket. Very cool.
Check out The Mortuary website for a full schedule, plus info on secret passwords that can get you $10 off the ticket price. And if you wait until Friday, November 13th, you can experience Flashlight Fear Fest, which is the same as the regular Mortuary, except IN PITCH BLACK DARKNESS (!).
The 13th Gate, 832 St. Phillip Street, Baton Rouge
Don't be turned off by the drive to Red Stick. This nationally renowned, award-winning haunted house is one of the best in the South, if not the country. This year, the 13th Gate team has created two new sections. One is "Scary Tales," which features characters based on Grimm Brothers' fairy tales, and the other is the cabin from the 2013 remake of Evil Dead.
The highly-skilled make-up and art department, made up almost exclusively from local film production freelancers, make the 13th Gate one of the most detailed, chilling haunted houses experiences around.
Rise Haunted House, 10342 La. 442, Tickfaw (near Hammond)
Zombie-themed haunted house and cemetery. Self-described as a "terror-filled labyrinth." Also, you can opt for another attraction, Operation Deadly Assault, where you trek through zombie-infested backwoods, and shoot the undead with paintball guns.
The Chamber of Horrors, 7335 Jefferson Highway, Harahan
In a new location this year, The Chamber of Horrors features one of the creepiest electric chair rooms you'll ever see, plus strobe lights, elaborate sets, and tons of special effects. Tickets are only $15.
Bernie Baxter's Traveling Sideshow, 44 Vivian Court, Algiers
Gotta love a DIY haunted house. Originally started after Hurricane Katrina, the Sideshow is a short trek through a Westbank resident's elaborately decorated, and terrifying, home. The free, neighborhood haunted house is a fine alternative to the more "blockbuster" haunted houses in town. You are unlikely to have to wait in line at Bernie's. For more schedule information, click here.
Now, if you're not into being scared out of your shoes by complete strangers in dark rooms, there are scare-alternatives. The first is New Orleans Haunted History Tours in the French Quarter. Billed as "mildly theatrical, hugely historical, and thoroughly entertaining," the Haunted History tours are more like storytelling events. But the guides are seasoned professionals, and they're sure to get your spine tingling once or twice with their tales. I recommend the Vampire Tour, which takes you through several, lesser-known haunted spots in the French Quarter, including where they filmed part of the feature film, Interview With A Vampire.
Another option is Escape My Room. This fairly new attraction is more of an intellectual and interactive puzzle than a scare-fest, but it's easily one of the most unique, and entertaining experiences in town right now. Plus, if you're claustrophobic, it might scare you more than of what I've mentioned above. Good for a large group, especially. Though be warned, it's difficult. Be sure to wear your detective caps tight.
If none of these haunted houses or other attractions appeal to you, and you still want to experience something ghostly, I suggest a late-night drink at Hotel Monteleone, where the spirit of a jazz singer if often heard singing in the halls in the middle of the night. Or, you know, just go to any historic building in the Quarter. New Orleans is chock full of ghosts.
Image courtesy of The Mortuary via Facebook.