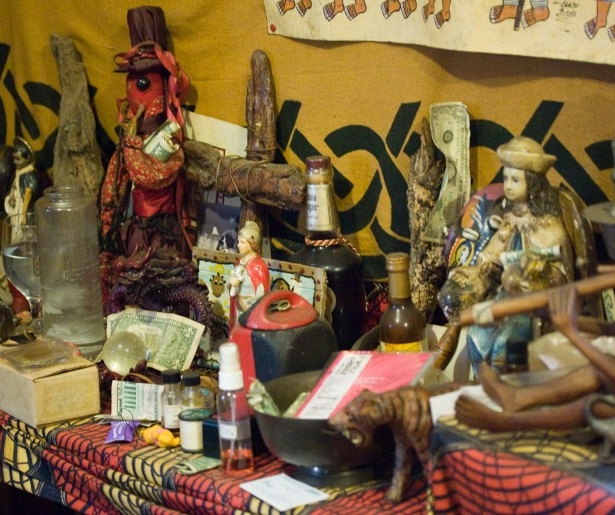 SHARE
This Halloween week, New Orleans will celebrate the supernatural. But within the context of those celebrations, there is one element of local culture that is consistently mis-characterized, often by outsiders, but even by native New Orleanians: Voodoo, also known as vodoun.
Far from being about dolls with pins stuck in, Voodoo is a living, existing religion formed by that most New Orleanian of processes: Creole-ization. To put it another way, Voodoo is a mix: of West African religious practices, Catholicism, mysticism and local folkways that have added a New Orleans twist, setting our local Voodoo apart from other versions of the faith practiced in Haiti, South America and Africa.
Voodoo claims many adherents in south Louisiana, although an exact number is hard to pin down – there is no census on how many practitioners live in the area, and besides, Voodoo is not an exclusive religion. In other words, one can engage in elements of Voodoo worship without necessarily ceasing to profess belief in another faith – indeed, most of the city's most famous Voodoo practitioners, including Marie Laveau, considered themselves devout Catholics.
If you're interested in learning more about Voodoo in New Orleans past the store fronts of a French Quarter spell shop, read about the True History and Faith Behind Voodoo here at New Orleans and Me. And if you'd like to engage the faith during a trip to the city, make sure to check out our Insider Guide to the Real Local Voodoo.
Image courtesy of Wikipedia.