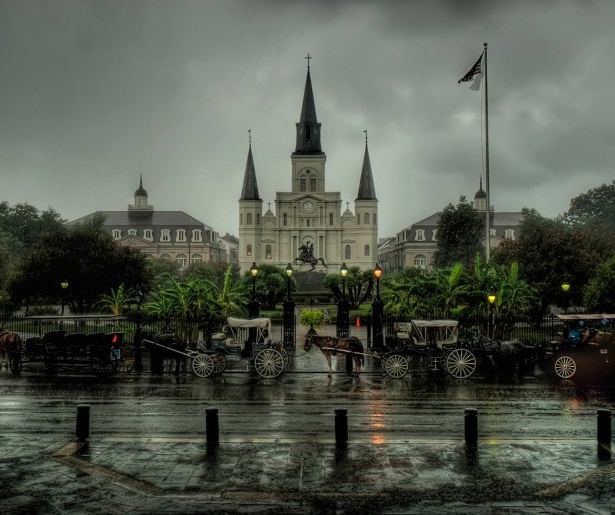 When a former editor of author Michael Murphy approached him about updating the 2005 book, Eating New Orleans, he had a better idea for a project.
"New Orleans is full of stories," said Murphy, "People can just go online for a listing of where to eat. As soon as a restaurant guide becomes available as a book it is already out of date." Instead of creating a 'where-to', Murphy thought, maybe it was time for a 'how-to.'
The result: Eat Dat, part one in a three part series of books – the DATrilogy – that gets under the skin of the city's sites. Now, released in time for the Halloween season, Murphy continues traversing a New Orleans travel triangle via Fear Dat, which focuses on the city's haunted heritage (his guide to local music, Hear Dat, will be available March 2016).
Murphy comes from a stock of storytellers that grew out of a time before live-Tweeting and insta-news. His approach to his research and writing is conveyed via anecdote: when JFK died, journalists poured into Arlington, VA to cover the story. One person nailed it – the reporter who found the guy that dug JFK's grave and provided his take on the story.
That encounter was the source of a professional slogan for many feature writers of the time: Get the gravedigger. "Get the gravedigger is not just giving news, it is illuminating it," explained Murphy, "With this project, I wanted to get the gravedigger."
There are a lot of reasons why Murphy's books are so approachable. Part of it is because reading Fear Dat feels a lot like hanging out with the author. He loves New Orleans, and it's evident in his writing; the conversational tone and witty, honest prose makes Fear Dat stand out among an array of similarly-themed titles.
Fear Dat is broken down into sections by subject and gives readers the generally accepted backstory (or stories) behind New Orleans' supernatural elements (take vampires: according to Fear Dat there were (and are) vampire societies in the city).
There are also location listings and information about the city's famous cemeteries. Murphy answers the big questions like "Why are they above ground?" and provides a listing of famously haunted locations and how to connect with the spirits there. The 'Crypt Advisor' section toward the end gives ratings for ghost tours and psychic readings, and Anne Rice penned the forward (fitting, as this book exists in part thanks to a project between Murphy and Rice back in 1983).
Check out the profile of psychic reader, Cari Roy. Years back Murphy sent his assistant to a reading instead of going himself, so when a second chance arrived, he took it. Pro tip: "She bills by the hour so keep your questions to the important things like relationships, loved ones or career/financial" said Murphy.
For slightly broke people, visitors or locals, here is a better activity: Find the grave decorator. Yes, he is a decorator and digs no graves. But like many in New Orleans, he is a quirky inhabitant that contributes to the lure of the Crescent City. Find his profile on page 62. It's a hoot.
Murphy's next book, Eat Dat Up-DAT'd, is available in November 2015 with 35 new restaurants and two new profiles.
Upcoming Appearances
10/29 9pm-midnight: AllWays Lounge (Reading with burlesque performers, music and Day of the Dead face painters)
10/30 Noon-2pm: Words and Music Festival panel with Cari Roy, Sallie Ann Glassman and Geretta Geretta.
10/31 10am-4pm: Garden District Books, Hallow-Convene in Atrium
11/1 1pm-3pm: UnDead Con (Vampire Festival)
11/7 New Orleans Book Festival
11/22 11am-4pm: PoBoy Festival with Clue Cypress Books.
Image courtesy of Fear Dat via Facebook.