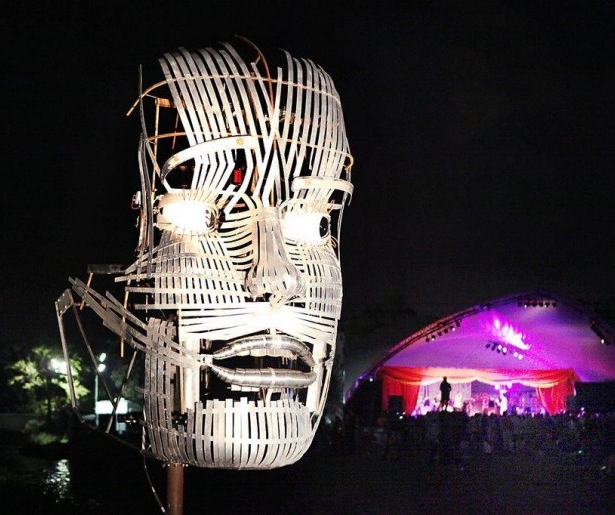 SHARE
Halloween weekend has nearly arrived, and with it comes one of New Orleans' premiere music festivals: Voodoo Fest. Since its inception in 1999, the music and art experience has grown from a one-day event at Tad Gormley stadium to a three-day, multi-stage blowout at City Park's Festival Grounds. This year, the festival runs from Friday, October 30th to Sunday, November 1st.
Voodoo has always been dedicated to booking diverse musical line-ups, but in recent years, they've set a whole new standard by hosting acts across nearly every musical genre — rock, alternative, hip-hop, punk, electronic, metal, folk, and country.
Still, recent headliners like Foo Fighters, Pearl Jam and Jack White point to Voodoo's ultimate love of loud, alternative rock music. This year is no exception. The main event is none other than Black Sabbath legend Ozzy Osbourne, and the man who helped invent heavy metal will be joined on Halloween night by Geezer Butler, Tom Morello, and Slash.
Voodoo sets itself apart from other similar music festivals around the country because of its unique ambiance. Giant oak trees dot the City Park landscape, and interactive art sculptures like Face Forward, where you can manipulate a large metal face's expression with a series of levers, give the festival a spooky air. There's also a giant, 18 ft tall Tarantula statue that lights up and appears to walk amongst crowds. Yikes.
Voodoo attracts out-of-towners and local alike, it's an all ages event, and children under 10 get in free. For more ticket info, check out their website.
Here's our guide for which musical acts to check out:
Friday, October 30th
Hundred Waters – 2:30pm @ Flambeau: Quartet from Gainesville, Florida makes eery, ethereal pop music and puts on a hypnotic live show.
Joey Bada$$ and the Soul Rebels – 6:00pm @ Carnival: A much-anticipated collaboration between Brooklyn rapper Joey Bada$$ and New Orleans brass ensemble The Soul Rebels.. The two will also play a show at the House of Blues on Thursday, October 29th. Check out a trailer for a documentary on the work these artists are producing here.
Modest Mouse – 7:45pm @ Altar: Over the course of six albums and two decades, Modest Mouse has floated in and out (and on, ha ha) of mainstream alternative music, often taking long breaks between records. Every millennial has a scratched CD copy of The Moon & Antarctica, one the most celebrated indie rock records of all time. Their most recent album Strangers To Ourselves, the first in eight years, is as strong a rock record as you'll hear in 2015. Expect a nostalgic-laden performance from these guys.
Florence + The Machine – 9:30pm @ Altar: British indie rock mainstay. This grammy-nominated group combines classic soul with English art rock, and puts on a theatrical, spooky live show.
Saturday, October 31st

Mike Dillon's Punk Rock Percussion Consortium – 2:30pm @ Flambeau: Texas native and longtime New Orleans percussionist brings together an eclectic group of well-versed local musicians across several genres, such as jazz, funk, rock, and classical. A must for any drum-nuts.
The Growlers – 6:00pm @ Flambeau: California garage, surf rock group with a growing cult-following. Self-described "psychedelic beach goth," The band also plays at One Eyed Jacks on Friday night.
Ozzy Osbourne – 9:30pm @ Altar: Before Ozzy was an MTV reality-show celebrity and tabloid magnet, he was the lead vocalist to Black Sabbath, widely considered the first heavy metal band. Famous for on-stage eccentrics and a mumbly voice that goes supernova when he sings, Ozzy will be joined by former Black Sabbath bandmate Geezer Butler, as well as Tom Morello and Slash.
Sunday, November 1st
Chance The Rapper – 3:30pm @ Altar: 22-year old, Chicago-born "acid-rapper" combines electric wordplay with Lil Wayne-esque yelps. A not to be missed live performance. Also, he just"made a song with Stephen Colbert, so that's cool.
Title Fight – 4:15pm @ Carnival: Pennsylvania post-hardcore four piece. Their 2015 record, Hyperview mixes punk with metal, alternative, and shoegaze.
*Zac Brown Band*- 5:00pm @ Altar: Atlanta-based country music band with widescreen appeal, making their Voodoo debut.
The Cult 5:45pm @ Carnival: British gothic rock legends known for She Sells Sanctuary, otherwise known as that epic song that you've heard in a hundred movies.
Deadmua5 7:30pm @ Altar: Canadian electronic-house DJ known for performing while wearing a giant mouse head. There's a lot of great electronic acts at Voodoo, but Deadmua5 is one you shouldn't miss.
For more information about the Voodoo Music and Arts Festival, check out our Festival page.
Image courtesy of Voodoo via Facebook.