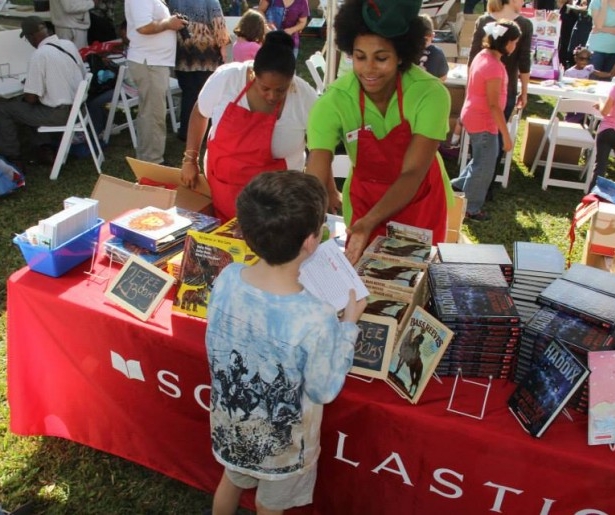 Local bibliophiles can look forward to two big book festivals sitting around the corner. First up: this weekend the Louisiana Book Festival comes to Baton Rouge. On Halloween, you can celebrate literature and Louisiana in front of the State Capitol building from 10am-5pm.
But hey, maybe one short Saturday of books is not nearly enough. In that case, mark your calendar for the New Orleans Book Festival, to be held the following weekend. This is a two day affair; you can get your literary fix on Nov 6, from 6:30-8pm at Latter Branch Library, and on Nov 7, from 10am-4pm at City Park. Between the two festivals, there will be over 400 authors and writers, covering plenty of genres, as well as authors, musicians, chefs and more.
Between your trick-or-treating and/or consumption of pumpkin beer, head down to the Louisiana State Capitol in Baton Rouge on Oct 31. This festival is free, and food and drinks will be available from booths and food trucks located on the Capitol Mall, in front of the Capitol Park Museum and State Library, and down Spanish Town Road and North 4th Street.
Authors, artists, and other vendors will have booths set up on the Capitol Mall, while panels will be held in the Capitol Park Museum and the State Library. Parking is available in the nearby Galvez Parking Garage and in metered spots along the incoming roads, which are free to park at on Saturday.
For the kids
Younger readers will want to check out the Young Reader's Pavilion. Located in front of the State Library, the pavilion will include tables from local children's authors and artists, plus a costume contest and visits from some favorite characters.
In the first floor lobby of the State Library is the Teen HQ. A scavenger hunt and trivia are planned. along with featured Young Adult and Middle Grade authors.
Live music & cooking demos
On Spanish Town Road adjacent to the Capitol building, there will be a stage with live music playing throughout the day. Enjoy the sounds of jazz, funk, soul and rock and roll. Bring a lawn chair or a towel, as there is limited seating available.
North 4th Street will be having food and cooking demonstrations throughout the day. Johnathan Scott Barrett, Ann Benoit, and Dale Curry will be showcasing recipes. Come sample some new takes on Cajun and Creole classics.
Authors
Food and music is nice and all, but if you're coming to the Louisiana Book Festival, you're coming for the books. And this year's line-up is impressive: over 250 writers will be showcasing their books and collections. Here are three names to look out for, but there's plenty more to discover.
Peter Cooley
Louisiana's new Poet Laureate will give lectures on Louisiana-influenced poets in the 5th Floor Capitol View Room of the State Library.
Randolph Thomas
A professor for LSU's Creative Writing program, Thomas just released his second short-story collection, Dispensations. It's a pulsating meditation on the effects of drug and alcohol problems on families.
Adele Levine
Levine is an army veteran who spent more than six years at Walter Reed Army Medical Center rehabilitating injured soldiers. Her recent release, Run, Don't Walk, details her time spent in army hospital in an intensely engaging and often humorous light.
Panels
A hidden gem of the Louisiana Book Festival are the panels. Each is headed by professional writers who allow open discussion on a particular focus; topics include crafting crime novels, the market for graphic fiction, and writing for kids.


New Orleans Book Festival
Held a little bit closer to home the week after the Louisiana Book Fest, this one is even more kid friendly, and free as well.
Day 1
The New Orleans Book Festival kicks off Friday night, Nov 6, at 6:30pm with Twinkle Twinkle, an interactive musical performance that takes place on the grounds of the newly renovated Latter Branch Library. Bring a towel or chair for this event, which will be held under the stars.
Day 2
Beginning at 10am on Nov 7, City Park will be filled with authors and local artists. Children, Middle Grade, and Young Adult genres will all be represented, and lots of local and culinary writers will be in attendance. Here are some of the authors we're most excited about.
Rob Owen
A former graphic artist, Owen released his first book, Spy Boy, Cheyenne, and 96 Crayons, late last year. He wrote and illustrated this story about a little boy who joins the Mardi Gras Indians.
Ryan Murphy
His first book, What the Sleepy Animals Do at the Audobon Zoo, was funded in part by an IndieGoGo campaign and was awarded the "Best New Orleans Children's Book." at the 2012 New Orleans Children's Book Festival/ His latest book is You Wouldn't Like Me Without My Coffee, continues his authoring partnership with his wife, Grace Millsaps.
Kid Chef Eliana
Kid Chef Eliana will be demonstrating recipes from her recipe book, Cool Kids Cook. Her focus on healthy eating and incorporating kids in the kitchen will likely be a hit with kids and families.
Like the Louisiana Book Festival, the New Orleans Book Festival will include readings and panel discussions. There will be an entire activity area for kids, centered on books and stories, and as an added bonus, all children who attend the festival receive free books.
Images courtesy of the New Orleans Book Festival via Facebook.