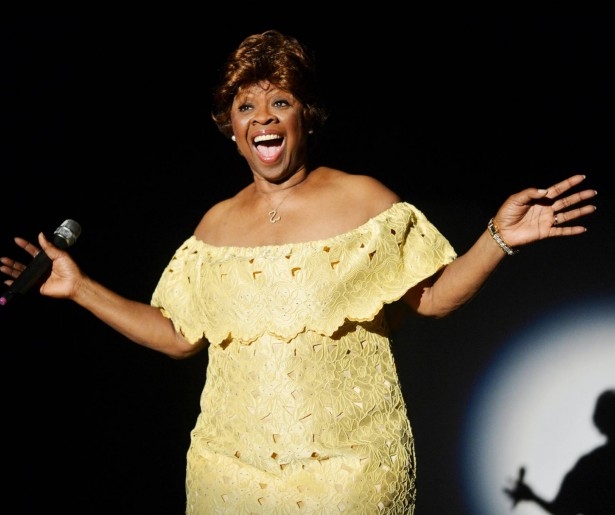 Rhythm and Blues singer Irma Thomas is so authentic that only she could play herself in the theatre adaptation of her life, Simply Irma. Well, for most of the time.
"Actually, of the 24 song of hers in the play, a younger actress sings four," says Anthony Bean, proprietor of the Anthony Bean Community Theater and author of the Simply Irma script.
"In real life, Miss Irma is so quiet and sweet, so in my version of how her life should be like, I got her dressed up like the Supremes, bigger than life, and then she comes out on stage and crashes the whole thing – 'This is not who I am' – and then she starts telling the story herself," says Bean.
While waiting for the night's rehearsal to begin, Thomas herself told NewOrleans.me, "When I entered the business I already had three kids. I'd been fired from my restaurant job for singing. Previously I'd been a dishwasher and was fired for singing on that job — I was just keeping myself company, but my white bosses didn't like the music I was singing."
"When you get fired though, you do what you need to do. For me that was singing. It's called survival. People ask me how I did all that with three kids, 'Well, you survive! You don't think about how you're gonna do it you just do it.'"
The play covers the origins of some of her many hits, such as, "It's Raining," "You Can Have My Husband," "Ruler of My Heart," "I Wish Someone Would Care" and "Hip Shaking Mama."

"She even tells the story of the only song she made that cracked the national Top 20, 'I Wish Someone Would Care,'" says Bean. 'That song was borne out of a bad marriage, and the play includes have the fight that prompted her to write the track out of anguish and disgust."
The 15-year-old Anthony Bean Community Theater (ABCT) has a warm, intimate vibe inside, though is still clearly a community theatre — not necessarily the usual venue for "The Soul Queen of New Orleans."
"Well, first of all, [Anthony Bean] is my cousin," says Thomas. "But when I realized what he was actually doing here: the work of grooming young actors, and helping older actors who want to get back into the business — he tells them the ins and outs, and they go on to sometimes get major roles in movies. He has a track record."
She and Bean are close enough that Thomas felt comfortable letting him write this version of her life story. "He got my opinion about the lines and the storytelling and how it's being presented," she says. "There's some things I didn't want in it and it's not in it. But the story is told well enough that people will realize I didn't just pop outta nowhere and start singing."
Though the singer starred in the first incarnation of Simply Irma, 15 years ago ("we've just upgraded it," says Thomas), and also played the Good Witch in a recent ABCT presentation of The Whiz in 2010 ("I loved doing that with the kids"), Thomas says that after this production, she may stick to just music.
"As a performer, my niche is R&B, and entertaining on the live music stage. I am not a seasoned actor. I have experience but I am not seasoned. I wouldn't want to have acting as a job," Thomas chuckles. "I'd get fired for not remembering my lines."
Her teammates on the production speak much more highly of Thomas's performance. "She's so well-versed and stays so humble in the craft," says the play's choreographer Giselle R. Nakhid, who is overseeing the moves for six dancers.
"I tried to incorporate old-school dances from her time like the Jerk, the Twist the Mashed Potato. She gets to Shimmy during "Lady Marmalade."
"She's been here loyally at all the rehearsals. She even brought her Grammy in for the kids to see—they were so excited" adds Bean, who plans to next write a play on the life of Allen Toussaint. "In Simply Irma, she's singing, dancing, even acting a little bit. We have her doing a lot for a 74-year-old lady!
Simply Irma runs Nov 6-8 and Nov 13-15 at the Anthony Bean Community Theater; find more information here.
Image of Irma Thomas courtesy of Anthony Bean via Facebook.