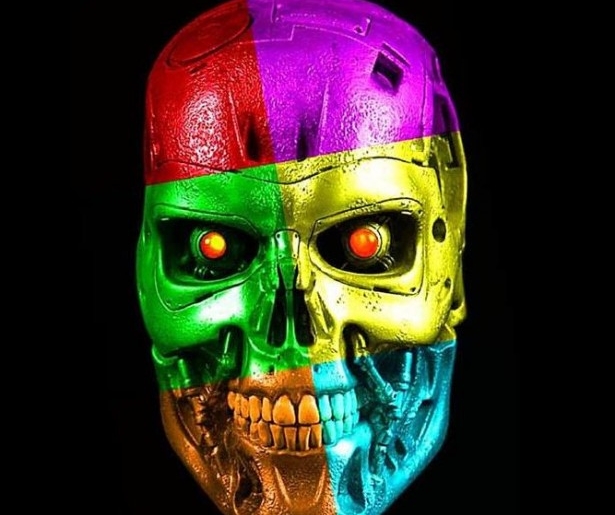 Surely, each time you've watched the first two classic Terminator movies, in the middle of all the pulse-pounding chase scenes and bangin' special effects, you've wondered why Arnold Schwarzenegger's muscled cyborg couldn't also sing a little ditty or two, perhaps in a musical theatre style.
New Orleans playwright Brieanna Bietz has, for all of us, answered that lingering conundrum with her original play, Terminator: the Musical
Luckily, Bietz happened to pen her quirky, clever theatrical sci-fi mash-up in New Orleans, the same town where Christopher Bentivegna's See Em on Stage Productions had recently enacted Living Dead: the Musical (a harmonious take on the classic zombie flick) and Evil Dead: the Musical, both at the Marquer Theatre on St Claude Ave (formerly the Shadowbox).
See Em On Stage has produced six plays in its brief two years, including the classic Flowers in the Attic, and A New Brain, a weird off-broadway musical about a man who learns he has a fatal brain disease, which leads him on a journey of self-discovery.
"[Bietz] had seen some of our shows and show and thought just maybe I had the aesthetic she wanted," chuckles Bentivegna, producer and co-director (with Cammie West) of Terminator the Musical. Bentivegna had been previously impressed by the short one-acts that Bietz, a verteran of UNO's playwriting program, had produced through Southern Rep Theatre's 3×3 and 6×6 local playwright series.
"This particular play just makes fun of the movie, and the characters' situation, and the icons and archetypes," says Bentivegna. "It is done in an original Broadway style but perhaps a bit more raunchy. There's even some nudity. Cammie West and I we're both doing the choreography together, even though we're not dancers — the whole thing is…it's just silly."
Sean Richmond plays Schwarzenegger's iconic role alongside eight other cast-members. "Everyone's very young and good looking, and most are brand new to my company," says Bentivegna. "Sean Richmond, he's a big guy, muscular, baldheaded, intimidating, while Sarah Connor is played by AshleyRose Bailey."
Bentivegna says Terminator: the Musical, which encapsulates just the first two Terminator movies, does not attempt the originals' special effects.
"Special effects will be minimal," he laughs. "Our version is almost minimalistic, and everything's cheesy and very low budget — we're not doing special effects really, just staying in the characters." Bietz has already written the musical's second act, which covers the second two Terminator movies.
Terminator the Musical is part of Faux/Real, the three week long series of intriguing performances, reading, tastings, and parties that has replaced the former Fringe Festival.
"We were surprised and humbled when the Fringe organizers approached us about taking the wheel of a newly evolved festival," says Mintz. "They explained that the festival needed to change in order to continue serving the local performing arts community. A blossomed theatre scene in the City has different needs as far as duration of runs and box office operations."
Mintz says that along with the new three weekend calendar, the festival's new format includes changes in ticket pre-sales, the inclusion of food, drink, and literature, "As well as a structure which directs 100 percent of ticket sales to the individual productions," stresses Mintz, who says Faux/Real will also feature several, "festivals within the festival, which will will take place at multiple venues and highlight specific genres such as solo performances and nerdlesque."
Terminator: The Musical runs from Nov 5-21. For details on show times and to buy tickets ($15), head to Faux Real Festival.
Image courtesy of See 'Em On Stage.