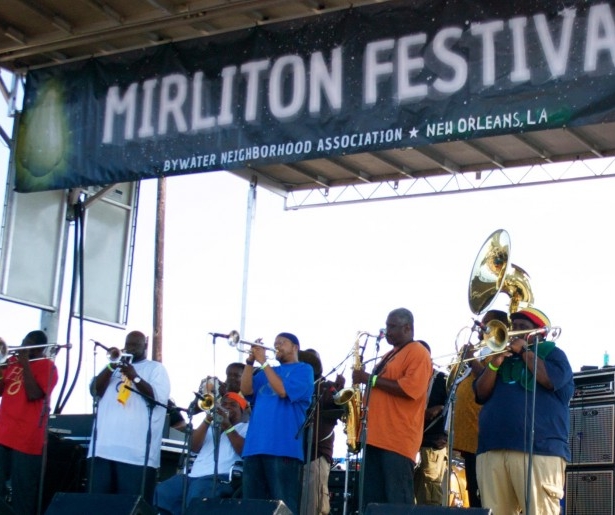 If you aren't from New Orleans, you might have no idea what a mirliton is, but you probably have figured out that in this town, there is a festival for everything, including noteworthy food. So everyone together now: say it like "mel-a-tonn," because the "r" just rolls away.
Whether you call it a mirliton or call it a mel-a-tonn, its namesake festival, put on annually by the Bywater Neighborhood Association, takes place at Mickey Markey Park from 11am-7pm on Saturday, Nov 7. This is the 16th year of the Bywater event, and as always, you can expect unique foods and libations (many based off the namesake squash) while enjoying the sound of local musicians.
The Mirliton Festival is free and open to the public, but as more and more folks come to the Bywater for the celebration, it's nice to take a step back and think of the links between the neighborhood and this weird little gourd.
"Remember," says festival organizer Randy Stephens, "Just like the Bywater, the mirliton is a little odd, slightly misshapen, rooted in history and quite diverse."
If you go further south, to Central and South America, you will hear it called the chayote or a chayote squash. In other parts of the world, it goes by, pear squash, chou-chou (Mauritius), pipinola (Hawaii), pataste (Honduras) and, in Vietnam, su su. While the plant is cooked in different ways around the world, in New Orleans, you can find it used in everything from bread pudding to gumbo.
Sally Cobb, who used to serve as food director at the Jazz & Heritage Festival describes the mirliton as having "a very light flavor, but [it]s] great at taking on the flavor of whatever it is with. That is why is can be used in so many different ways."
One time she found a mirliton on her plate at a friend's house in the British West Indies. Her friend didn't call it a mirliton, but that doesn't mean it wasn't the familiar vegetable from home. Fun, although not completely outlandish, as the crop does very well in the warm temperatures.
The origins of the mirliton celebration was a small gathering of friends and neighbors. Cobb, one of the early pioneers, describes it as neighborhood people "coming together and bringing a covered dish that had something with mirliton in it to celebrate the season." And from there it just sort of organically grew into something bigger – something to pay tribute to a neighborhood in a truly New Orleans fashion.
Thanks in part to her role in Jazz Fest, Cobb and her husband were very involved with growing the event over the years. She started out as a producer, then downsized her role to just being a participant, and now is a vendor (she will be selling fresh baked mirliton bread loaves as well as a Shrimp and Crab Mirliton Casserole).
Even with the growth of the festival, it remains a close-knit neighborhood affair. With renovations to Markey Park, the festival's famous Artists Village has moved to the Piety Street Market (612 Piety). It's worth the short walk to check out all the crafts that are just a few blocks down.
Fresh, locally grown mirlitons will be on sale for you to make something fresh at home (recipes below) along with sustenance from other local food and drink vendors including Elizabeth's, The Country Club and Bacchanal.
The Positive Vibrations Foundation sponsors the tunes, with Kermit Ruffins and the Barbeque Swingers headlining with their set at 5:45pm.
Mirliton Festival 2015 Musical Lineup (Estimates)
11am One Love Brass Band
12:15pm Doombalaya
1:30pm Washboard Chaz Blues Trio
2:45pm 5 Card Stud
4pm Hot Tooth
5:45pm Kermit Ruffins and the Barbeque Swingers
Image courtesy of the Mirliton Festival via Facebook.