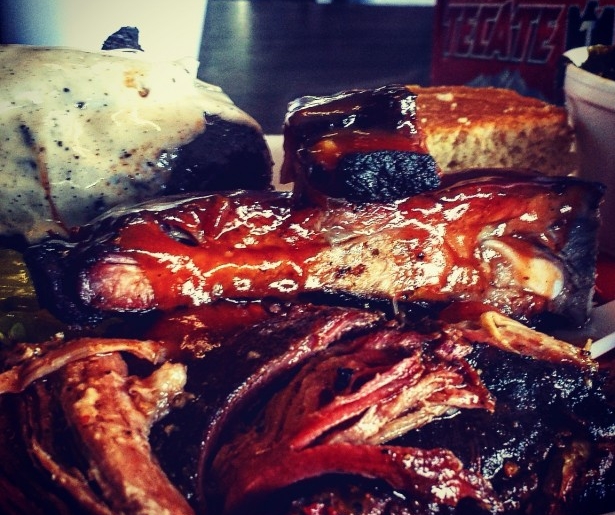 SHARE
Two summers ago, I witnessed a group of tourists making their way through New Orleans. They were sightseeing, they had an itinerary, and they had a purpose. They were going to their next destination and ignoring any superfluous distractions along the way.
And then, they stopped. It was a group of seven, and they all, like a colony of penguins watching a plane fly overhead, swiveled their necks at once. Their pupils dilated. Their noses perked up. You could see, at the edges of their mouths, the beginnings of drool glistening at their lips.
They had smelled barbecue.
OK, maybe I didn't quite glimpse the dilaton and the drool, but I promise, the entire pack of tourists did turn their heads as one, and I did too, because there are few sensory explosions like the way a good cloud of sweet, spicy barbecue smoke reaches right into your nostrils and yanks at your entire internal hunger apparatus.
You know who else recognizes the power of barbecue on our senses? The good folks at the Southern Food & Beverage Museum, who are hosting a barbeque weekend Nov 6-7. The focus of the weekend is South Carolina barbecue, which is tough to find in New Orleans (in fact, there's something like three or four major South Carolina regional styles of 'que, and I want to try them all).
The weekend will be hosted by Dr. Howard Conyers, a New Orleans resident who is (we're not kidding) a NASA scientist at Stennis Space Center and a pit master who loves making his own barbecue, which may be the best thing I type all day. See the below video for more background.

Robert Moss, who has the enviable job of being the Southern Living Magazine barbecue columnist, will also be in attendance. The event is twofold: a free day of lectures on Saturday (that's right, free museum admission) for the general public, and for interested parties, a $250 barbecue weekend pass. We do mean 'weekend pass': on Nov 6, guests will spend the night at SoFAb in the Gumbo Gardens as Conyers tends to his slow smoking hogs.
Those who spend the night will be getting plenty of grub, and hey – when else are you going to see barbecue made by a literal rocket scientists? (I know, he's a structural engineer. Whatever). If anything else, we predict this weekend yields the best designed barbecue pit in the galaxy. More information, and tickets, here.