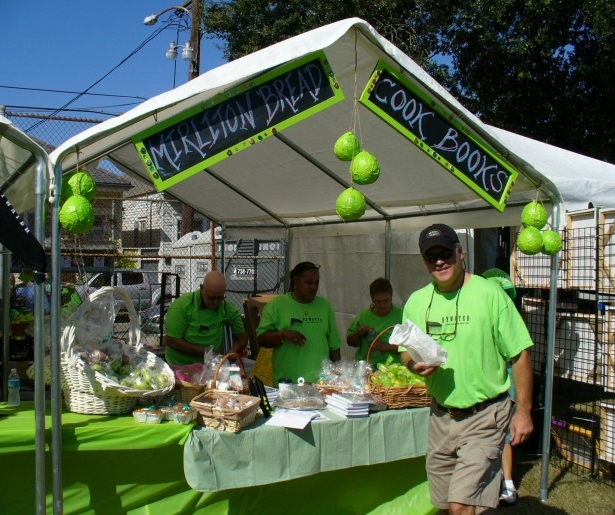 The Mirliton Festival is happening this weekend, and if, in its wake, you aren't sure what to do with your newly purchased gourds, Chef Rita Bernhardt of The PDR at St. Roch Market shares her recipe for pickling.
Pickled Mirliton
3 mirlitons sliced thinly
3 cups apple cider vinegar
2 cups rice wine vinegar
2 cups of sugar
15 crushed garlic cloves
3 tbsp allspice berries
3 tbsp whole clove
3 tbsp black peppercorns
Bundle of fresh thyme
1 cup salt
Put all the ingredients except mirlitons, thyme and salt in a pot. Bring to a boil, add 3 tbs of salt and set aside. Sugar should be dissolved.
Meanwhile, slice mirlitons thinly and place in a bowl. Toss the remainder of the salt with the mirlitons and let sit for 30 minutes. Once you let sit, add ice water and rinse the salt off the mirlitons. The slices should be salty and slightly limp.
Place mirlitons in a container that has a lid, along with sprigs of fresh thyme. Once the pickle brine has cooled to at least room temperature (you can do the brine the night before!), cover mirlitons with brine. Cold brine will help keep the mirlitons crispy. Let the pickles marinate for at least a few hours before eating. Store in the fridge for up to three months.
Sally' Cobbs Shrimp & Crabmeat Mirliton Casserole
8 large mirlitons cooked – half cubed, 1/2 pureed
1/2 stick butter (1/4 cup)
1/4 cup olive oil
2 cups chopped onion
3/4 cups chopped green pepper
1/3 cup sliced celery
1 tbsp minced garlic
1 can (14-16 oz) tomatoes
1/2 cup chopped green onions – white and green
3/4 tsp salt plus 3/4 tsp granulated crab boil
1/2 tsp black pepper
1 very small jalapeno chopped
3/4 tbsp dried thyme
2 bay leaves crushed
2 tbsp finely minced fresh parsley
1 1/4 pound peeled and deveined shrimp
1 pound claw crabmeat
2-2/14 cups dry bread cubes (or as needed)
1/2 cup bread crumbs, 1/2 cup parmesan cheese, Melted butter
Cook mirliton in heavy pot. Bring to boil and boil 20 min or till done. Drain and cool. Dice half of the mirlitons and blend the other half. Melt butter with olive oil. Add the onion, green pepper, celery, garlic, jalapeno and green onions.
Saute till veggies just turn soft. Add seasonings, thyme, bay leaf and mix well. Add Mirliton cubes, Mirliton mash, drained tomatoes. Add seafood and bread cubes blend well and bake till hot. Top with buttered bread crumbs mixed with parmesan cheese. Bake at 350 degrees till top is browned.
For gluten free version, use brown rice. Sprinkle with Parmesan cheese.
Mary Cooper's Mirliton Bread
(4 small loaf pans)
1 cup butter
2 cups sugar
4 eggs
4 cups Mirliton mash
2 tsp vanilla extract
5 cups regular flour
2 tsp cinnamon
1 tsp ground allspice
4 tsp baking powder
2 tsp baking soda
2 cups walnuts or pecans
Preheat oven to 350 degrees. Spray nine small loaf pans with PAM or a similar product. Cream butter and sugar. Mix in eggs. Add Mirliton mash and vanilla and mix well.
Sift together dry ingredients. Add pecans to the dry ingredients. Mix. Add to mirliton mixture and mix everything well.
Divide equally between 8-9 pans. (12.5-12.6 oz) Bake these 12.5 oz loaves for 75 minutes.
Image courtesy of Wikipedia.