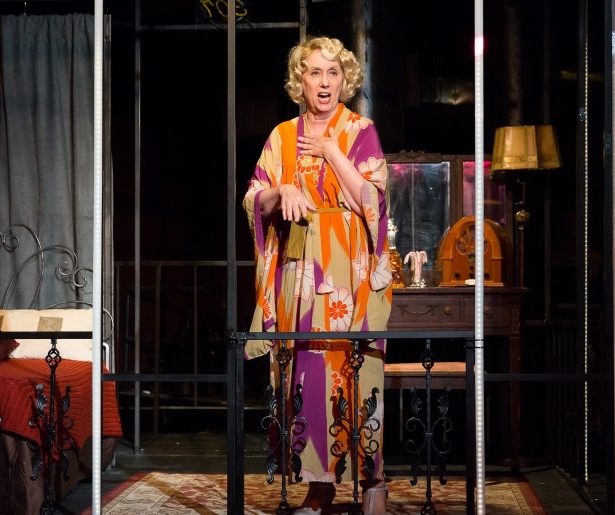 SHARE
"I was born to play this part."
Mink Stole knew right off the bat she was destined to star in The Mutilated, a late Tennessee Williams play first revived at the 2013 Tennessee Williams Festival in Provincetown.
Not only did Stole's cult-film career as a John Waters icon, who first shot to infamy in Pink Flamingos, make her an ideal candidate to play socialite-turned-Quarter-rat Trinket Dugan. She had actually read the obscure Williams' opus several decades ago.
"When the festival people sent me the script, it sounded so familiar," recalls Stole, who returns as Trinket in the upcoming Contemporary Arts Center production (November 19-22). "So I went to my bookshelf, and found it in Dragon Country, a collection of Williams short plays. I hadn't read it since the '60s, but nonetheless I had it. So I knew it was meant to be."
After taking Provincetown by storm, The Mutilated opened to rave reviews in New York City. In that production, underground performance artist Penny Arcade played Stole's foil, Celeste Delacroix Griffin, the feisty down-at-the-heels floozy who' is Trinket's BFF and frenemy.
Here at the CAC, local theatrical legend Donna Duplantier brings Celeste to life, putting a homegirl spin on a play as quintessentially New Orleans as anything Williams ever wrote. It's so darn local, in fact, that a live Dixieland band provides the soundtrack and the audience can belly up to the working bar onstage for a pre-show cocktail.
"I think this play was written for the cast I have in New Orleans," says director Cosmin Chivu, a seasoned Williams vet who directed other late plays before signing on to revive The Multilated. "They understand what the play's about, and how to create this world. The entire cast inherits the soul of these characters."
And a soulful lot they are. Celeste has just been sprung from jail and been evicted from her room on Christmas Eve when she shows up on Trinket's doorstep at the Silver Dollar Hotel. The love-hate tango that ensues as Celeste tries to worm her way back into Trinket's affections is pure "slapstick tragedy," as Williams sagely dubbed it.
"They're both down and out, sort of both lowlife New Orleans," says Stole. "Trinket has money, enough to live in that hotel. But she's still living on the very fringes of society. These are people on the fringe, but their need for love, for connection and friendship – those are universal."
Both women are deeply wounded, and Trinket's titular mutilation isn't only psychological. She's just had a mastectomy, a shameful secret for her; the play is set in the 1950s, a time when the subject of breast cancer, like most references to female anatomy, was strictly taboo.
"It was very different from today," says Stole, who's old enough to remember the bad old days. "We didn't talk about breast cancer. We didn't talk about breasts! When I Love Lucy was on television, Lucy couldn't say she was pregnant. Women's functions, our bodies, were all taboo."
Trinket may guard her secret closely, but she, Celeste and the rest of the all-local cast let it all hang out in boisterous dialogue redolent with the sights, sounds, smells and tastes of New Orleans.
Much of the action takes place on the same French Quarter streets Williams once walked, where "the strange, the crazed, the queer" get into the holiday spirit by singing crackpot Christmas carols penned by the playwright.
"To be able to work in New Orleans, breathing the air that Tennessee Williams breathed while he was writing the play – I feel like the luckiest director in the world," says Chivu.
Mink Stole is also "totally jumped up" about staging the play in New Orleans, which she visited for the first time just last year, when she brought her cabaret act to the AllWays Lounge.
"To actually be performing Tennessee Williams in New Orleans is sort of surreal and incredibly exciting," says Stole. "When I did the play in Provincetown and New York, I'd never been to New Orleans. Having actually walked the streets of New Orleans, it makes so much more sense."
Donna Duplantier, who was born and raised in New Orleans, already knew those streets well. But The Mutilated has given her a deeper understanding of what it meant to be a woman alone at that time and place.
"For a woman to be on her own then was very rare," says Duplantier, whose onstage chemistry with Stole earns high praise from both her co-star and director. "[Celeste's] only means to survive is to rely on men. That's why her relationship to Trinket is so crucial: they both need each other. I hope people come away with a lot. And I hope they laugh!"
There was no shortage of laughter at the New York production, which New York Times critic Charles Isherwood called a "scabrously funny … macabre comedy." But at the CAC, there's likely to be even more.
"People in New Orleans will recognize all the references to street names, neighborhoods, parks, statues and on and on," says Chivu. "In New York, when the brother tells Celeste to go to the corner of Dauphine and Carondolet, not one person in the audience was smiling, because almost no one knew that those streets never intersect. Here in New Orleans, most of the people will get the joke."
The Mutilated runs Nov 19-22 at the Contemporary Arts Center, 900 Camp Street, with 7:30pm shows on the 19-21st, and a 2:30pm matinee on the 22nd. For more info, and to purchase tickets, go here. Mink Stole fans can warm up for the main event on November 11 at 7pm, when the CAC screens John Waters' Desperate Living with a post-show talk by Mink Stole.
Above: Mink Stole in The Mutilated, courtesy of Scott Wynn.