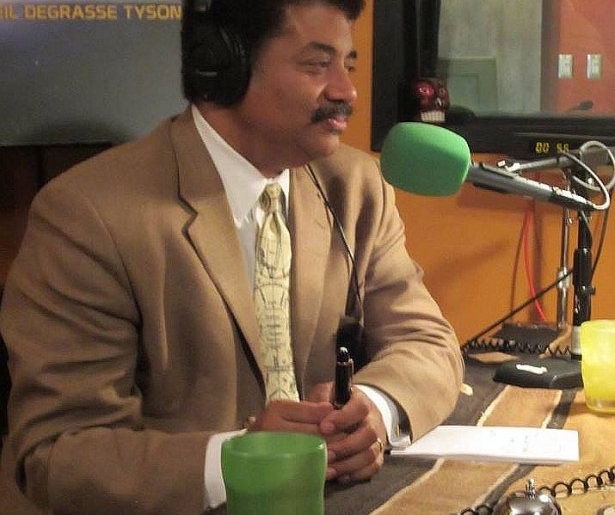 Neil deGrasse Tyson has made a career out of both his intellect and his commitment to expanding scientific knowledge. And today and tomorrow , the most popular public intellectual in the country will be inspiring those of us in the greater New Orleans area.
As part of his ongoing multi-media lecture series, The Search for Life in the Universe Tyson will be speaking at the Saenger Theatre on Nov 10 & 11. The two lectures, both which start at 7:30pm, will cover both Tyson's research as director of New York's Hayden Planetarium as well as ongoing research in the fields of physics, astrophysics, and space exploration.
Tyson earned his BA in Physics from Harvard University and his Ph.D. in Astrophysics from Columbia University in 1988. Years of lecturing on astrophysics, as well as his appointment to two Presidential commissions, worked to build his fame in the academic community.
Last year, Tyson hosted the reboot of the Cosmos series, Cosmos: A Spacetime Odyssey. This 13-episode documentary series received critical praise for Tyson's narration as well as several broadcast awards and a Peabody for educational content.
The last time Tyson was in New Orleans was for a lecture on Tulane University's campus back in April 2014. Dr. C. Gregory Seab, astrophysicist and professor at the University of New Orleans (UNO), was in attendance.
"He was great…it was like a concert," said Dr. Seab.
Astrophysics and astronomy have a lot of big concepts that are often difficult to explain to the layperson. "It is easy to forget to how to talk to people who don't talk astronomy," said Seab, who added that crafting a message is a focus of his approach both when teaching students at UNO and speaking to elementary school classes in New Orleans.
Tyson is famous in part for his ability to explain difficult concepts to a wide audience. According to Seab, "He brings together a lot of things, like humor, in his work." His lectures often incorporate pictures, movies, and models, all in an effort to make the universe accessible to all ages and education levels.
Tyson's unique mix of intelligence and oratory skills have led to multiple appearances on popular shows like Real Time with Bill Maher and The Colbert Report. He also hosts his own podcast, StarTalk, a science-based talk show that features astronomers and astrophysicists speaking alongside comedians and pop stars.
Although no one is exactly sure what Tyson will talk about in the Saenger lectures – UFOs, black holes, and space travel are all strong possible topics – the recent evidence of liquid water discovered on Mars is almost certain to come up.
John Grunsfeld, Associate Director of NASA's Science Mission Directorate, said in a press release, "Our quest on Mars has been to 'follow the water,' in our search for life in the Universe, and now we have convincing science that validates what we've long suspected."
The discovery has renewed the public interest in extraterrestrial life, and Dr. Seab's current research on diffuse interstellar bands might hold some clues in this regard. These bands are absorption features – little black lines – that show up in the spectra of other stars.
Astrophysicists like Seab and Tyson are curious about these lines, because the things that produce them, known as "carriers," don't correspond to any known molecules; one of the leading theories is that carriers are potentially molecules that contain carbon. "They could help us understand the conditions necessary for life," said Seab.
Tickets are still available to see Tyson. The doors at the Saenger will open at 7pm each night, with the lectures beginning at 7:30pm.
And, if you're interested in doing your own stargazing, during the upcoming UNO Campus Open House on Nov. 21, the UNO Observatory will be open to the public. Stop by for a chance to see a little bit of the Universe for yourself.
Image courtesy of StarTalk via Facebook