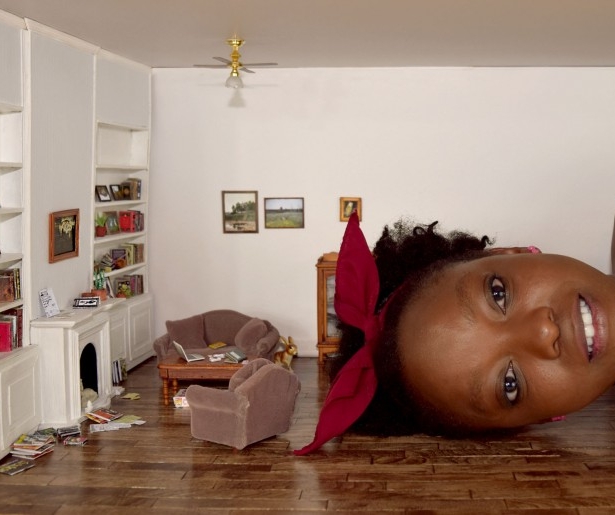 SHARE
What if today's Millennials were reincarnated as Chekhov characters from the turn of the last century, and their lives examined with the scientific scrutiny normally reserved for the ancient Etruscans or a remote Amazon tribe?
That's the highly original premise of Uncle Vanya: Quarter-Life Crisis, presented by Goat in the Road Productions and Momma Tried magazine as part of the Faux Real festival, which continues its run at the Ether Dome at 3625 St. Claude Ave for the next two weekends (Thursday-Sunday, 8pm).
A "live exhibit" in four acts, Vanya comes complete with its own exquisitely detailed dollhouse replica of the Voynitsky Estate (the fictionalized manor where the play is performed); a Voynitsky Collection of artifacts and ephemera; and an elaborate guidebook to the "psychological archaeology" of an angst-ridden group of young adults holed up in a St. Francisville mansion circa 2009, where they're trying to code their way out of the recession with a startup website while sponging off their slightly older benefactor.
The inner world of these characters is revealed through archival objects displayed in museum-style glass cases in the Ether Dome lobby. Prayer cards, cassette tapes, cocktail umbrellas, matchbooks, ticket stubs, pot pipes, and other random artifacts are carefully catalogued and annotated, along with handwritten letters and confessional journal entries.
Curated by Momma Tried, and collected from members of the cast, these objets d'art and personal memorabilia set the tone for the "live exhibit" that follows on an artfully cluttered stage set designed by Joan Long.
Ditto the tiny objects handcrafted for the Voynitsky dollhouse by Momma Tried's Theo Eliezer and Micah Learned. From the micro Tarot cards scattered on the floor to the teensy-weensy board games to the itsy-bitsy Bikini Kill poster to the thumbnail-sized macrame hanging plants in the bathroom, every mundane detail is sublimely executed.
Lined with photo portraits of cast members shot inside the miniature rooms, the Voynitsky lobby installation is worth the price of admission itself. Be sure to get there early to pick up clues to the "live exhibit" that awaits you in the theater, where a "tour guide" serves as a wayback machine that transports the audience to 2009.
In a hilarious opening monologue, the guide (supposedly from 2109) explains archaic 2009 artifacts like videotapes and power cords, and offers footnotes about the characters we're about to see, like the generation's fondness for music of the early '90s. (Thus the pre-show soundtrack of Nirvana and Spin Doctors.)
Then he asks to close our eyes, and poof! Uncle Vanya comes to life.
Chekhov's basic premise remains the same: A friends-and-family group of neurotic intellectuals are living in a rural estate helmed by a retired professor, whose decision to sell the house precipitates a climactic confrontation late in the third act.
Before that pivotal moment, not much happens; characters bemoan their frustrated hopes and wasted lives while playing a game of psychosexual musical chairs. And, just like Chekhov, director/lead adapter Chris Kamenstein plays much of Vanya's morass of meaninglessness for laughs.
Where Chekhov takes potshots at a dying aristocracy, Kamenstein casts a cold eye on entitled millennials of the startup generation, who "want everything we do to be the most everything." He also updates the play with a gender fluidity that adds another layer of intrigue to the plot.
The elderly male professor of Chekhov's play becomes Alexandra, a 30-something feminist who was downsized from the University of Chicago and lost her first wife, Vera, to cancer. Her much-younger consort is now Yelene, a glam ambisexual fashionista and former student of the professor.
Fabulously bored Yelene besots both the titular Uncle Vanya (so named for his "bad fashion sense") and manic wetlands activist Dr. Astrov, who commutes to St. Francisville on his motorcycle after all-night shifts in a New Orleans emergency room. Meanwhile, Vanya's sister Sonya, the emotional heart of the play, pines unrequitedly for Astrov.
Maria, Marina and house techie Waffles also ride the Real World carousel of Vanya, fueled by cheeseballs, whiskey, the occasional pot of tea and endless circuitous discussions.
Not since the first season of Girls has so much attention been paid to the minutiae of the day-to-day lives of millennials, their self-absorption, and their constantly shifting sexual alliances.
As a big Girls fan, I mean that as high praise.
But not to worry, Lena Dunham haters. Uncle Vanya constructs its own hermetic universe. And a fascinating one it is, brought to life by an exceptionally talented troupe of players.
Vanya 2.0 may not be as timeless as Chekhov, nor was it meant to be. But this cleverly reimagined version strikes some very universal human chords. It is a paean to the little things that make life meaningful, even when it feels like it's not.
Uncle Vanya: Quarter-Life Crisis runs Thursday-Sunday, November 12-15 and 19-22, at 8pm at the Ether Dome, 3625 St. Claude Avenue. Doors and installation open at 7 pm. You can also view the Voynitsky Collection at a free reception hosted by Momma Tried on Wednesday, Nov 18, 7:30-9:30pm Check out Goat in the Road for more info, and to buy tickets ($20)._
Above image by Momma Tried magazine.