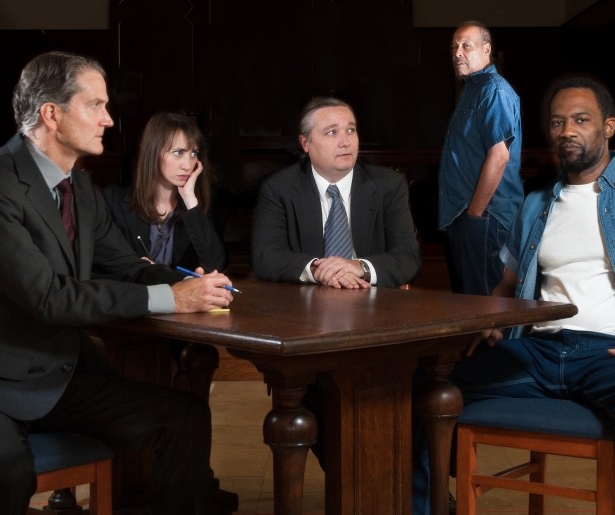 Sometimes, the story that inspires a play is as intense as the production itself.
In the early '80s, Episcopal priest Joe Morris Doss helped found Religious Leaders Against the Death Penalty, and was tasked with finding attorneys to represent death row inmates on appeal. Doss became so embroiled in his advocacy that he went on to serve as consultant on the movie Dead Man Walking before retiring from law.
But before that retirement, in 1984, Doss was drafted by defense attorney Julian Murray as the co-lawyer on an appeals case to defend Earnest Knighten Jr., who was then facing the death penalty for the shooting of Bossier City gas station owner, Ralph Shell.
"Earnest had tremendous growth in the months that my father knew him," says Bishop Doss's son, Andrew Doss. Still, Knighten was executed by the state in 1984.
"His last request of my father before he died was to tell his story," says the younger Doss. "And once I became an adult, my father and I started writing that story, together, as a play."
Father and son will see that production, 'Song of A Man Coming Through', come to life as part of the Faux/Real arts festival this month. "My father is now a retired bishop who has had a massive career," says Andrew Doss, "but he feels like this is the biggest contribution he's made in his lifetime – this means more to him than anything he's ever worked on."
Andrew Doss is currently attending seminary himself, at Yale Divinity School, after having worked as a New Orleans criminal prosecutor for five years prior. "I also have a background in theater and have dabbled in theater, but this is our first full production play," he says via phone from New Haven Connecticut, where he has been teaching drama to inmates at a local prison.
The Dosses attempted to put forth their heavy subject matter in a uniquely inviting setting. "The whole thing is set in a church [First Grace United Methodist Church, 3401 Canal St], in the round. The whole space is being used," explains Doss. "The audience is invited to come an hour before the play starts to have gumbo, some drinks and sing together. [The audience] is invited into this space where you can relax, and get comfortable but engaged as soon as you arrive. The actors even sit amongst the audience all throughout the play; when their parts happen, they stand up and perform in various places throughout the church. They perform and then they sit back down when they're done with their scene."
Doss says music is a big part of the play's special environment: "Music is used throughout the play, so the audience will be singing too. The music was written by Brendon Connelly," says Doss, "an opera and classical composer, but he also does a lot of theater composition. 'Song of a Man Coming Through' features his original music, as well as classic New Orleans gospel music."
Despite this focus on inclusiveness, Doss also says the play aims to challenge audiences in at least three major ways: "Well, first, it involves very heavy issues of life and death, and to be part of that story is going to bring up a lot of emotions for audience members — I mean, in the end, [Knighten] was executed," says Doss.
"Then also, the play is showing the journey of an individual while also recognizing that he can't just be an individual, that the only way to grow and transform, is to see his whole community transform. It is not about an individual journey, and it's challenging for people to see that. Lastly, it involves the audience: they sing and eat together, and do some other things where they really get involved, and in that way they are also sort of implicated; in watching the play they have to recognize that they are part of a system. It's not an anti death penalty play, but you cannot see it without realizing you are part of a system that thinks violence works — a system that kills. When the state of Louisiana executes someone, that is us executing them."
On top of all that, Doss is going through the emotional experience of seeing the first real play he has ever written acted out on a real stage. "It has been exhilarating," he says, "terrifying, yes, and totally splendid."
The play Song of a Man Coming Through runs from Nov 12-21, Thu-Sat, as well as a Sunday show on Nov 15. All showtimes are at 8pm, and performances are at First Grace United Methodist Church, 3401 Canal St. The play is put on by the Southern Rep Theatre, and tickets are $20-40.
Above: from left to right, John Neisler, Cecile Monteyne, Mike Harkins, Lance E. Nichols and Robert Diago DoQui perform in Song of a Man Coming Through. Photo by John B. Barrois.