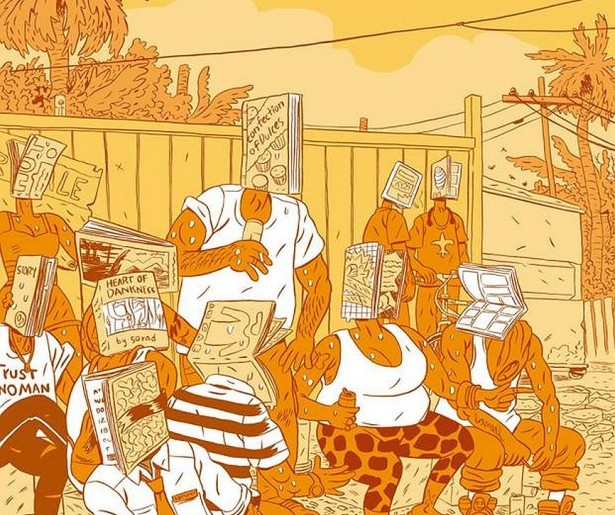 New Orleans becomes more and more of a literary hub each year. Along with the venerated Tennessee Williams Festival in March, our city boasts the Tom Dent Literary Festival, the New Orleans Book Festival (rained out this past October when City Park flooded), the New Orleans Book Fair (Dec 12) and now, for its second year, NOCAZ: the New Orleans Comic and Zine Festival.
"Getting printed work out in the world isn't as easy anymore," explains this year's NOCAZ organizer, Erin K Wilson, referring to the corporate nature of the modern publishing industry. "So our festival is focusing on self-publishing, which often means going and using a copy machine. This year we didn't even reach out to any large comic publishers like Fanta Graphics or Top Shelf — which are both companies we all love and support, but we're really trying to focus on the little guy."
In the fest's first year, over 400 people came to check out 70 comic and zine publishers, while this year will feature 108 registrants. "And I know only know like ten of them!" Wilson says excitedly.
Along with the main event, NOCAZ will host several readings and other events, most taking place at the Mid-City Library.
"We only had like two workshops last year," says Wilson, "but this year we made a more concentrated effort in that area too. On Friday night Osa Atoe presents Women of Color in Punk, with three really amazing well-known old school punk rock stars."
While the New Orleans Book Fair has in the past focused on similar alternative content, Wilson says NOCAZ strives to add to the conversation.
"The Book Fair and NOCAZ are kind of dating," she laughs, "But while the Book Fair has a history and they do comics, it's not their focus. We are more about things you can photocopy, like your drawings, and sell them for like one dollar. The Book Fair is more about literature, traditionally bound books and political organizing."
Wilson says the biggest different is kids. "Each organizer is different, with a different focus, and mine this year is definitely the kids," she says. "This year we expanded our youth program from just one kids workshop to three in the lead-up to the fest."
These workshops, titled "Publish Yourself," helped kids ready new zines to sell at NOCAZ, such as 12-year-old Alexia Morgan's "The Path Alien Ships Make," which she will read to the public as part of the festivities.
The biggest improvement to NOCAZ though, says Wilson, is the official involvement of the New Orleans Public Library System. "It's not a library program, but there has been a big conjoined effort this year, with librarians from all over New Orleans helping the artists and writers who are gathering. They've really busted their [butts] getting everything we need, and have really dedicated a lot of time to this, doing things like gathering zines to share with library patrons and get them interested."
Wilson is also proud of the populist pricing of each NOCAZ table. "We have made a very concerted effort to prioritize people who've never tabled before," she says. "You often pay $50 to $100 for a table at a fest, and we charge nothing for people from Louisiana, and just $10 for those from out of state. It's a six-foot table and you each get three feet of it — every table hosts two people instead of one, so that we can accommodate twice as many people."
While excited about this weekend's New Orleans Comics and Zine Fest, Wilson and crew are almost just as excited for next year. "Of course it's in its infancy so there's still lots of room for improvement," Wilson admits. "But it's clear that each year it will only get bigger and better."
For more information and to register, visit NOCAZ. The festival goes off at the New Orleans Public Library, Nov 14th from 11am to 5pm.
Illustration courtesy of the New Orleans Comic and Zine Festival via Facebook