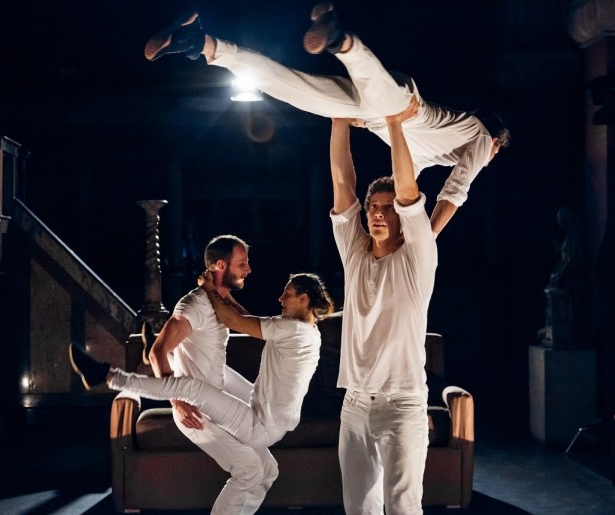 It's safe to say that stepping on stage with three other people and engaging in head-scratching acrobatics, flipping in air and precariously balancing on each other from the platform of an average sofa is something that takes a certain level of trust.
Or faith, as it were.
That's exactly the kind of territory occupied by Philadelphia's Almanac Dance Circus Theatre in their newest performance, Leaps of Faith and Other Mistakes, and they're bringing the show to New Orleans for the Faux/Real Festival of Arts.
Almanac Leaps of Faith and Other Mistakes CN ICE trailer from Ben Grinberg on Vimeo.
Leaps of Faith and Other Mistakes is an absurdist melange of theatre, dance and circus, with words by Josh McIlvain as well as music written by Patrick Lamborn. It tells the story of four young acrobats that Ben Grinberg, co-Artistic Director and co-Founder of Almanac, says are loosely based on the players themselves.
These four young hobbyists, out of equal parts fanatical obsession and total ennui, decide to start a seafaring isolationist cult. The rest of the plot is in the performance.
In Grinberg's mind, the show really started out as an investigation of faith as a concept. "It's really just about the things that we change everything for, the things that we value most. And ultimately it's about how dangerous that kind of faith can be."
The show, in a way, uses the deep level of trust that comes with high-flying partner acrobatics as a prism through which to view a certain kind of unmitigated, dogmatic faith.
Grinberg says Almanac's name makes sense, in that what the company does as a group is an actualized combination of three performance types.
"It's theater, because there is a narrative and characters," says Grinberg. "[But] whether this narrative is explicit or interpretive is another thing."
Grinberg and Almanac's other co-Founder, Nick Gillette, met and began working together in physical theater, studying in the MFA equivalency program at the Pig Iron School for Advanced Performance Training in Philadelphia.
"Dance," Grinberg says, "has a sort of freedom implied. We can employ that kind of interpretive logic in our performances."
The Almanac members pride themselves on testing their own physical boundaries in their performances, and this is where the circus comes to town.
"This often means that there is an earnest sense of physical risk involved. We like to push ourselves to the edge of our comfort zone as performers," says Grinberg. This of course means that the audience will likely find themselves at the edge of their comfort zone during the performance, making for an all around exhilarating show.
The performance, which Grinberg estimates is about 80 percent scripted and 20 percent improvised, explores the extent of fierce devotion and the dark side of absolute trust in what they call on their website "an absurd acrobatic dance piece about sublime human idiocy, isolationist seafarer cults, and the kinds of people that devote their lives to becoming acrobats".
"It feels political to me," Grinberg says. "Not in any specific sense, but I feel it is in response to things that are happening in the world right now. I hope it can work as a sort of allegory." Grinberg laughs, "It ends in a sort of disaster, I guess."
The show will be performed by Adam Kerbel, Nicole Burgio, Grinberg himself, and Nick Jonczak, who will be performing in place of Nick Gillette. Grinberg says the company knew people from the arts community in Philadelphia who had come down to the then-New Orleans Fringe Festival in the past.
"We're really excited to be a part of the inaugural year of Faux/Real, definitely," he says.
Performing in New Orleans also has a broader appeal for Almanac. "New Orleans is the furthest from Philly that we will have performed anything," Grinberg says. "We're just interested in our work being able to take us all over the country, and all over the world eventually."
Grinberg mentions that the Faux/Real performances are going to be unique, in big and small ways. "There may be small changes from night to night, but we've also made some major structural changes that we will be introducing."
Almanac Dance Circus Theatre will be performing Leaps of Faith and Other Mistakes at the Old Ironworks, 612 Piety in Bywater, debuting Tuesday Nov. 17 and running through Friday Nov. 20, all shows at 7:30 pm.
Images courtesy of the Almanac Dance Circus Theatre.