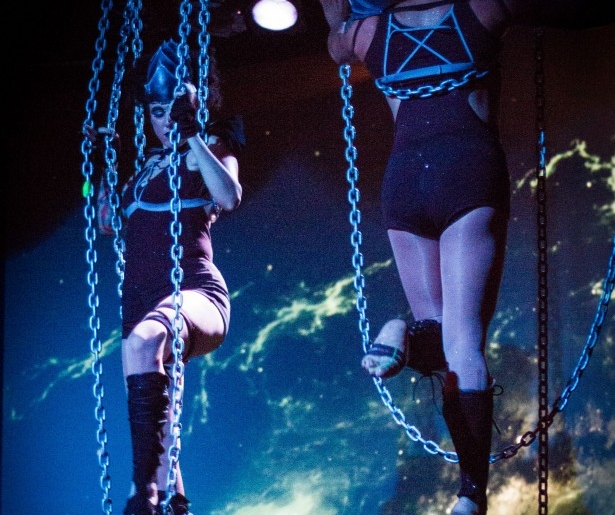 In the original tale of Alice in Wonderland, one girl's sense of reality is turned upside down, her life thrown into the air. In Inverse Universe, an aerial and visual arts production featured in the Faux/Real festival this weekend, Alice's doppelganger Jade is literally up in the air, suspended by hoops, chains, fabrics, and trapezes.
"It is a loose interpretation of the Alice in Wonderland narrative," says the play's co-producer, aerialist Alex White. "Jade is a similar girl who falls through space and time, decides to go down a rabbit hole and ends up going through five different lands or words that are each depicted through a combination of aerial arts and technology."
White runs the Crescent City Aerial Arts, a local aerial and fitness studio. Her partner in the show, professional installation artist Dara Johnston, runs the Future Kids Society, which describes itself as a "collaborative group of artists, musicians, scientists, computer hackers, and aliens dedicated to enabling humans a more astronomical life experience."
Johnston, who started Future Kids around seven years ago, is known for creating huge art installations for the likes of Krewe Du Vieux. "She mixes science and art, so a lot of her art is interactive, you can play with it," explains her collaborator White.
The musical score for Inverse Universe was composed and recorded by Markus Davis of experimental R&B pop act, Naughty Palace.
"We had wanted to push this fun, light theme of fantasy for children, and his music couldn't have been more perfect. As soon as I heard Markus' music I was thinking of aerial routines in my head," says White.
"There are some songs that he took from his self-titled album like, "I Wanna Love You Right", which he tweaked and remixed a little for our show. But the rest of the show's score he made from scratch. The entire score is pre-recorded but then Markus is going to very much be a part of the show, by controlling the music he recorded but also, as the scenes change, he will give little three-minute mini-concerts."
Davis himself explains further: "Each scene has its own environment, whether it's space, deep sea, a volcano world or a beach. It reminds me of playing an old [Nintendo] game, which makes sense coming from the brain of Dara Quick. We wrote tunes for each world, then the performers created aerial effects after the tunes were created. It was interesting to work this way because the tunes had to be finished before they could even start choreography!"
The show's striking visual backdrop consists solely of video projections and video mapping (which turn objects into display surfaces for digital video projections). Most of the projections feature original illustrations and animations from Memphis, Tennessee muralist BirdCap, whose colorful cartoonish work can be seen on streets throughout the world from New Orleans to Korea.
"BirdCap was a friend of mine and was interested in doing something outside the box," says White. "We sent the first video projections to him and he added all these weird creatures to them. Then we'd send those wild creatures to Markus Davis to inspire his music. In that way, Inverse Universe is the epitome of artistic collaboration, while at the same time everyone involved had autonomy to put their original stamp on it."
The show also promises an array of equally compelling and colorful costumes to relate the show's psychedelic themes. "In the final scene we all come together, where Jane is transformed physically. She's at first wearing all white, which is sort of a mix of demure and escaping from a mental institution," laughs White.
"But then towards the end she's become more a part of this other new world — our world — and to reflect that we do a costume change so that she's in this ridiculously glittery rainbow pinafore. Through these various visuals and aerial presentations it becomes clear that this is the story of a woman who decides to do something different and as a result is transformed because of it."
White ads, "We came up with that theme because at Crescent City Aerial Arts one of our goals is to show that everyone can do aerial, everyone can try it and do it, and in the end they will see the world from a different perspective."
Inverse Universe is Saturday, November 21, 2015 at 8pm, with a pre-show of fire dancers and other cirque performers beginning at 7pm, all at The Old Iron Works, 612 Piety St. Tickets are $15 for adults, and $10 for children 13 and under._
Image courtesy of Inverse Universe.