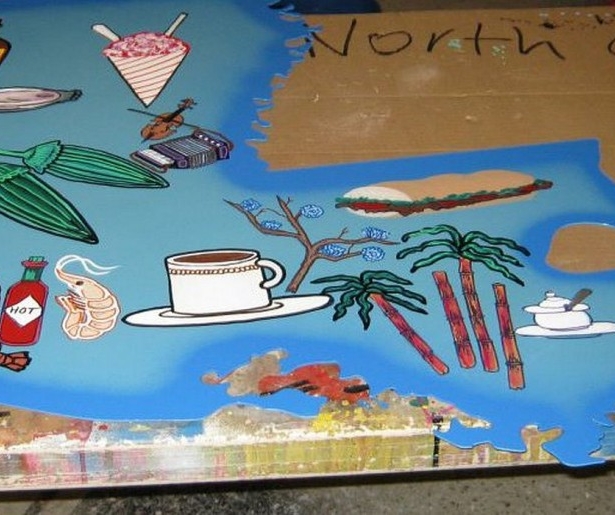 SHARE
There are plenty of methods of cooking a turkey perfectly, and you can rest assured that your social media feeds and email inboxes will be filled with dozens of variations on the theme as the Thanksgiving holiday approaches. But here in Louisiana, the preferred method of cooking your T-day bird, and the one that speaks closest to our regional tastes, if of course: deep frying the sucker.
There's a lot of misconceptions about deep drying a turkey, both in method and execution. To address the latter issue: a deep-fried turkey is decidedly not like any other deep fried thing you've had. Done correctly, the final result isn't overtly an oily late night snack. Instead, the fryer cooks the skin of the bird to a crisp (but not crunchy) texture, while the meat comes out juicy and tender.
That's if everything is done correctly. If you screw up the process of doing a deep fry on a turkey – if you don't thaw the bird enough, dry it before the dunk, overfill your oil, over heat your oil, etc, you may end up getting included in a YouTube superclip like the below:

Enter our friends and publishing partners at the Southern Food & Beverage Institute, who are holding a turkey frying class on on Nov 21, from 2-4pm at the Southern Food & Beverage Museum.
The class is free with museum admission, and will be led by the folks at King Kooker, who are (first lesson, folks) holding the course in SoFAB's outdoor kitchen. Because, for Pete's sake folks, if you're going to deep fry a turkey, please do it outdoors.
Bonus: anyone who buys museum admission will be in the drawing for a free King Kooker rig: good to cook a 20 pound turkey, which should be enough to feed plenty of relatives.
Also on Saturday at SofAB: the November edition of the monthly Kids in the Kitchen series. From 10:30am to 11:30am, kids aged 7-11 will learn how to make holiday hand pies ($15 per ticket/$10 for SoFAB members). From noon until 1pm, kids 12-15 will learn how to make personal pies with fancy crusts ($20 per ticket/$15 for SoFAB members).
Image courtesy of the Southern Food & Beverage Museum via Facebook.